Bratton's Chief of Staff Makes a Small Fortune Off NYPD Rank And File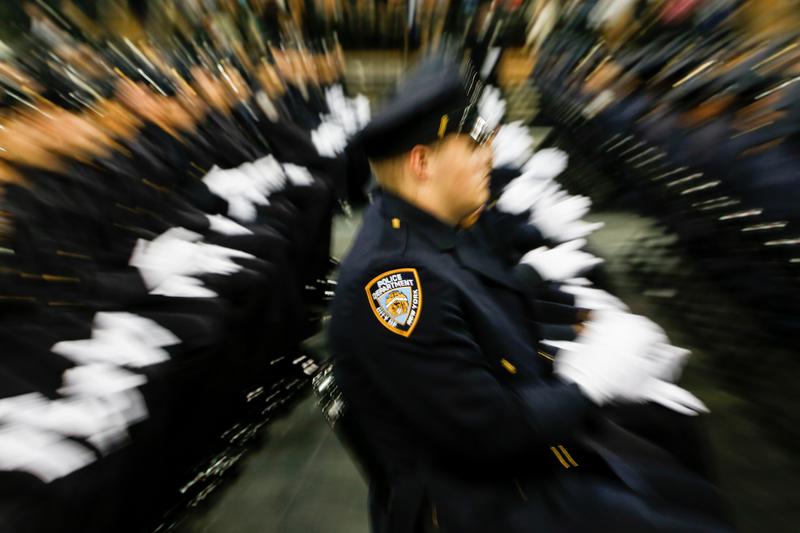 NYPD Commissioner William Bratton's Chief of Staff Kevin Ward made between $430,000 and $777,000 over the past five years as part-owner of a private company that prepares rank-and-file officers to take promotional exams, according to financial disclosure forms WNYC received through a records request. That money came on top of Chief Ward's annual salary, which topped $213,000 last year.
In June, WNYC reported that more than a dozen high-ranking officers have cashed in on the industry in recent years. That's despite city conflict-of-interest laws that prevent superiors from having a financial relationship with subordinates. For example, a city official can't sell their kid's Girl Scout cookies to subordinates. Yet in the NYPD, it's been common practice for top cops to charge lower-ranking officers hundreds of dollars for promotional test prep.
Defenders of the system say senior officials have the most up-to-date knowledge and are the best teachers. Also, civil service rules mean officers like Ward don't have control over who passes a promotion test and can't favor those who pay for a test prep course.
The City's Department of Investigation opened a probe into the test prep industry after WNYC's story aired. DOI declined to comment.
In 2011, Ward reported earning between $250,000 and $500,000 from The Key, a promotional test prep company that also employs Deputy Commissioner for Operations Dermot Shea as an instructor. From 2012 through 2014, Ward reported earning between $60,000 and $100,000 each year. (The forms don't list exact earnings and instead provide a range. A note in the 2012 form, however, indicates he earned $76,000 from the company that year.) He reported earning less than $1,000 from the company last year.
The company also set up a pension for Ward. In 2013 The Key put $120,000 into the pension, according to his disclosure form.
Ward did not respond to a request for comment. Deputy Commissioner for Public Information Stephen Davis said any officers involved in the industry must comply with the department's off-duty work rules. The department must approve such outside employment.
"Currently, the [Conflicts of Interest Board] is reviewing this issue more directly and will inform NYPD of any relevant decisions/opinions," Davis wrote in an email to WNYC.