SchoolBook
Boys and Girls High School Tries to Turn a Corner Under New Leadership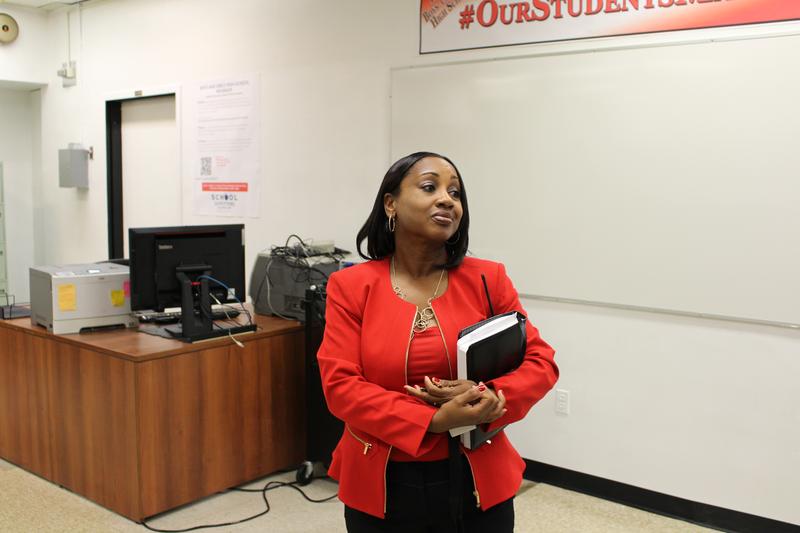 Grecian Harrison, who took the helm at Boys and Girls High School in July, is working to set a new tone. One that is caring, collaborative and with an environment that's inviting to students. At the same time, she is under pressure to get numbers in order — meeting academic targets and boosting extremely low enrollment numbers — at a school that has been struggling for years. 
On Tuesday, Harrison gave a tour to Schools Chancellor Carmen Fariña showing off school improvement strategies large and small: new grab-and-go breakfasts, enforcement of the school uniform policy and the opening of a student center as a place for students to work on projects or meet with one another. 
Fariña popped into an electrical engineering class in session, and toured a classroom for drafting and architecture. The school is trying to build its career and technical education classes. Fariña also commented on the care put into bulletin boards.
"There are a lot of things I saw here today that impressed me," Fariña said. "First and foremost, that Principal Harrison in just a short period of time has really built a community where people want to work hard."
Some felt that sense of community was missing before Harrison's arrival. At the time Harrison was named principal, the school was coming off a time in which the principal of Medgar Evers College Preparatory School, Michael Wiltshire, co-ran Boys and Girls for nearly two years. 
Wiltshire made some improvements, including improving attendance and increasing the graduation rate to 50 percent (still well below the citywide average of 70.5 percent). But enrollment for this fall, which had been declining for years, was left at a dismal 269 students by the time Wiltshire stepped down from Boys and Girls at the start of summer.
When Harrison was picked for Boys and Girls, some were skeptical that an outsider could step into "the pride and joy of Bed-Stuy" and rebuild a successful school, along with making it a more nurturing place. Harrison had previously worked at Alfred E. Smith Career and Technical Education High School in the Bronx for 13 years at a time when it, too, struggled academically and fell out of good standing with the state.
"Being at Alfred E. Smith High School and going through some of the transitions there, it taught me some things about what a school needs to do to turn around," said Harrison. "And a lot of it has to do with having high expectations and just the collaboration in working together."
She also turns out to not be such an outsider. Harrison grew up in Brooklyn, spending part of her childhood in Bedford-Stuyvesant. She also worked at Boys and Girls for one year as a young teacher.
Students on Tuesday said they sense a dramatic change in the school atmosphere, mostly due to Harrison.
"For instance, our drama class — she actually comes in and does some of the physical activities with us," said Amirah Creary, a sophomore. "She's very nice. It's a big difference."
Khalif Napoleon, also a sophomore, said the school felt more familial. "The new principal is really taking care of us," he said. "She helps us out with stuff when we need help. We can come to her office anytime. The other principal, he was barely in the school."
Even the teaching seems better, according to Richard Martelly, a junior, though nearly all the classroom teachers but one were at the school last year. "I think it's because of the principal," Martelly said. "She gives good vibes."
Enrollment numbers, while preliminary, are up as well. The school has more than 400 students registered, up from 269 over the summer. Harrison said increasing enrollment was one of her top goals.