Soundcheck
Boy George: On Lana Del Rey, Facial Hair, Raw Food And Showering Regularly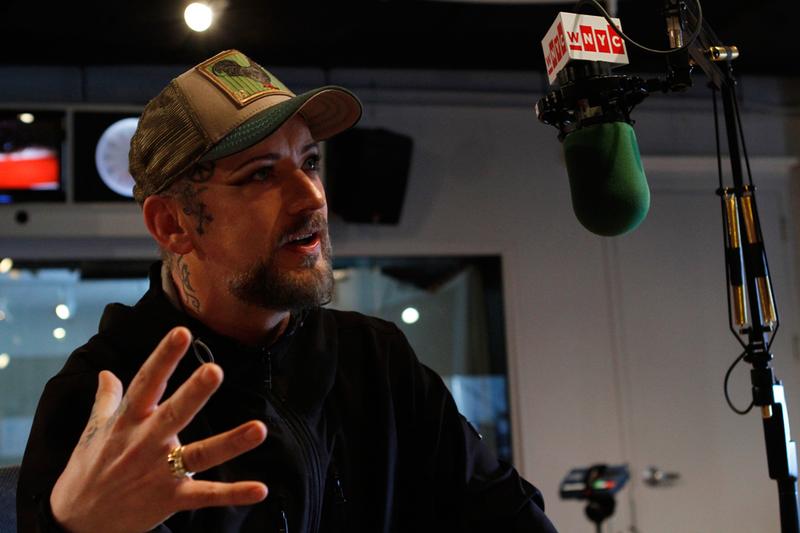 Boy George became a global pop music and fashion icon in the 1980's as the frontman of the English band Culture Club, known for hits like "Karma Chameleon," "I'll Tumble For Ya" and "Do You Really Want To Hurt Me?" And in the years since, he's also launched a second career as a well-traveled club DJ.
But during the 2000s, Boy George struggled with a drug problem, two high-profile arrests and a short stint in jail. He sobered up in 2008, and now, he has just released his first album of all-new material in 18 years. It's called This Is What I Do -- and it's gotten positive reviews, including one from The Guardian that calls it "the comeback album of the year."  
Soundcheck producer Joel Meyer talks with Boy George about finding his way back -- and about the music and lifestyle choices he's making today. 
Boy George, on starting off his new album with lyrics about addiction and apologies:
What I try to do is put as much of myself into what I do as possible. All of my favorite artists -- like Joni Mitchell, Dylan, Leonard Cohen -- all those sort of writers inspire me to be more honest and more real. So that's what I'm aiming for. But you have to remember that it's also a song. So you start of maybe writing about yourself, but then it kind of takes corners, you think about how it's going to sound on the radio -- you're trying to make a three minute movie. In a way, it's a filmic song. I was never a drinker, so that bit's not about me, but it's about all addiction. It's about addiction, and climbing back, reclaiming your life, really. I suppose, in a way, what I've learned in my life is that the most important thing to be is a successful human being. And everything else comes from that. 
On how being sober makes his creative process easier: 
I think it's much easier to do everything when you're sober, including crossing the road. Making sure you shower regularly. All of that basic stuff comes from clarity. For me as an artist, yeah I'm sure there are people who do great stuff when they're in a mess -- and I think it's more that you think you're doing great stuff. 
On Lana Del Rey and why he covered her song "Video Games" on his new album:  
I like the fact that she's kind of channeling the '50s -- the "poo poo pi doo" kind of thing. To me, she's a bit like Roy Orbison meets Marilyn Monroe -- this kind of wonderful androgyny to her voice. It's not the voice you expect to come out of that face. The first time I saw her on TV, I just thought, "she's too pretty, she can't be talented!" I like "Video Games" because it reminded me of "The Crying Game." It's not an obvious, bombastic pop song, but it sticks in your cranium.... And I just wanted to sing "Putting on favorite your sundress." 
On why his voice has changed so much since his Culture Club days: 
For me, the big thing was giving up smoking. For a long time I thought, oh it makes me sound jazzy. And it did, for a minute, I have to say. It was quite effective. Then it was like, hm, this is not great. So I gave up smoking, and started to train a bit. And started to get fit. Not really because I was making a record, but because I needed to. I was kind of out of shape (laughs). 
On sporting a beard: 
One of the great things about the beard is for some reason I'm attracting lots of beards to my show. There's this influx of bearded people. It's great. I feel like I'm part of an international beard society. 
On his favorite New York raw food restaurants: 
You have some fantastic raw restaurants in New York. The best! I would love to live here and just live on raw food. It would be amazing. There's a place called Pure Food and Wine -- and [One] Lucky Duck, which is the takeaway -- and there's a place called Rockin' Raw. There's this thing at Lucky Duck: it's a raw, vegan, mint sundae. It's not cheap but it is worth it. It's like $16. But it's $16 of utter -- don't have anything else, just have that. It's incredible. Just flick your hair and say, "I'm worth it."
On the connection between reggae and country music: 
Reggae -- it's a sunshine music. It's a bit like country in the sense that it has its own world. And if we're into it, fine, if we're not, it still carries on. In Jamaica, one of the biggest artists is Charley Pride. And they love country. And if you explore it a little bit -- there is a very strong connection between country and reggae. They are brothers! 
On his favorite records to spin as a DJ: 
DJ-wise, I love this artist called Loco Dice. There's this track called "Detox," which is one of my favorite records. It's very subtle. It's as far away from EDM as you can possibly get. It's very understated, groovy -- I like kind of groovy, understated music. There's another artist called Dolly who I absolutely love. I do a podcast once a month, for free, on iTunes called Club Culture, so you can hear what I do for nothing.
On the rise of EDM in America: 
This EDM thing -- it feels very European. It's a weird one. It feels like America has embraced the worst aspect of tops music when you have this incredible, original house sound. But having DJed around America last year, there is an appetite for no EDM. There are people who want to hear basslines and they don't want to hear the breakdown where everyone takes a selfie and drops their chihuahua.