The Takeaway
Boston's Police Commissioner on Bouncing Back From the Marathon Bombings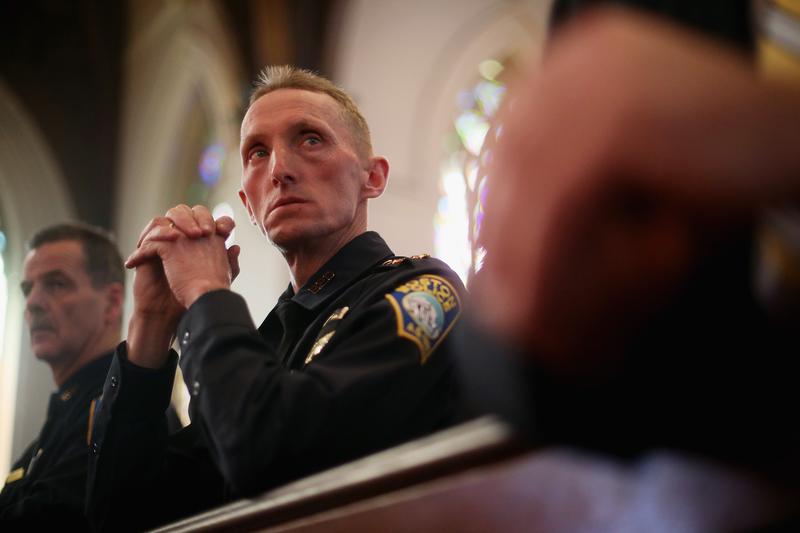 Most mornings, Boston Police Commissioner William Evans wakes at dawn to run 7 or 8 miles. In 1989, he ran his first Boston Marathon, finishing with a scorching 2:53—a time that places him in the top 2 percent of all marathoners.
Police Commissioner Evans, who was named to the post in November 2013 and was in charge of special events at the time of the attack, was one of the first commanders the scene after bombs went off last April 15th.
He has run in the Boston Marathon 18 times, but will be sitting this year's race out to focus on security. He was barely done running the race himself when he began to help the victims.
"It was a beautiful day, the crowd was great and when I finished my wife and son Will were there—I couldn't ask for a more picture perfect day," says Commissioner Evans. "I was in the hot tub at an athletic club after and one of my officers ran in and said two bombs went off. It's something I'll never forget."
Initially, Commissioner Evans said he felt a large sense of disbelief—he felt the city of Boston was a safe place where a bombing would not happen. During his race from the athletic club and back to work, he says he quietly hoped that reports were wrong.
"The whole way [back to the marathon] I remember saying, 'I hope it's just a transformer or something,'" he says. "But when I went on Boylston Street and seeing the destruction, and seeing the bodies, it was something that was surreal to me because an hour earlier I had run down that street. I put my work hat on, and I think I stayed there and worked for a good 41 straight hours before I went back home."
The commissioner says that preparation paid dividends for the city and people of Boston. Evans says that over the last few years emergency responders had conducted several terrorism training sessions and trials, which allowed the city to respond quickly. 
"When the bombs went off, we knew our roles and everyone jumped into action," says Commissioner Evans. "You've seen the great job that the men and women of the Boston Police Department did—jumping into that crowd, putting turn-kits on people who needed it. There was a great response by our officers."
Commissioner Evans says he spent most of the proceeding hours and days after the attack pursuing the second bombing suspect in Watertown, and was actually unaware of how the city of Boston was reacting to the lockdown. 
"I had really no idea the extent of the lockdown to tell you the truth—we were focused on finding that second suspect all day," he says.
There has been a great deal of criticism of Boston Police Department's relationship with the FBI. Former Police Commissioner Ed Davis criticized the FBI for not sharing information about an investigation into Tamerlan Tsarnaev. Commissioner Evans says that department has improved communication techniques since the bombing.
"We've gotten very good at sharing information," he says. "We have our Boston Regional Intelligence unit everyday that brings in a lot of our partners, and we have the Joint Terrorism Task Force. In this particular case, I know there's a lot of controversy about whether the FBI could have shared that information better. I know Commissioner Davis was dealing with that issue, but we had no intelligence going into that day that there was any threat to that race. I think if we did, there would have been a whole different game plan."
A year later, Commissioner Evans says there are daily intelligence calls with the FBI. On April 21st as 36,000 runners gear up for the 2014 marathon, Commissioner Evans says the city expects the race to go on safely and as planned.
"We expect this to be a super day—the day it's always been, " he says. "The Boston Marathon—the most premiere marathon in the world—we want to return it to what it's always been."
Throughout the city and along the race route, undercover and uniform Boston Police Department officers will be stationed to ensure the security of racers, city residents, and visitors. While there will be a large police presence, Commissioner Evans says he also wants to make everyone feel comfortable.
"I don't want Copley Square and the Boston area to look like an armed camp, so we're going to try to low key all our assets so people don't feel like it's a police state," he says. "I don't want them to look up and see policemen on top of buildings with rifles. I don't want those long guns out. That's the presence we're going to have—we're going to be all over the place, on everything, but not to the point that people should fear us."
Though the commissioner will break with tradition and sit this race out to watch from the sidelines, he says he wants to reassure everyone in attendance that the race will be very secure.
"All I can do is reassure them that we have a great plan, we have eyes and ears on our whole route in Boston," says the commissioner. "They should have nothing to be afraid about."