Crossing the Border Is Just the First Challenge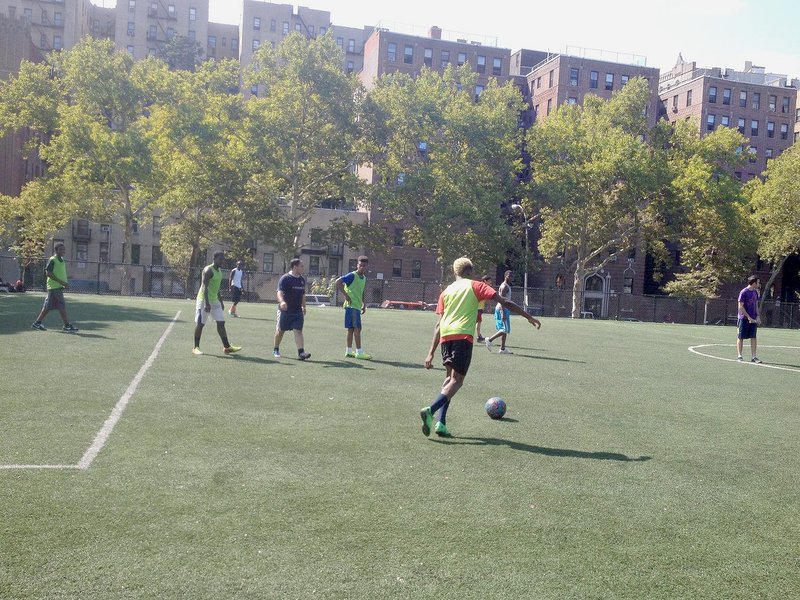 At first glance, the 20 boys playing soccer on a recent Saturday at Mullaly park in the South Bronx were ordinary teenagers.
They were fans of star Argentinian forward Lionel Messi. They dreamed of playing professionally for top Spanish clubs. Ariel, 17, was quick to tease the goalkeeper about a goal he failed to knock away. But his cheekiness and easy smile mask the deep trauma he went through in his native Honduras.
"When I was with my friend, they killed him," he said in Spanish. "They shot him three times in the face."
Ariel, who asked WNYC not to use his last name because he doesn't have legal status, said the MS-13 gang mistook his friend for someone else, and threatened to kill Ariel if he spoke up about what he saw. He said he didn't talk about it until coming to New York.
Dealing with trauma is a common issue for the kids on the soccer field and thousands of other unaccompanied children flooding across the border, according to experts. As they settle, they face the challenge of coping with the violence they witnessed in their home countries while adapting to life in New York.
"The problems we see include depression, anxiety, post-traumatic stress disorder, adjustment disorders — and all of that is very explained by their experience," said Dr. Alan Shapiro, who runs Terra Firma, a program for unaccompanied children run by the Children's Health Fund and Montefiore Medical Center.
There, in addition to seeing a psychologist, the kids get health services like vaccinations and treatment for asthma. They get connected to an attorney if they don't have one already. And then, Shapiro said, it's about connecting them to peers on and off the soccer field, to help normalize their lives and deal with more mundane problems they encounter now. For Ariel, who started attending high school in April, it's studying algebra.
Many other unaccompanied kids will start school in September. Claire Sylvan runs the Internationals Network for Public Schools, which includes 15 schools that serve immigrant populations in the city. Sylvan said that up to 10 percent of the student body in some of her schools this fall will be unaccompanied children. She said the first steps are figuring how to identify them in the larger group of immigrant kids, connecting them to the services they need and helping them get back on the academic track.
"They were sometimes not attending school or schools were not even always in session or it was too dangerous," she said. "They sometimes have significant gaps in their education as a result of that."
Carlos Bhanji, director of operations at South Bronx United, the organization that runs the pick-up soccer league in Mullaly Park, said soccer can help as well. The real goal of the program, he said, is to use soccer as an engagement tool and provide the kids with help for homework, academic tutoring and access to a social worker.
"The real mission is giving them the tools to follow their dreams, to be contributing members of society," Bhanji said.