Book Train Finds Its Station at the New York Public Library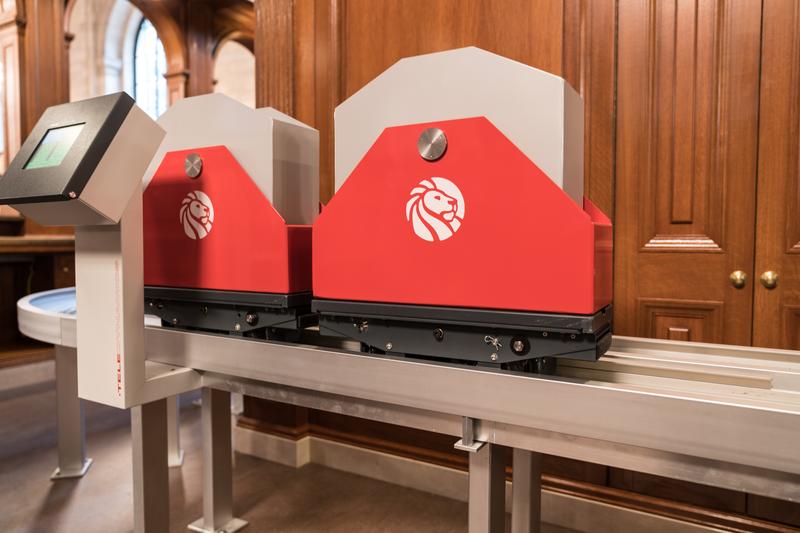 The usually stalwart world of research has been injected with a touch of whimsy, as the New York Public Library unveiled a new delivery system at its iconic Stephen A. Schwarzman Building on Fifth Avenue this week.
In October, twenty-four, cherry red cars — each emblazoned with the library's lion-faced logo — will chug along 950-feet of vertical and horizontal tracks between the library's Milstein Research Stacks located underneath Bryant Park and its newly reopened Rose Main Reading Room.
"Aside from being wowed by this zippy new conveyor system, the only change that I would expect is that your materials would be delivered quicker," said Matt Knutzen, Director of the Humanities and Social Sciences Research.
The cars run independent of one another, travel at a top speed of 75 feet-per-minute and are able to carry up to 30 pounds in research materials. However, larger items, such as maps, over-sized photographs and folios, still will have to be manually delivered by a staff member directly to a patron.
Costing $2.6 million dollars, the so-called book train replaces a 20-year old conveyor belt system. The previous system was, as described by facilities manager Gerry Oliva, "at the end of its use for life" when it broke down for a final time in February 2016.
A separate incident left the conveyor belt unusable for a week. In their redesign, Oliva and design firm Gensler were keen to stave potential crises.
"In the event that one of the cars breaks down, we can see that car visually, where it is, identify where the problem is, and pull the cart off and deliver the materials by hand," said Knutzen.
When launched, the book train will terminate behind the teller windows in the Rose Main Reading Room.