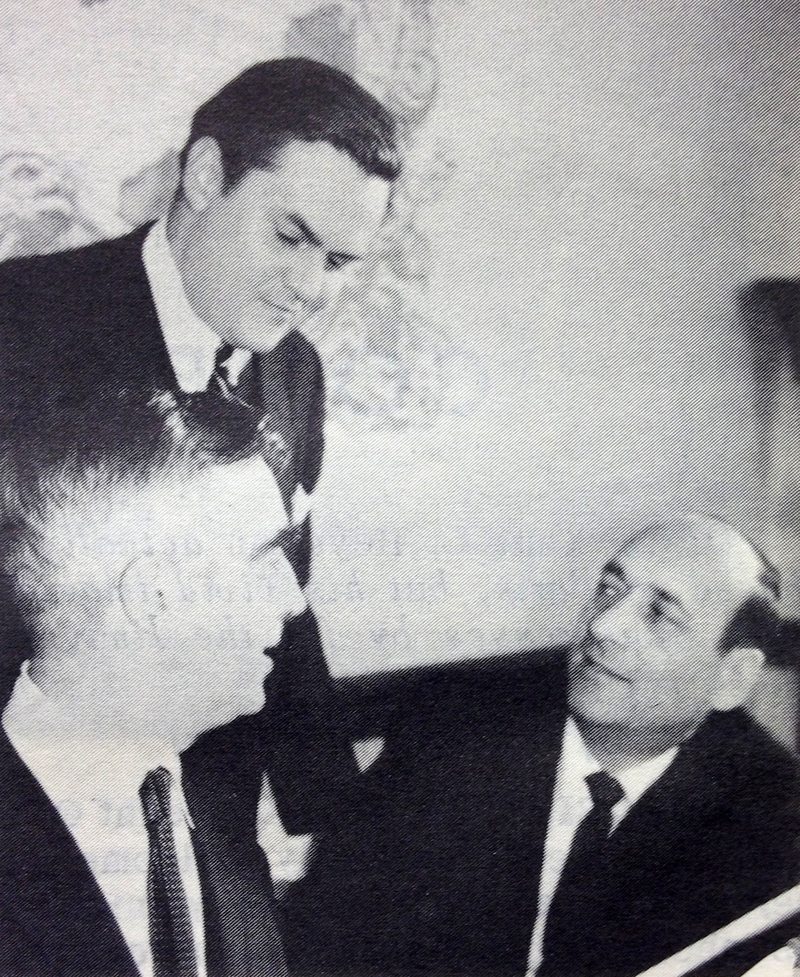 Summary
This episode is from the WNYC archives. It may contain language which is no longer politically or socially appropriate.
From card catalog: Bob Sweeney, Time Magazine, talks about trip he took with US businessmen to USSR and 5 other countries. Plays tape of Communist Chinese attack on Khrushchev and talks about Sino-Soviety split. Jes Gorkin [sic], editor of Parade talks about same topics. Questions and answers.

Host introduces Sweeney. Sweeney tells stories about bad luck covering events in Russia and showing a group of businessmen around Moscow. Gorkin plays archival audio from Russia of Khrushchev "trying to white wash all his sins" (not sure who the speaker actually is - American accent) and talks about his own trips there. Quotes sources re: atomic bombs in Russia in China.

Q&A: How did the businessmen travel? Any Americans still in China? Impressions of Khrushchev?
Audio courtesy of the NYC Municipal Archives WNYC Collection
WNYC archives id: 70515
Municipal archives id: T617
Transcript
This is a machine-generated transcript. Text is unformatted and may contain errors.
It's a very great pleasure for me to present two valued members of the club Bob Sweeney is the assistant public affairs officer of Time magazine and will have a fascinating story to tell us about how he took a group of American businessmen to see a crew show up in the Kremlin during the past several weeks and. Continued on in a tour of five countries and then we will have just gotten the chairman of our membership drive one of our most active members the editor of Parade magazine who is the inventor of The Hotline connecting the White House and the Kremlin is delighted to have him and Bob Sweeney with us I'll ask Bob to kick off the program. Ladies and gentlemen considering the caliber of that stood up here during the last few months I feel greatly honored to be here today. I must confess to a certain twinge of apprehension when I saw that screaming headline in the Overseas Press Club bulletin last Saturday morning saying that. Cork and Sweeney would team up to analyze the red block I'm sure many of you must've asked a question that was asked via intercontinental cable a few weeks ago when I found myself as the bureau chief in Moscow for TIME magazine our regular managerial Shanker had left Moscow to go to London to pick up our group of tycoons to bring them over and he left on a Friday night wasn't due back until Tuesday night he was an airborne an hour before the Russians put up their sophisticated satellite which was completely maneuverable naturally the wires began clattering they wanted all kinds of. Information on this thing so I got the test statements and I dutifully filed them and a rocket came back from New York saying who the hell is Sweeney so. Which also brings to mind a story. The following Saturday of the Saturday it was rumored pretty reliably room in Moscow the tarrasque over the female causing what was going to marry Nicholai of. Time sent me a. Cable in the middle of the night saying they're going to hold the book open and they want to complete a plate run down a description of her of her attire and the place where she's going to be married I sent back a cable saying relax I'll take care of it I'll be there with my camera and my assistant who is ten year old son of Israel Shanker who can speak Russian. We got the the. Address of the palace of weddings I might say from the United Press went down in a gigantic Cheika limousine to the palace of weddings and I sat through twelve Russian weddings. And I kept turning to turning to Mark and saying Mark is that she is that she said No no she her hair is blonde or here is blond and they kept coming by and only with us to a souped up version of Rio which is quite amazing and finally came to me two o'clock two o'clock in the afternoon and I know that. She wasn't going to be married so I said to Mark let's go and he was really ready to beat it anyway and he said you know he said he said maybe they're over at the other palace of weddings and what are you talking about is it the other one the big one on the other side of town Well needless to say. I qualify as a foreign correspondent as I remember once when I was working for Stars and Stripes I wanted to interview Sigman really and I went to a press officer and a Korean press officer and. Told me I wanted to interview the leader and he said a young man your credentials are wanting. I'd like to just give you a little background on this this tour of five five countries forty world leaders in twelve days that our group of twenty one industrialists embarked on under the sponsorship of time I want to tell you right off the bat that they all pay their own way they pay their own transportation they paid all their hotel and bar bills. We merely opened doors for them which despite their their power their prestige and their money they could never possibly hope to open for themselves. The kind of people who were on the trip such as the president of Coca-Cola the president of Goodyear Tire the president the Bank of America the president of New York Stock Exchange the president of I.B.M. The president of after the president of Alcoa the president of contain a corp. President of Connecticut General the president the people or law the president of Seagram's the president of North American Aviation but the lowest ranking member of that group is the executive vice president of U.S. Steel. They started the tour in in Washington where they met with President Kennedy and then they had lunch with Secretary Dean Rusk and all these fellows and it might be worth mentioning felt that a briefing by Rusk in a small group was what one man terminus that experience they had they really were terrifically impressed with Rusk in London they met with Heath Wilson Brown and more also with a group of businessmen of equal rank and private dinners clubs around town on Monday night to say they arrived in Moscow and this of course was the high point of the trip at four fifteen on Tuesday afternoon I got a phone call from the from our bureau our Russian secretary to tell me that they wanted myself and Bernie our who's a publisher of time and would come to Moscow a few days early to report down the foreign ministry press office in fifteen minutes we didn't know whether we're going to be expelled where the plane had crashed or what was going to be shut down we went upstairs to a maze of card isn't this great big twenty eight story skyscraper. And I walked into this office and there standing in the office was this young fellow I can't for the life he remembers lesson his first name is Victor I'm sure you will remember him he's a very handsome sure that he's the chairman's interpreter a very good looking young guy and he came over and best colloquial English he greeted us and said that the best drink in New York can be had in the the bar on the top of the time in life building and he was a very very friendly and he said I guess I'm going to be your interpreter tomorrow with you at your meeting with the Kremlin and with the chairman this is the first we had heard that we were going to meet with Christian we've been working for weeks for an interview with the man for an interview with any Soviet official and had heard nothing from anybody so the next so when the group arrived as able to tell Shanker that we were on for eleven o'clock the following morning so that night we had dinner with our group with a group of correspondents Western correspondents and Moscow for briefings Barden Henry Tanner of the times Dave Miller of the trip Pat Ferguson of the Baltimore Sun and a couple of British correspondents they went over a completely line of questioning that they thought would be of value as far as news making was concerned we had told the Western press in Moscow that we would make available to them anything we heard anything that was revealed during the conference at the Foreign Ministry that afternoon they told us of the fact that the Christian interview would have to be off the record and I think that could be no direct quotes whatsoever we agreed to it then because we didn't want to foul up machinery at that point however it was agreed that night. That one of us would stand up at the end of the. End of the meeting with Christian matter what time it was address him as it's in if say to him in effect Mr Chairman what you said here today is going to great interest us we know would be of great interest to the rest of the world would it be all right with you if we disseminated your story we thought was a pretty clever ploy and we decided we would stay with that well of the interview went on for three and a half hours what amazed the group and certainly impressed anybody who had never met the man before first of all his obvious brilliance He's a dynamic brilliant man it was the consensus of the group that if he had been a pawn in Akron Ohio he no doubt the president of the year turned robber. Or else a great political figure enormously well informed about everything he can quote the steel tonnage figures and he can pull out of the out of his head the killer waters that generated the most obscure dams in the Soviet Union he can give you the wheat yield protector and he is most interested as most what he was most interested in talking to this group with about of course was trade he wants he wants desperately to trade with the West and while he wants what he wants more than any other single thing is mineral fertiliser he feels that mineral fertilizer is going to solve it is to rethink agricultural problem which of course is the real Achilles heel at this stage of the game with him. Other things that they they found out we were impressed with when listening to him and even in his most ominous moments even at times when he was talking about the Autobahn when he said you would have had to move over our dead bodies we were testing your nerves and when you decided to test our nerves and we decided to test yours it when he was in the most threatening mood he would he would just throw in a little humorous aside for instance on the Autobahn question he said What amazes me gentlemen Capulets more than any other single thing is how those G.I.'s managed to stay in those trucks for forty two hours so without ever coming out how did they stay in there for forty two hours he said of course that's an internal matter which I don't want to bring up it's. The. These are. The most dramatic moments in the interview came when Tex cook the president of General Foods. Started heckling him about the war and he he was saying that we all have our frontiers people cross the frontiers we shoot them you shoot people across your frontiers you don't register at the gate and Cook jumped up and said No no no we don't shoot people who want to stay in who want to get out rather and looked at him very quietly and he said and we don't kill children in churches because their skin is of a different color and it absolute science phantasm of the man has the most terrific splitter for the dramatic and he is the world's We want before we went in and I'm sure most of a lot of the people in this room must know what Having can count of them one of the World's Great Debaters. One thing we noticed also about this group is that they were terrific Lee innocent of what makes news was obvious to members in the crowd we were spread all over the place taking notes like crazy that we had at least five five good stories possibly two or three front page stories and as we left the the Oval Room in the Kremlin on our way downstairs to lunch. Because we're talking among themselves and several made a comment that was very interesting but there was no news in it and we went back we let them go off to lunch and I think as professionals you'd be interested in kind of the background of what happened the next ten hours we went back to the time Bureau which consists of one room and the Street offices midtown and we gathered around there were five of us who had been taking notes during the interview and we also had our secretary long British secretary who had taken the whole three hours and seventeen minutes down in shorthand and we began to work together to transcribe directly on to did OK. Dictating into Israel Shanker what had transpired at the meeting. As a result after about ten hours we gave it to the press waiting outside and in takes of seven pages a piece as a result we have probably the only on expurgated an edited version of a full Chris just interview that's ever come out of such of an encounter the only word that was edited on our part was edited for what we felt good reasons. Was just one word Christians have been criticizing capitalists for being while livers and high livers and he said it's a matter of fact even your Governor Rockefeller has lost a lot of prestige because he has he has changed wives and you people are merely the tools of the real leaders they're out shooting and hunting and gambling and drinking and he said a cap was in effect a terrible people so when Jim when I'm president of time instead of say goodbye he said he just like to say that this was a very active group. And they had been doing a lot of work but they also had done a little carousing and referring to some gambling they had done in London a couple nights before and so Chris just laughed Well when we put it down transcript form we changes to their very active group very interested and have done little to rousing. The group itself considered we were we were amazed at twenty one guys who were so first of all so easy to handle no problems logistically the trip went off without a hitch we were met we didn't show a passport in a single place the Russians gave us a fantastic reception at the airport no bag was open in any country that we visited the American flag was flying from the pole with the by an airport for the first time in the want to port for the first time on a non-state visit they rolled out the red carpet for us and fun as a matter of fact. Even in Paris which week where we anticipated most difficult times with customs it was no problem at all they rushed through without even asking our names. So logistically it went off without a hitch the men themselves were terrifically serious to riff interested in what was going on in the world none of them had ever taken a trip like this which was strictly non-business none of them by the calling the home office know them by the Kate we had a key secretary there to take care of their problems no one did any dictating no one did anything other than the job at hand which was meeting world leaders they met besides Christophe they met Erhard and then they had lunch the next day without an hour they met Poppy do and disturbing they met John Wray the vice president of the Common Market they talked to men who were at that very moment making news and they happen to be in Europe at a time when when news is being made all over the place not only in the economic community but alone the Autobahn as well I think this group of gentlemen made an extraordinary impression on Europe and Europeans but I think the most important thing is that the Europeans made an extraordinary impression on them thank you very much. A low quality audience. I was a stand by Speaker asylum you may know for last week's luncheon and the event Waller couldn't make it he doesn't know it but this is the second time in recent months that Mr Author is influenced my life not too long ago I sat immediately behind him on a flight from Detroit to New York and I overheard a conversation he was having with one of his associates and what like this yes Charlie is a good man but when he gets angry he talks too much we probably better transfer him for his own good I've been thinking about this conversation ever since and I promised today not to get angry or talk too much. I would like to get into the mood of today's program. Well little music that I think might be appropriate but if this works