Bloomberg and Garbage: A Pile of Unfinished Business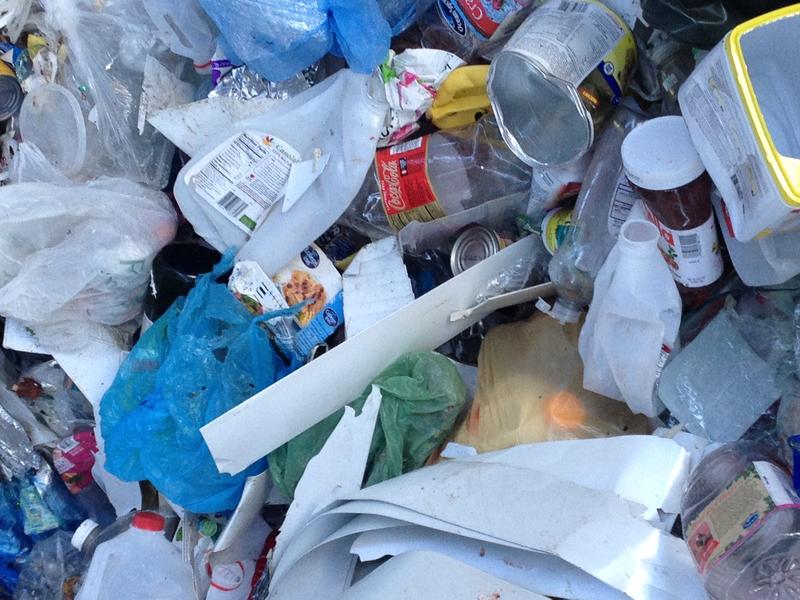 When it comes to New York City's garbage, Mayor Michael Bloomberg is leaving the incoming administration of Bill de Blasio with a pile of unfinished business.
New York City's residents, workers and visitors generate 11,000 tons of trash a day, 14 million tons a year. Handling it is the kind of dirty, essential work that operates under the radar most of the time. But it caught new Mayor Mike Bloomberg's Wall Street-trained eye in 2002, because he had a $7 billion budget gap to close.
"We have gone from a world in sanitation where we used to dump the garbage on the landfill in Staten Island to a world where we are paying others to take our garbage. And that is an expensive proposition," he said in his very first budget presentation in February 2002.
Between the time that Bloomberg's predecessor, Mayor Rudolph Giuliani, announced the closure of the Fresh Kills landfill in 1996, to when the landfill accepted its last barge load of trash in 2001, the Sanitation Department's budget ballooned from $650 million to $1 billion. (It's now more than $2 billion.) It cost $105 a ton to truck our trash to a landfill somewhere else, and bury it there.  It was roughly half that amount when all the waste went to the city's own landfill at Fresh Kills.
Mayor Bloomberg started developing a long-term strategy to stabilize these costs. In the short term, he cut recycling.
"We have two recycling programs, one that works and one that does not, and we are gonna propose closing the one that works [sic] temporarily until we come up with a better solution," he told the City Council.
Paper and metal recycling was making money for the city, but plastic and glass was not.  Bloomberg said 40 percent was just going into landfills anyway, because it wasn't of any value. A reluctant City Council agreed to suspend plastic and glass recycling for two years. Former Staten Island councilman and Congressman Michael McMahon chaired the solid waste committee at the time. He says a study by then-City Comptroller Bill Thompson eventually showed what he and other recycling advocates had feared all along.
"What we were able to establish was that, no, not only was the city going to lose money by cancelling recycling, but also hurt the program, wounding it, and that did happen, in fact, sadly," said McMahon.
The recycling rate — meaning, the percentage of material kept out of landfills — was 20 percent before the cuts.  In 2005, a year after they were restored, it was 16.8, according to the Mayor's Management Report for Fiscal Year 2005. It's never been higher than that. If you add the collection of old electronics, motor oil and yard waste, New York City's overall recycling rate is about 27 percent. By comparison, San Francisco's recycling rate is around 77 percent, Los Angeles, about 62 percent, and Seattle about 51 percent.
The Solid Waste Plan: Environmental Justice?
If Mayor Bloomberg angered environmentalists by disrupting the recycling program, he made even more enemies when he unveiled his 20-year Solid Waste Management Plan, or SWMP.  
Under the plan, Bloomberg proposed renovating and re-opening four of the city's former marine waste transfer stations as high-tech facilities where garbage would be packed into airtight shipping containers and placed onto barges that would float the containers to rail heads in New Jersey. There they'd be put on trains to distant landfills. One of those MTSs was in the Upper East Side. Its loading ramp cut arcs over the playing fields of the recreational facility, Asphalt Green.
Upper East Siders were incensed.
"Garbage dumps — and that's what this is, it isn't a marine transfer station, it's a garbage dump — garbage dumps shouldn't be in any residential neighborhood where people live, where there are parks where people play," said Tony Ard, one of the early opponents of the East 91st Street MTS.
It was an argument that fell flat for Staten Islanders, who bore the stigma of Fresh Kills for more than 50 years. It also didn't sit well with black and Latino New Yorkers, whose neighborhoods have long hosted bus depots and sewage plants. With Fresh Kills closed, most of our garbage was going — and continues to go — to privately-owned waste transfer stations in three working class and minority communities: the South Bronx; Jamaica, Queens; and Greenpoint, Brooklyn. Environmental advocates like Eddie Bautista, head of the Organization of Waterfront Neighborhoods, said the SWMP would bring environmental justice.
"There isn't a single waste transfer station in Manhattan and it generates 40 percent of the city's waste," he said at a hearing in 2005. "There's something wrong with this picture."
Sanitation department officials explained the SWMP would lower, or at least stabilize, shipping costs and reduce truck traffic and emissions. It would also promote something that has eluded New York City ever since Fresh Kills was opened: borough equity. Every borough would have to host some kind of garbage facility, including Manhattan. It's a fair and noble idea, but it felt misguided and punitive to Upper East Siders, who packed hearings and whose representative, City Councilman and Speaker Gifford Miller, fought hard to have the East 91st Street MTS dropped.
Miller, who ran for mayor in 2005, lost in the Democratic primary. He was replaced as Speaker by Greenwich Village City Councilwoman Christine Quinn, who sought a less adversarial relationship with the Bloomberg Administration. Under Quinn, the Council overwhelmingly approved the SWMP in 2006 by a vote of 44 to 5.
The Bloomberg Administration breathed a sigh of relief. Cas Holloway, Deputy Mayor of Operations, was an advisor to Mayor Bloomberg at the time and called it "probably one of the most divisive, in terms of being a political nail biter, fights in the entire 12 years of the Bloomberg mayoralty."
Upper East Siders continued to press their case. They sued several times (a good 2011 analysis of the lawsuits can be found here). Their arguments have failed so far, but they keep appealing. Others fought the parts they didn't like, like the re-opening of the North Shore MTS in Queens near LaGuardia Airport. Critics argued, without success, that the garbage would draw seagulls and geese and pose a hazard to jets.
The SWMP has become a swamp, mired in litigation and politics. Just one of the seven facilities the city was supposed to build is operating. The others are delayed, or just getting underway, like the MTS at East 91st, or, even worse, are still on the drawing board. This means, nearly seven years after the passing of the Solid Waste Management Plan, trash is still moving primarily through Greenpoint, Jamaica and the South Bronx. Brooklyn City Councilwoman Diana Reyna has introduced legislation that would force the Department of Sanitation to reduce the amount of trash it brings to these communities.
The delays also mean the unfinished parts are vulnerable to political and economic pressures. A 2012 report by Citizen's Budget Commission estimates construction costs could reach $970 million, a 78 percent increase from initial estimates. This is expected to make disposal costs much higher, at least in the short term. The CBC, citing the Department of Sanitation's own figures, said waste exports are expected to grow from $300 million in fiscal year 2011 to about $450 million in 2016, a 50 percent increase. A 2012 analysis of garbage disposal costs for the East 91st Street MTS alone, conducted by the Independent Budget Office, predicts them to increase from $90/ton under the current truck-based contract to $238/ton in the first year after the MTS' barge-to-rail process goes into effect.
City officials do not dispute this, and it's led to a noticeable shift in the thinking at City Hall, a shift toward recycling.
"The true answer to this issue is to work hard to increase that diversion and recycling rate," said Deputy Mayor Holloway.  "Because it's by lessening the amount of waste that New Yorkers produce overall that you make all of these facilities less burdensome, and, who knows, maybe even obsolete."
Michael Bloomberg, the mayor who cut recycling in his first year in office, leaves having announced a number of innovative recycling initiatives. They include pilot food composting programs that a mayoral spokesman says has already diverted more than 1,00 tons of organic waste from landfills.  Under Bloomberg, plastics recycling was expanded to include more types, the so-called "rigid plastics" stamped with codes 3 through 7, like polypropylene and polyvinyl chloride. It's the largest expansion of the recycling program since its inception in 1989.  Last week, Mayor Bloomberg helped cut the ribbon on a $110 million, state-of-the-art recycling facility in Sunset Park, Brooklyn, that will sort these plastics, along with recycled metal and glass.
Tom Outerbridge, director of municipal recycling for SIMS Metal Management, which built the facility, suggested it's the "fix" to the recycling program that Mayor Bloomberg promised in 2002.
"THe city has gone from a very primitive recycling infrastructure to something as sophisticated as anything in the world, really," he said.
But these initiatives won't mean much if New Yorkers don't participate.  It will be up to Mayor-Elect Bill de Blasio to do this. He'll also have to decide whether to press forward with the Solid Waste Management Plan as is. He voted for it as a Park Slope, Brooklyn, City Councilman. He also supports re-opening the much-contested East 91st Street marine waste transfer station, losing Democratic primary votes in Yorkville to Bill Thompson as a result. But he's suggested he's willing to listen to the community's concerns.
It might just be the opening they need to undo Michael Bloomberg's solid waste management legacy.