Blocking the School-to-Prison Pipeline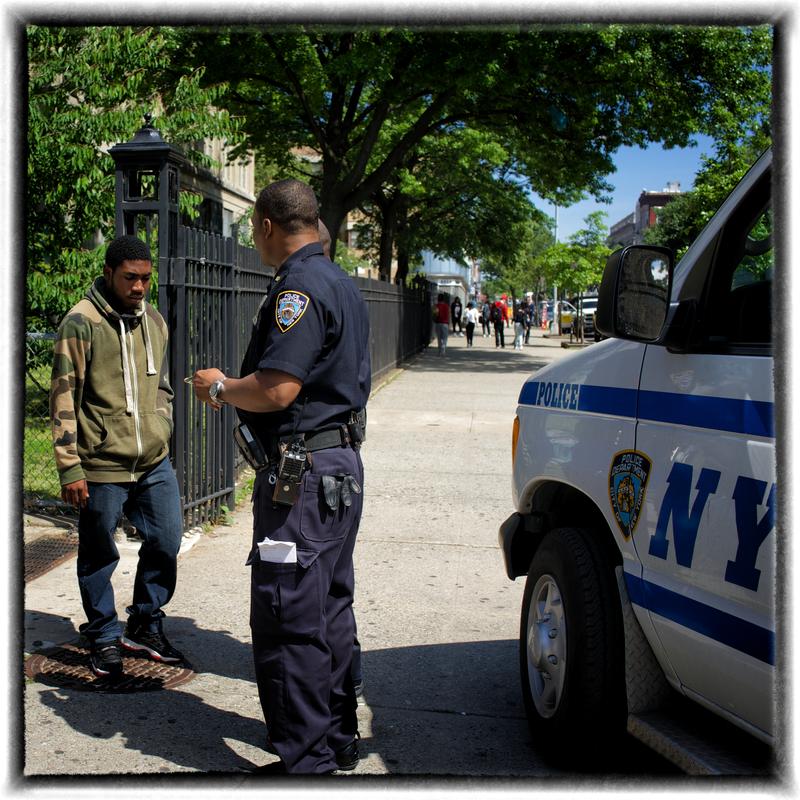 New York City has the largest school district in the country and a reputation for doling out harsh penalties. Even the Justice Department has warned that routine infractions should land a student in the principal's office — not in a police precinct. As another school year wraps up, pressure is on Mayor Bill de Blasio to announce discipline policy reforms.
The kind of trouble that can land students in jail is more likely to happen while while they're in school rather than out on summer break. Fifty percent more juveniles went through the criminal justice system in May 2013 than in August that year, according to Department of Probation intake data. "They aren't better behaved during the summer than the winter," observed former DOP Commissioner Vincent Schiraldi, in February. "They're just less surveilled."
As senior advisor in the administration's Office of Criminal Justice, Schiraldi is now focused on coming up with a plan that will help reduce the number of kids getting hauled out of school in handcuffs, attempting to close what has come to be known as the "school-to-prison pipeline."
About 118,000 students pass through metal detectors to get into school every day — nearly 1,000 of them at Boys and Girls High School on Fulton Street in Bedford-Stuyvesant, Brooklyn. "So now you come into the classroom after having gone through these security checkpoints and you're expected to be present and learn and pass the tests," said Dionne Grayman, who taught at Boys and Girls last year. Grayman said she's seen how the layers of security take its toll on students and interferes with their ability to learn.  
 Middle school students who attend M.S. 301 in Bedford Stuyvesant, Brooklyn, said they had all been suspended in the recent past. (Ruddy Roye)
Five thousand uniformed school safety agents are tasked with patrolling and keeping campuses safe. They don't carry guns but are deputized to use handcuffs and make arrests. This security force is blamed for a negative school climate. But Gregory Floyd, president of their union, Local 237, thinks that perception is unfair.
"For instance, if you have a teacher who decides that there is a student in his or her class that isn't doing the work, they call the school safety agent in," said Floyd. "I've heard about arrests where a student was drawing on a desk — the safety agent should have never been called in on that situation."
It's been three years since the NYPD was required to make school arrest data public. In that time, there have been more than 5,100 arrests and summonses. Nearly two out of three students arrested were black. And of the nearly 665,000 kids who've been suspended since 2001, more half were black — even though black students represent only 30 percent of the total student population.
Eighth grader Gareik McGall, who attends M.S. 301 in Bed Stuy, said he was suspended for vandalism last year after he chased a student who took his wallet and a classroom chair fell and broke.
"It felt like they didn't really care what happened," the 14-year-old said. "They want less problems at school so they suspend kids for no reason."
Most of his friends have been suspended too, for everything from fighting to sassing back to the lunch lady. "Insubordination" is one of the top reasons kids get banished from school, and it's the one part of the discipline code advocates and parents agree must be changed.
"Testing the limits…it's a way of life for teenagers," said Donna Lieberman, executive director of the New York Civil Liberties Union. "And yet the discipline code allows kids to suffer really irreparable harm."
Cassandra Alston Townsley (left) said she's so fed up with the number of school suspensions, she is planning to send her 14-year-old son Malachi, who's been suspended twice, to an out-of-state high school next year. (Ruddy Roye)
Having an arrest record has known consequences, but the effects of suspension can also be long-lasting — spending extended periods out of school is linked to lowered graduation rates. In his book Punishment and Inequality in America, Bruce Western found that nearly 60 percent of black males who dropped out of school were incarcerated by the time they were in their 30s. Most supporters of school discipline reform agree that any real fix must address deeper issues — like why kids act out in the first place. Spending on guidance services like social workers and psychologists is down more than 2 million dollars over three years.