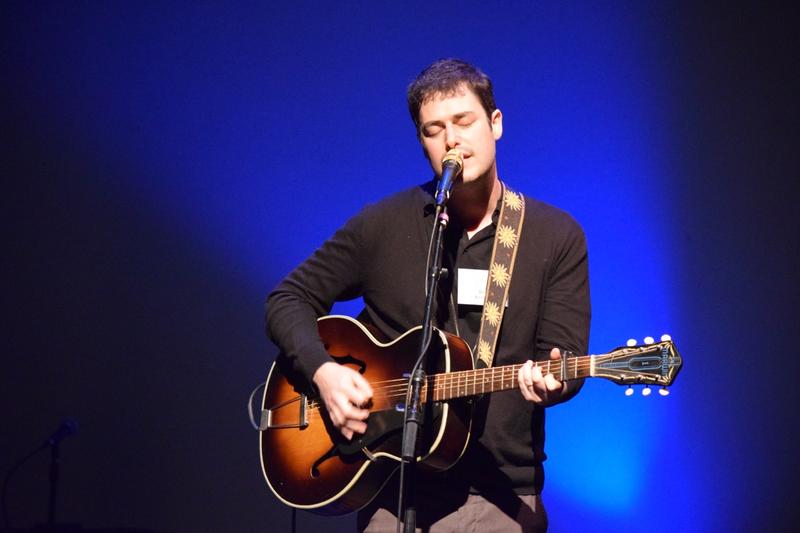 Ben Arthur has released six albums and two novels, and is a producer of the songwriting web series SongCraft Presents. His upcoming album, Call and Response, is a collection of "answer songs."
Starting a new song means the floor gets swept, the laundry gets folded, and my email gets checked and rechecked, all to avoid the oppressive abyss of the blank page.
Though most songs begin in dread, decades of writing have taught me a few useful coping strategies. One of my favorites is to immerse myself in another artist's work. While this has its own hazards (there's often a sense, with art that I love, that I'll never be this good) it can also offer a short cut around the blank page. By beginning a song as a response to someone else's work, the question part of the equation has been filled in — I only need to figure out my answer.
All art answers other art. No artist, however unique, exists in a vacuum — the work that we love and hate informs every artistic choice we make. The only difference with "answer songs" like those I've been writing recently, is that they are more specific about the art that they are responding to.  
There is a long tradition of this in music. "Sweet Home Alabama" responds to "Southern Man," even calling out Neil Young by name in the second verse. And Woody Guthrie's "This Land is Your Land" was originally titled "God Blessed America for Me" in sardonic answer to Irving Berlin's patriotic song.
For an upcoming performance at the Greene Space, Xenia Rubinos and I will be performing answer songs written in response to a new novel by Rick Moody (The Ice Storm, Garden State). Moody's Hotels of North America is a wonderfully strange experiment in form: one man's painful divorce described through a series of online hotel reviews. The novel pivots between acid wit and banality, with Moody's beautiful prose and carefully studied portraits of human foible holding the experiment together. [Read an excerpt of the book below.]
I wasn't sure where to start with my answer song – though themes of remorse and uncertainty color every chapter, the main character is deliberately obscure. (The afterword suggests, with a Borgesian shimmer, that he may not exist at all.) But one day while I was thinking about the novel, my ten year-old daughter suggested I should write a song called "Artificially Happy." To my surprise a pop melody instantly bubbled up in my mind, and a few moments later a full chorus had been sung into my phone.
I liked the chorus, and I knew it would be a fun song to write, but I wasn't sure it was right for Hotels. The sugary melody was not at all offbeat and unexpected like Moody's novel. Shouldn't I try to deconstruct the song somehow, in answer to the book's challenging format? (I still feel that maybe I should have.)
But inspiration that gives itself freely must be gratefully received, so I wrote the rest of the song with Moody's main character in mind. I titled it "An Amazon Review of Rick Moody's Hotels of North America," but made the verses as unrelated to their titular subject as the hotel reviews in Moody's book. 
Though I'm not sure I did the novel justice, I am pleased that at least I didn't succumb to the terror of the blank page. (Plus, the laundry is folded.)
You can see Rick and Ben perform at WNYC's Greene Space on November 10th. Ben and Xenia Rubinos will play "answer songs" inspired by Hotels of North America, Soundcheck's John Schaefer will moderate a conversation about inspiration, and artist Michael Arthur will draw a piece inspired by the event, live. Watch video from a previous 'Answer Songs' session with author Joyce Carol Oates.
---
 Hotels of North America by Rick Moody
Excerpted from the book HOTELS OF NORTH AMERICA by Rick Moody. Copyright (c) 2015 by Rick Moody. Reprinted with permission of Little, Brown and Company.