The Takeaway
Bismarck Residents Didn't Even Have to Fight to Re-Route the Dakota Access Pipeline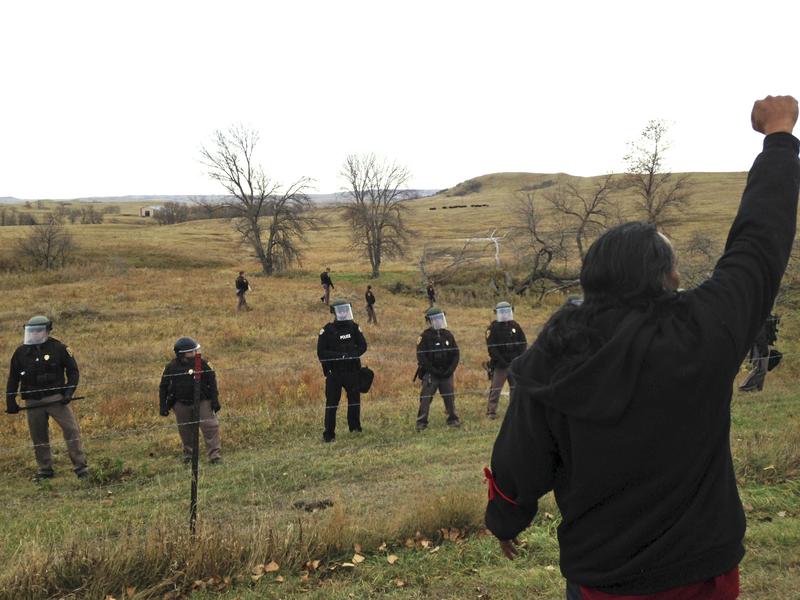 Click on the 'Listen' button above to hear this segment. 
Snowfall has made its way to North Dakota, adding an element of concern to the ongoing battle over the Dakota Access Pipeline. On Monday, North Dakota Governor Jack Dalrymple ordered an emergency evacuation of protesters working to block the construction of the $3.8 billion pipeline, citing safety concerns with the oncoming winter weather.
This announcement comes just days after the U.S. Army Corps of Engineers issued a letter to the Standing Rock Sioux Tribe, stating that the land they manage north of the Cannonball River will be closed on December 5th. Anyone found on the land after that date will be considered trespassers and subject to prosecution.
For several months, the local Native American community and other protesters have been arguing that the pipeline could threaten the reservation's water supply. The original pipeline was to be routed just north of Bismarck, North Dakota, but the proposal was rejected for similar reasons, according to Karen Van Fossan, minister of the Unitarian Universalist Congregation in Bismarck, North Dakota.
"I actually read about the original pathway, or an original pathway of the pipeline, in our local newspaper," she says. "It's our understanding, and I've talked to everybody who I know who would have known about it in advance, that we never even in Bismarck had to make an objection. The pathway was moved away from our drinking supply without our even needing to go to a meeting or write a letter."
Van Fossan says she believes a decision was independently made to reroute the pipeline to its current location. The Takeaway has reached out to Bismarck city officials, as well as supporters of police from Bismarck, but have yet to hear back.
"Nobody I know ever knew anything about the routing north of Bismarck," Van Fossan says.
Though Bismarck is 92.4 percent white, according to 2015 figures from the U.S. Census Bureau, Van Fossan says that many residents in the city are "aghast" by the events playing out in Standing Rock, and are standing in solidarity with the indigenous protesters and other demonstrators.
"Sadly, there are also people who I would say aren't catching the point, which is that the people at Standing Rock are as important as we are, and that [their] water supply is as important as ours," she says.
Van Fossan and others have brought an interfaith yurt to the Standing Rock campsite at the site of the Dakota Access Pipeline, and she's been providing the protesters with supplies.
"If there was ever a time to be in solidarity, it would be during winters like we have here, and the winter that is now coming," she says. "Our solidarity doesn't end when the warm weather ends."