When Bingo Is More Than a Game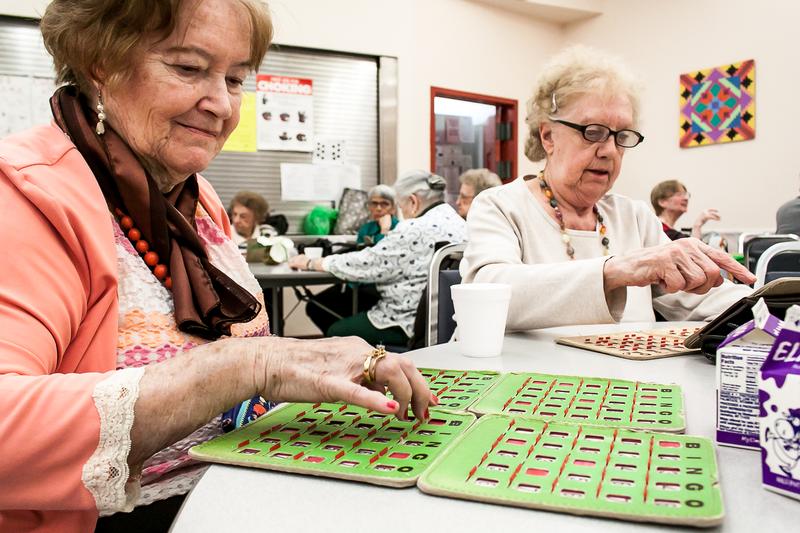 As part of our Prescription for the Bronx project, WNYC asked photographers at the Bronx Documentary Center to tell stories about health in their own communities by photographing Bronx residents with their "Lifelines" — the thing or person who helps keep them healthy.
Photographer Adi Talwar brought us Mary Barron's story. She holds two masters degrees, but is struggling with dementia and finds it hard to communicate. But with the help of her home health aides, most days she visits a senior center in Norwood to play a few rounds of Bingo. The senior center is her lifeline.
Mary Barron is grappling with dementia, but she gets help from home health aides like Cathy to get to the doctor and do her errands. (Adi Talwar/Bronx Documentary Center)
Senior centers like the Sister Annunciata Bethell Senior Center in Norwood are often helpful for people with dementia, giving them time to socialize and play games. With Cathy's help, Mary visits the center five days a week. (Adi Talwar/Bronx Documentary Center)
Despite her difficulties with communicating, Mary still enjoys playing Bingo. (Adi Talwar/Bronx Documentary Center)
Mary not only plays Bingo at Sister Annunciata Bethell: she plays to win.
(Adi Talwar/Bronx Documentary Center)
The Sister Annunciata Bethell Senior Center also provides its patrons with meals. (Adi Talwar/Bronx Documentary Center)
Cathy joins Mary for meals at the senior center, helping her throughout the day. (Adi Talwar/Bronx Documentary Center)
The senior center also has computers for browsing the internet, checking email and playing card games. (Adi Talwar/Bronx Documentary Center)