Bill de Blasio's First Budget Promotes Schools, Housing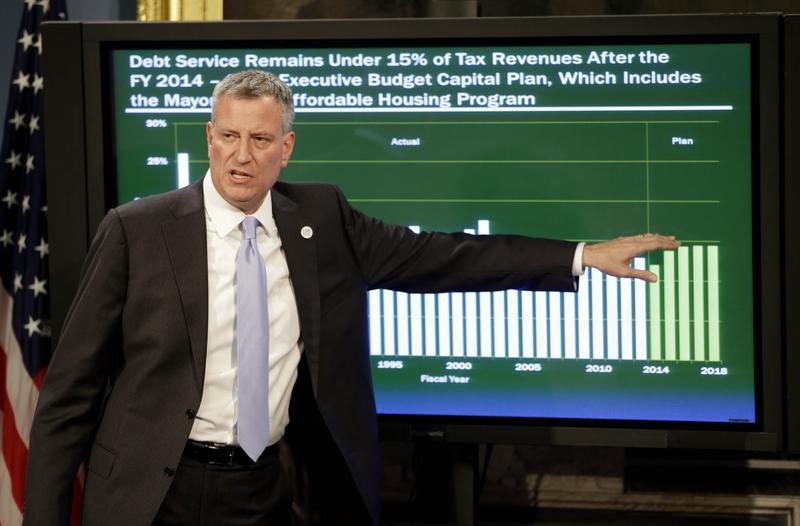 Mayor Bill de Blasio's first executive budget, released Thursday, includes significant spending increases in education and housing. The nearly $74 billion plan includes $41 billion over 10 years to promote affordable housing and hundreds of millions of dollars in school spending. De Blasio also plans to reduce the city's revenue from tickets and fines by at least 8 percent.
The budget does not include money the City Council wanted to provide free lunch for all New York City school children. The Council was seeking $24 million in order to feed all students, not just those who qualify for government help. De Blasio said that if the city extended free meals to all children it risked losing federal funds. It also leaves out money for additional police officers, another Council request.
Highlights of the FY 2015 executive budget include:
Education
• $145 million for after school programs
• $20 million in aid for City University of New York students
Affordable Housing
• $41 billion over 10 years to build or preserve 200,000 units of affordable housing; de Blasio says this will create about 194,000 construction jobs and over 7,000 permanent jobs.
Transportation
• $42 million on traffic safety, including funds for speed cameras, the redesign of intersections, and New York Police Department traffic enforcement.
• $226 billion for road resurfacing; Paul Steely White of Transportation alternatives says the money is a hidden opportunity to make streets safer, since "When they resurface a road, they're marking it differently to give pedestrians more protected space, give riders a dedicated lane so that their bus isn't stuck behind a double parker."
Labor
• City officials say the contract reached with United Federation of Teachers sets the pattern for future contract negotiations. Based on that assumption, city officials say the net impact on the city to pay for wage increases over the next seven years for city works will be $5.5 billion. 
• The healthcare savings targets agreed to by the Municipal Labor Committee are enforceable by arbitration.
The budget now will be subject to negotiations with the City Council. By law, both sides need to reach a budget deal by July 1, the start of the new fiscal year.