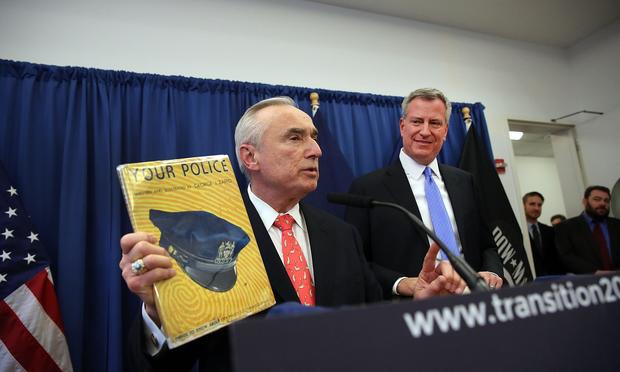 (Spencer Platt/Getty)
What Bill Bratton Learned in Each City
Boston: Play the PR Game The Boston Globe's Kevin Cullen says that Bratton learned early that "if you don't have the media and the public on your side you aren't going to succeed." He came up quickly in the BPD and was almost "too ambitious by half. It wasn't surprising that he had to go to New York to succeed at the highest levels."
Boston: Make Friends With Wonks Cullen says Bratton "had no problem rubbing elbows with academics." Police departments can shun think-tank-types but Bratton sought out Harvard professors and other academics using statistics to research crime prevention. Frank Zimring says this continued in New York, where many of the "broken windows" ideas came from outside the police force.
NYC: Consolidate Information Frank Zimring says that the famous CompStat program was about using statistics to set crime-reduction goals, but it was also a way of consolidating power. Under CompStat, central managers were able to keep a close eye on what was going on at the precinct level. Bratton brought this model to Los Angeles, says Frank Stoltze of KPCC.
LA: Police = Democracy In Los Angeles, Stoltze says Bratton was genuinely convinced that that the LAPD wasn't just a crime-prevention unit, but a "primary force for social change" that could actively repair race relations. The police are the face of government for many citizens, and as such can help strengthen democratic systems, Bratton believes.