The Takeaway
Bill & Melinda Gates: Myths Blocking Progress for the Poor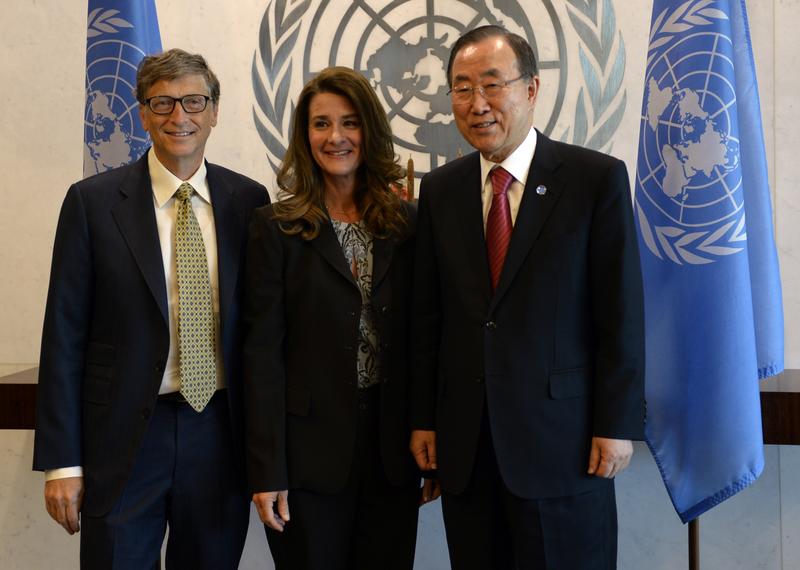 Since launching their eponymous foundation in 2000, Bill and Melinda Gates have granted nearly $30 billion to organizations and individuals working to eradicate poverty across the world. 
Today the Gateses release their annual letter, an announcement of their goals for the year to come. This year, the Gateses focus their letter on myths that they believe block progress for the poor. In the annual letter and in this interview with Takeaway host John Hockenberry, Bill and Melinda Gates examine three particular myths:
Poor countries are doomed to stay poor.
Foreign aid is a big waste.
Saving lives leads to overpopulation.
Melinda Gates begins by examining the overpopulation question. "What we discovered is that as more children survive in a family around the world, people naturally want to bring down their birth rate," she explains. "They want to be able to feed and educate those children, and they see the future for their children." 
She continues. "Because [of] a lot of things that were written in the late 1960s about the population explosion, those myths have held," she says. "And so as we've learned more about this and realized my goodness, actually the opposite is true. We want to make sure the word gets out there."
Bill Gates discusses the second myth, the idea that foreign aid is a waste because of corruption and dependence. "If you went in and ran businesses yourself or distorted prices, yes that could mix things up," he says. "And you do want to work with them to make sure you don't bring in too many experts, that you're educating their people."
As Bill explains, "We're learning all the time on how you accelerate that self sufficiency; but help is aimed in that direction, and we see so many examples where that's worked."
Melinda Gates particularly emphasizes the changes she's seen in Africa. "As we have traveled around Africa you see families coming together, you see communities coming together to demand health services of their government. So I saw this recently when I was in Senegal. The community, these three villages had banded together and said, 'We need a health post in our community.' And in their collective power, they go to government and they get a health post built.
"You see the change that has happened around the world when you get a growing, prosperous middle class in a country, and I think you'll start to get these rights for women and other people that are so needed," she says.
Listen to the full interview above and check out the transcript here. What do you think of the myths outlined by Bill and Melinda Gates? Take our survey below.