What's in the Air as You Cycle City Streets?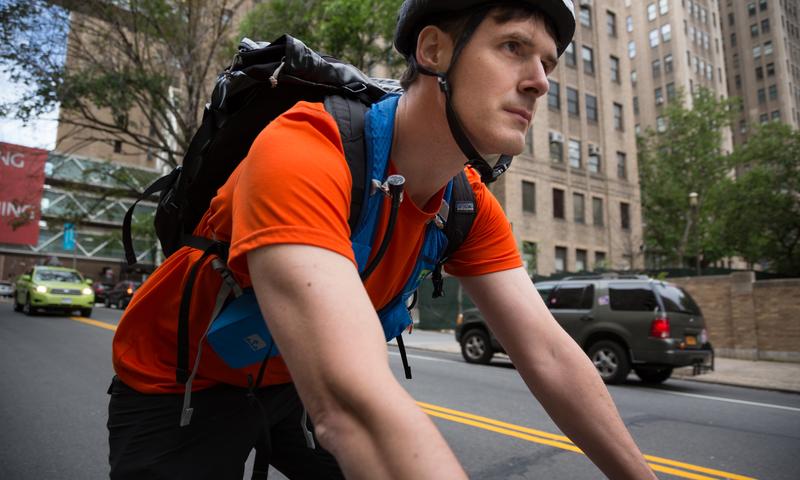 WNYC is partnering with Columbia University to help launch a study on air quality and biking. Sign-up by clicking here.
Before Darby Jack leaves his house in Brooklyn to bike to his office in northern Manhattan, he checks the air in his tires and grabs his keys, wallet and helmet. 
Lately, he sometimes takes a lot of other gear, too: a heart rate and respiration tracker, a portable blood pressure cuff, and fancy air monitors that measure pollution, developed by one of his colleagues at Columbia University.
Jack has been doing test rides for a study he and his team from the Mailman School of Public Health and Lamont-Doherty Earth Observatory are launching with WNYC. The equipment he wears generates a time-stamped record of which roads, bridges and bike paths have greater and lesser amounts of fine particles. These particles are mainly produced by combustion in cars, buildings' heating units, and various industrial settings.
Fine particles, many of which are made up of black carbon, are linked to a wide array of heart, respiratory and other health problems. Using statistical models, city health officials estimate fine particles cause more than 2,000 premature deaths and 6,000 emergency room visits and hospitalizations each year. Most of those are in vulnerable populations: the very young, the very old, and people with conditions such as asthma, chronic obstructive pulmonary disease, heart disease and hypertension. 
But actually measuring fine particles, particularly at the level of specific streets, is tricky. Measuring how many of them get into the lungs is even trickier. And linking that exposure to health outcomes is trickier still.
"The core idea of this study is to take into account not just the personal exposures, but also the amount people are breathing and how that multiplier [from moving around the city] affects the actual dose of pollution," Jack said.
To help the team create a map — and perhaps eventually a smartphone app — WNYC is asking its audience to participate in a study funded by a grant from the National Institutes of Health, to bicycle around the city, wearing the same rig Jack is wearing.
TO LEARN MORE ABOUT WHAT IT TAKES TO VOLUNTEER, CLICK HERE.
Initially, only a few dozen riders will be selected, but in later rounds there would be several times that.
Other similar efforts either use less sophisticated monitors and don't attempt to gauge inhalation the way this one does, or use specially equipped vans, or simply superimpose bike routes on top of maps based on data gathered by environmental authorities from monitors posted high in the air.
Cyclists are uniquely qualified to measure the air because they cover reasonably long distances —  more than most walkers or runners —  and they move at street level. There's also a range of settings that can be compared: roadways, bike lanes and separate bike paths, like the one along the Hudson and the West Side Highway. The Columbia team is hoping to recruit a geographically diverse group, that will sample many different neighborhoods. Initially the study will use bicycle commuters, since they typically repeat the same route every day, twice a day, but in subsequent rounds, researchers may also look at people who deliver food and other goods by bicycle. 
The data the Columbia team hopes to amass would benefit more than just cyclists, but people who exert themselves may be more vulnerable, since they take in more air.
"When you exercise, your breathing goes up a lot," Jack said. "As your body demands more oxygen, you're just  breathing faster and drawing deeper breaths, and if there's pollution in the air, that means you're breathing in more particles.
For the study, volunteers will have to wear monitors, or keep them close by, not only while riding but while they're resting and even sleeping, so that researchers can determine what their normal blood pressure, heart rate and respiration rate are. Using the equipment, Jack has found that he inhales around 3 liters of air per minute at rest and as much as 10 times that while really exercising hard.
On a relatively clean day a New York City, we might be exposed to 15 micrograms of fine-particle pollution in each cubic meter of air. Multiply that by 10 because you're breathing hard, and pollution levels start to approach what people in Beijing and New Delhi experience.
"For that period of time when you're exerting yourself, your inhaled dose of pollution is potentially much more worrisome from a health point of view," Darby said.
New York City is much cleaner than Beijing and New Delhi, but the American Lung Association ranks it among the most polluted in the U.S.
Nonetheless, it has improved dramatically, both over the last five decades and over the five years measured by a recent Health Department report. Between 2008-2013, the city saw declines of 16 percent in fine-particle pollution, 19 percent in nitrogen dioxide and 69 percent in sulfur dioxide. The drop is attributed to long-term trends, including cleaner cars and the disappearance of heavy industry, the tightening of diesel emission standards, and to the phasing out of heavy heating oil, which has been replaced by cleaner oil and natural gas. 
Find out how to participate in the Columbia study by clicking here.