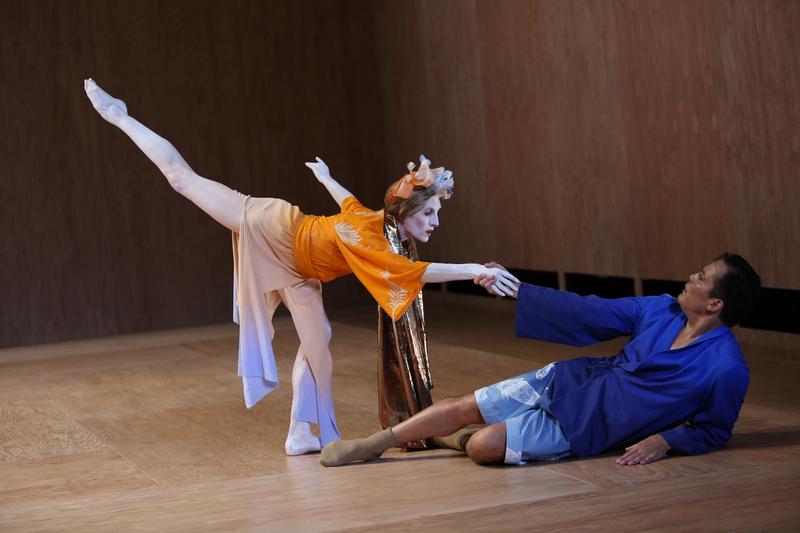 A dance show without dance?
That's the extreme form of a trend in New York's dance scene, where choreographers are becoming more like directors, melding many different elements with dance.
Marina Harss, a dance writer and critic, tells WNYC's Richard Hake that in many of the shows playing now, you'll find opera, visual art installations, and monologues. For example, Hagomoro now at BAM, staring recently retired New York City Ballet principal dancer Wendy Whelan, is inspired by the Japanese art form Noh. Scaffold Room by director and choreographer Ralph Lemon incorporates an art installation with performances and readings. And then BalletCollective founded by Troy Schumacher is a small company that works with visual artists and composers to create immersive performances.
(Listen above for the entire interview.)
But next week, looking "beyond dance" for one performer will be just that. World-renown dancer, Sylvie Guillem, will make her final appearance in the U.S. at New York City Center next week as she is retiring from dance.
Finally, there's choreographer Ronald K. Brown and his company, Evidence, A Dance Company. Brown has stayed focused on dance that combines West African, club and modern dance and as part of the company's 30th anniversary, he will present two programs at BRIC.
Upcoming shows and companies cited by Harss include:
Hagoromo at BAM, part of the 2015 Next Wave Festival, runs from until Nov. 8, 2015.
Scaffold Room at The Kitchen includes performances until Nov. 10, 2015. The installation is open until Dec. 5, 2015.
BalletCollective at NYU Skirball Center Nov. 4 and 5, 2015.
Sylvie Guillem – Life in Progress at New York City Center from Nov. 12-14, 2015.
Ronald K. Brown/Evidence, A Dance Company at BRIC House from Nov. 12-14 and November 19-22, 2015.