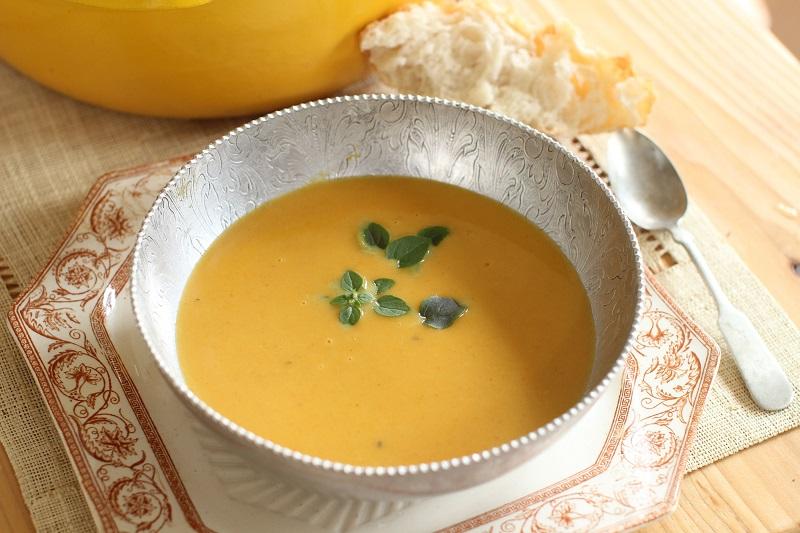 Tis the season for squash! Although most of us are only familiar with a handful of squashes, there are 150 varieties of heirloom pumpkins, squash, and gourds. For this week's Please Explain, Chef Alfred Portale, executive chef and co-owner of the Gotham Bar and Grill, shares his favorite ways to cook different kinds of squash. Zaid Kurdieh, a professor and partner operator of Norwich Meadows Farm, LLC, a certified organic, diversified vegetable farm in Norwich, NY, also joins us to discuss squash varieties and share growing tips. 
Recipes (Courtesy of Alfred Portale)
Butternut Squash Soup with Spiced Crème Fraîche        
Makes 6 servings
The porridge like consistency of this soup preserves all the distinguishing characteristics of butternut squash, to which hints of nutmeg, allspice, and cinnamon are added for a soul-warming autumnal starter that's as comforting and nurturing as an evening in front of a roaring fire.
To coax out as much flavor as possible, the squash is first cut into cubes that are heated slowly in butter until thoroughly caramelized and just beginning to break down around the edges. When shopping, look for a butternut squash with a long neck and pick it up to gauge its weight: if it feels heavy for its size, it will have a small seedbed, which means more usable flesh inside.
The crème fraîche behaves almost like a condiment here; swirl it in, or let it rest decoratively on top.
Thinking Ahead:
The soup and the crème fraîche can be made a day in advance; if you do this, do not enrich the soup with butter until reheating the next day.
SOUP:
¼ cup unsalted butter
4 pounds fresh butternut squash, peeled, seeded, and diced into 1-inch cubes
Coarse salt and freshly ground white pepper to taste
2 shallots, peeled and sliced
2 cloves garlic, peeled and sliced
2 sprigs fresh thyme
1 bay leaf
2 cups White Chicken Stock
In a 12-inch saute pan, heat 1 tablespoon of the butter over medium-high heat. Add the squash and season it with salt and pepper. Cook for 15 to 20 minutes, stirring occasionally, until nicely caramelized but still firm.
When the squash is nearly cooked, heat 1 more tablespoon of butter in a soup pot over medium-high heat. Add the shallots and cook for about 2 minutes, stirring, until translucent. Add the garlic, thyme sprigs, and bay leaf, and stir for about a minute. Add the squash and chicken stock.
Raise the heat to high and bring to a boil. Reduce the heat and simmer, partially covered, for 20 to 25 minutes, or until the squash is tender. Using a slotted spoon, remove and discard the thyme and bay leaf. Transfer the soup to a blender or food processor fitted with a metal blade, and purèe until smooth.
Return the soup to the pot to keep warm. Stir in the last 2 tablespoons of butter to enrich and thicken the soup. Ladle it into bowls and garnish each serving with a swirl of crème fraîche.
Variations: You can vary the squash, using buttercup or sugar pumpkin if you prefer their flavor.
SPICED CRÈME FRAICHE
1/3 cup crème fraiche
1/8 teaspoon ground cinnamon
1/8 teaspoon ground allspice
1/8 teaspoon ground nutmeg
Coarse salt and freshly ground white pepper to taste
In a stainless-steel bowl, whisk together the crème fraîche, cinnamon, allspice, and nutmeg. Season with salt and pepper. Serve immediately or cover and refrigerate for up to 1 hour. Whisk again before serving.
Flavor Building: Stir in pieces of duck confit to add gamey punctuation, or top the soup with chopped, roasted chestnuts.
Squash- Avoid acorn squash in recipes that call for peeling and dicing; its deep ridges make this task almost impossible. Instead, use acorn squash for roasting, after which the pulp can be easily scooped out.
Butternut Squash Risotto, Maple-Smoked Bacon, and Sage    
Makes 6 appetizer or 4 main-course servings
When summer has long since turned to fall and the bitter cold of winter is just weeks away, I suggest preparing this dish to offer reassuring warmth to a small circle of friends and family. Based on a Venetian holiday recipe, this risotto boasts a rare and invigorating combination of ingredients both to welcome and combat the chill of the season. Part of the recipe's impact derives from the spiced butter that finishes it with a powerful dose of garlic, chervil, marjoram, cinnamon, and ginger.
But there's an equally important step that's worth noting here: Many risotto recipes cook all the ingredients into the rice, but the success of this dish depends on not doing this, but adding the squash at the end to keep its flavor isolated and allow each bite to bring a different sensation to the palate. To achieve this effect, it's absolutely essential that the delicate, caramelized squash cubes be stirred in as gently as possible just prior to serving. Not only does this preserve the integrity of the squash's flavor, but the orange cubes will punctuate the risotto with dazzling bursts of color.
You might also break with the convention of serving risotto as either an appetizer or an entrée, and use this one as a side dish with roast pork (squash, cinnamon, and marjoram are commonly used to season pork) or simple roast chicken. Also, the bacon in this risotto will provide an understated continuity to the plate.
Thinking Ahead: The spiced butter may be prepared up to 8 hours in advance, covered, and refrigerated. The caramelized squash may be prepared as much as 1 hour in advance, covered, and held at room temperature.
SPICED BUTTER:
8 tablespoons (1 stick) unsalted butter, at room temperature
4 tablespoons Roasted Garlic Puree
2 teaspoons finely chopped fresh chervil
1 teaspoon finely chopped fresh marjoram
½ teaspoon ground cinnamon   
¼ teaspoon ground ginger
Coarse salt and freshly ground white pepper to taste
In a small bowl, combine all the ingredients. Cover and set aside at room temperature.
CARMELIZED SQUASH:
3 tablespoons unsalted butter
1 large (2-pound) butternut squash, peeled, seeded, and cut into ¾-inch cubes
Coarse salt and freshly ground white pepper to taste
2 teaspoons light brown sugar
In a large sauté pan, melt the butter over medium heat. Season the squash with salt and pepper, add it to the pan, and cook, stirring occasionally, until nicely browned, about 6 minutes. Cover and cook until tender, about 5 minutes. Add the brown sugar and cook until the squash is caramelized, but still holding its shape, about 2 minutes. Set aside.
RISOTTO ASSEMBLY:
About 2 quarts Double Turkey Stock
2 tablespoons olive oil
2 ounces slab bacon, preferably maple-smoked, cut into ½-inch dice
1 cup minced shallots or onions
1 pound Italian rice, preferably Vialone Nano, if available, or arborio
1 teaspoon chopped fresh sage
¼ teaspoon fresh thyme leaves
½ cup dry white win
2 tablespoons chopped fresh flat-leaf parsley
Coarse salt and freshly ground white pepper to taste
In a large saucepan, bring the stock to a boil over high heat. Reduce the heat and keep hot on a very low flame.
In a large heavy-bottomed saucepan, heat the oil over medium heat. Add the bacon and cook until lightly browned, about 5 minutes. Add the shallots and cook, stirring often, until softened, about 3 minutes.
Reduce the heat to medium-low. Stir in the rice, sage, and thyme. Cook, stirring with a wooden spoon, until the rice is coated, has released its starch, turns a milky opaque white, and begins to stick to the bottom of the pan, 7 to 10 minutes. Add the wine and boil until completely reduced, 2 to 3 minutes. Ladle about 1 cup of the simmering stock into the rice. Cook, stirring often, until the stock is almost completely absorbed by the rice. Continue cooking and stirring, adding another cup of stock only when the previous addition has been absorbed. After 15 minutes, begin tasting the rice. At this point, add the remaining stock judiciously. The rice should be firm, yet cooked through in 18 to 20 minutes total cooking time.
Stir in the spiced butter and the parsley, and season with salt and pepper, then gently fold in the squash cubes, keeping them as intact as possible. Transfer the risotto to warmed bowls and serve immediately.
Variations: You may substitute another winter squash for the butternut. I recommend Hubbard, acorn, or buttercup. To expand your knowledge of the varieties of squash, try a different one each time you prepare this dish to determine which you like best and how each one plays in this context.