Betrayal, Deceit, Deleted Texts and Christie Creme Donuts: Wrap-up of Bridgegate Week Three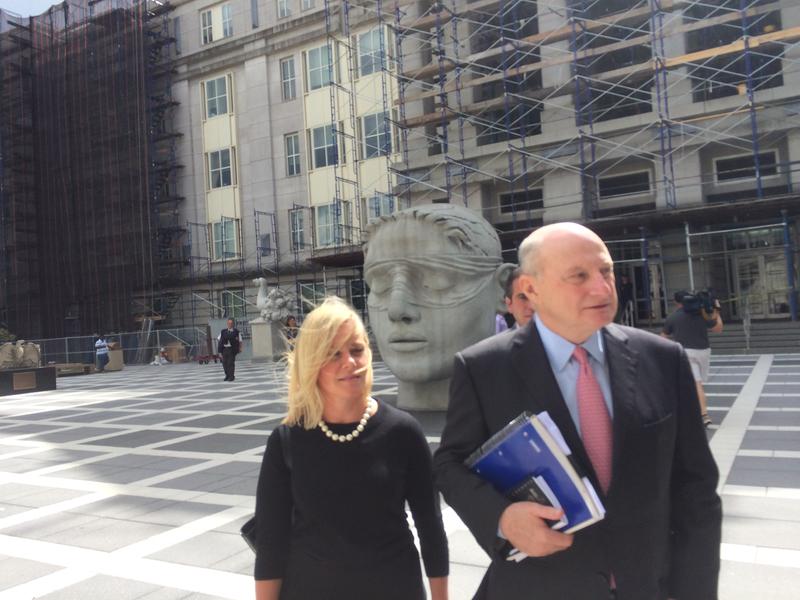 In federal court in Newark Friday, Bridget Kelly silently wept, wiping away tears with a white tissue. The occasion for the tears of the usually stoic Kelly came during the cross-examination of Christina Renna, Kelly's former report, and the head of Christie's Office of Intergovernmental Affairs, the division of the governor's office that either moved heaven and earth to help Democratic mayors or that placed them in the "penalty box" — Christie administration lingo — when those Democrats didn't endorse Christie for reelection.
Renna had offered up a key tidbit for prosecutors: namely, that Kelly directed her to delete an email showing that the the lane closures on the George Washington Bridge were retaliatory.  For the prosecution, that would be key evidence of Kelly's guilt.
But Renna is most well-known for a text she sent, revealed over the summer, that Christie "flat-out lied," when he denied knowledge of the lane closure plot at his first extended press conference on the matter. 
Both of those missives came into play in Newark on Friday, when Renna was subject to withering cross examination by Kelly's defense attorney, Michael Critchley.
First, Critchley established that Renna —  as she said herself in texts to her close buddy Pete Sheridan —"hated" Kelly. That she thought Kelly had "fucked her" by denying her a promotion. That she, Renna, is "a grudge holder, which is a problem for BK." That she, Renna, plotted with Sheridan to stage a staff-wide uprising against Kelly. 
Next, there was a subplot, that Renna's husband was seeking the governor's approval for his company's $420 million pipeline project, and that Renna and her husband were texting on Dec. 12, the day Renna said Kelly asked her to delete the email.
Then a dramatic timeline was introduced, with a cameo by Christie, via video clip, when he was asked, "Can you say with certainty that someone else on your staff or your administration didn't act on your behalf for political retribution?" And Christie answered, "Yeah, I have absolutely no reason to believe that, Angie, and I've made it very clear to my senior staff that if anyone had any knowledge about this, that they needed to come forward to me and tell me about it and they've all assured me that they don't."
Four minutes after Christie said that, at 11:38, Renna deleted the email in question that showed Kelly's knowledge. Four minutes after that, she texted Sheridan that Christie "flat-out lied" and that "if emails are found with the subpoena...that could be bad."
On direct examination, Renna had tried to clean that up, saying she had no way to know if Christie was lying, and that she'd based that statement on information Bridget Kelly had given her the night before. But Critchley wasn't having it. "Is it just coincidence that you delete your email right after the governor says: No one has evidence of retribution?"
Renna, Critchley pointed out, told no one of Kelly's request to delete the email, not even her husband, with whom she was in the car when Kelly allegedly said it. 
Renna shook her head.
Critchley wasn't done, presenting Renna with still another text to Sheridan: "This became later referred to as the Christie Cream incident, correct?" Critchley asked. 
It did, Renna affirmed. It seems that Kelly had invited all her interns to a bake-off, and that one had brought a doughnut box marked "Christie Creme," with the slogan "expanding nationwide in 2016," referring to Christie's upcoming presidential campaign. 
When this happened, Renna said to Sheridan via text, the governor and his top two aides "all freaked on BK," because a photo somehow leaked out on social media.  
This explosive reaction is in marked contrast to the nonchalance that Christie and his top two aides showed when asked about reports of lane closures in Fort Lee. Assured it was a "traffic study," they seemed to have left it at that. 
As Renna and Kelly sat across 30 feet of space in court, Renna read the final text she's received from Kelly, after she'd been fired by Christie on Jan. 9, 2014. 
It said, "you can't trust anyone, Christina."