The Takeaway
Bernie Sanders' Creative Director on Crafting The 'Cool' Campaign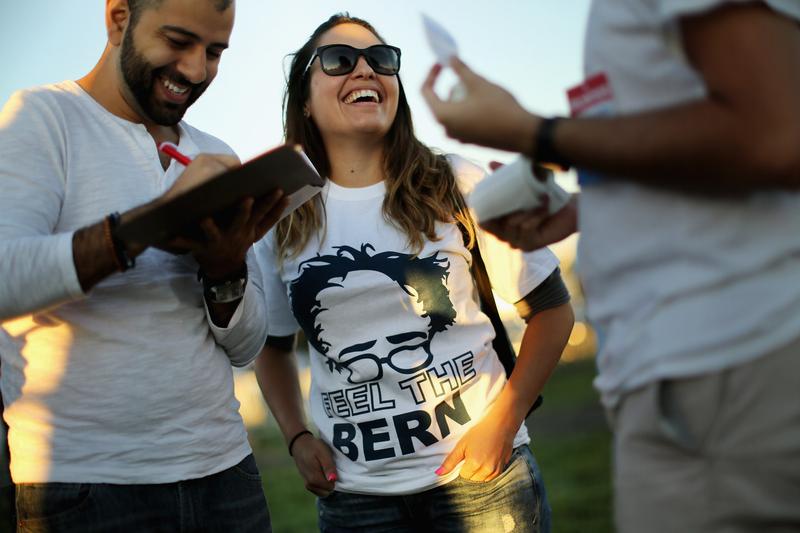 Click on the audio player above to hear the full interview.
Though former Secretary of State Hillary Clinton claimed victory in Hawkeye State this week, Vermont Senator Bernie Sanders has gained some real momentum going into the New Hampshire primary.
The self-described socialist came in second in the Iowa Caucuses, but Clinton's win was narrow enough to be worrisome: The Democratic candidates were separated by just 0.3 percent of the vote. Sanders has struck a chord with young people—the senator captured an astounding 84 percent of Iowa voters aged 17 to 29, and 58 percent of voters aged 30 to 44.
While the excitement around this untraditional candidate keeps growing, as a New Englander, Sanders will have to win big in New Hampshire to remain viable as the election cycle moves towards the South Carolina primary later this month.
Whether it's videos featuring Simon & Garfunkel songs or impassioned speeches about inequality, Sanders often comes off as a candidate that's unafraid, unassuming, and unaffected by celebrity and the trappings of public life. You might say that he's the anti-Trump, and Arun Chaudhary hopes to keep it that way.
Chaudhary is the digital creative director for Sanders' presidential campaign. He's tasked with capturing and crafting candid and authentic photos and videos of Sanders—images that are designed to resonate with millennial voters.
"There's so much stagecraft in politics, and often times things are setup for television shows, and the media in general, so unscripted, honest moments in which an individual, a man or a woman, may be sort of asking questions…is something that I think is fundamentally unique to backstage videography when it comes to politics," he says.
Capturing photos and footage of a candidate interacting with potential voters, Chaudhary says, helps demonstrate a candidate's intellectual curiosity and personality in a way that interviews, speeches, and debates simply do not. Additionally, he argues that behind-the-scenes footage is an important tool for individuals that are looking to learn more about a candidate's character.
"Obviously the Bernie Sanders phenomenon has really taken a hold with young people in an amazing way, and it's been very gratifying to watch them, and to take those photographs," he says "But through the lens and you can see in the pictures the nature of the crowd being very, very young, and people being very, very excited."
While poll numbers that show that Sanders is resonating with young voters, Chaudhary says his camera provides "undeniable proof."
"Picture after picture is just excited young people on the rope line just rushing up to meet this man," he says.
But choosing what to record can be a difficult task in and of itself. Chaudhary says content can be funny, heartfelt, or tragic, but across the board, things have to be real.
"You want to be around all the time, but you don't want to be shooting all the time," he says. "You want to be judicious about what you shoot because if you're just shooting all the time, A — you have all this footage and no time to edit it, and B — you're just creating a haystack for yourself to find the good stuff. I think it's about being in a presence, especially when you're talking about politicians because they have bubbles, so it's about travelling in those bubbles and only raising the camera up when you need it."
Chaudhary, who is currently the creative director at Revolution Messaging, says that he picks and chooses his moments with the senator.
"Just coming out of the Iowa Caucuses, Bernie Sanders and his wife Jane decided to take a walk just to clear their heads, to see what was going on and take stock," he says. "The reason there are no pictures of it is because I did not chase after him with the camera. I was like, 'I think this is actually a private moment and he would like to go do that.'"
Chaudhary served as the first official White House videographer from 2009-2011. He says that President Barack Obama and Senator Sanders have a great deal in common.
"Bernie Sanders and Barack Obama, and I've gotten a chance to work very closely with both of them, are very similar in that they are just the same person on and off camera," he says. "With that being said, it means that he's sort of always doing something that is camera worthy because he is always being Bernie Sanders."