Behold: Susan Stamberg's Special Recipe For Caviar Pie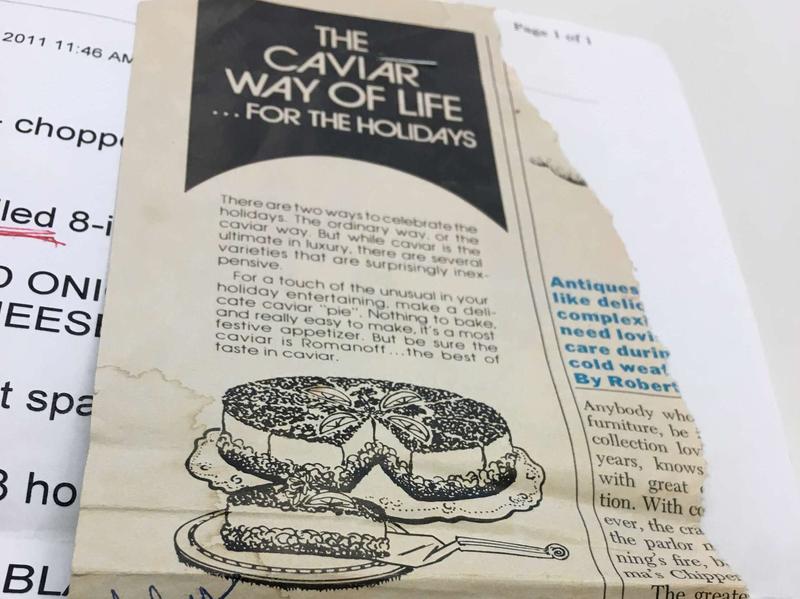 For the last installment of NPR's holiday recipe series, NPR founding mother Susan Stamberg lays out her special New Year's Eve recipe for caviar pie.
Here it is, so you can make it yourself.
---
Caviar Pie
6 hard-boiled egges, chopped
3 tbs mayonnaise
1 cup red onion, minced fine
8-oz cream cheese
2/3 cup sour cream
Mix the eggs with the mayonnaise. Spread on bottom of oiled 8-inch spring pan or pie pan.
Sprinkle with the minced onion.
Soften with the cream cheese.
Blend the mixture with the sour cream until smooth. Spread over minced onion with wet spatula. (Smooth it out with your fingers.)
Cover with wax paper. Chill three hours or overnight.
To serve:
Spread and cover top with black caviar. Knife around sides of pan. Lift off the spring belt or just cut into wedges and lift out with pie knife. Serve with lemon slices and good crackers.
I like eating it with a fork, like pie. Others spread it on crackers.
Makes about 10 servings.
Copyright 2017 NPR. To see more, visit http://www.npr.org/.