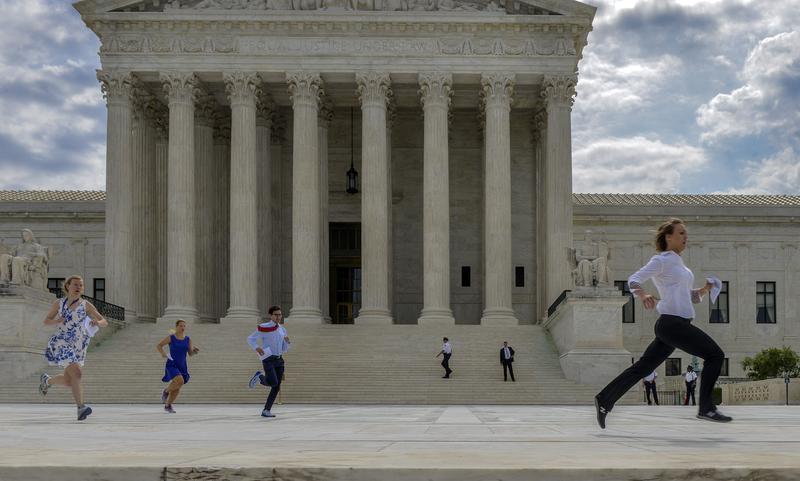 Summary
Following the sudden death of Justice Antonin Scalia, the Supreme Court of the United States has been launched back into the spotlight, revealing an institution that operates in intentional and mysterious obscurity. With the help of Slate's Dahlia Lithwick and the New York Times' Adam Liptak, Brooke and Bob begin to unpack the workings of our highest court.
Song: "Bubble Wrap" (From the film "Wall-E") by Thomas Newman.
Transcript
BROOKE: From WNYC in New York this is On the Media, I'm Brooke Gladstone.
BOB: And I'm Bob Garfield. Last week….
[NEWS MONTAGE]
Some breaking news just into us here at CNN: US Supreme Court justice Antonin Scalia has died.
Justice Scalia, the longest serving justice on the court, apparently died from natural causes…"
The 79 year justice old was found dead on Saturday at a west Texas ranch."
BOB: Appointed in 1986 by President Reagan, Justice Antonin Scalia was one of the most outspoken and conservative justices on the bench, known for his caustic dissents and a self-proclaimed originalist interpretation of the Constitution - which he once called a dead (rather than living) document.
SCALIA: or as I prefer to call it, enduring. It means today not what current society, much less the court, thinks it ought to mean, but what it meant when it was adopted.
BOB:And he had a favorite passage, too:
SCALIA: if you had to pick one freedom that is the most essential to the functioning of a democracy it has to be freedom of speech. Because democracy means persuading one another and then ultimately voting and the majority rules. You can't run such a system if there is muzzling of one point of view.
BOB: Scalia devotion to free speech and First Amendment fundamentalism led him to support the majority on Citizens United, you know, about money being speech. But he didn't necessarily apply the same standard to more liberal causes. In fact, a 2014 analysis found that Scalia voted to protect speech on conservative causes three times as often as he did for liberal causes. For instance, he voted against First Amendment protections for a government whistleblower and a student expressing a pro drug message, among others.
BROOKE: Obviously, the shock over Justice Scalia's unexpected passing last weekend was instantly and predictably followed by furious speculation on a successor, especially on the timing of the appointment, and on what this might mean for, what's that word again, oh yeah, the election.
CLIP MONTAGE:
Scalia's death setting off a political showdown, Republicans looking to block President Obama from filling his seat…
The Senate's majority leader Mitch McConnell says the American people should have a voice in who should fill the vacancy by letting the next President decide.
We're one justice away from losing our fundamental rights in this country.
" I do know that a lot of people would say that Obama would be a terrific Supreme Court justice…
BROOKE: Underscoring that coverage: how large the Supreme Court looms in our popular culture and imagination. Not highlighted? How little we understand about how the High Court actually works. Even though it's decisions are monumental, often setting the nation on a new path, or back on an old one.
BOB: And so for the rest of this hour, we present for you, an updated version of a special hour we ran last October, a great one by the way, wherein we peer past the Corinthian columns, over the bench, and into the inner workings of the highest court in the land.
BROOKE: But before we launch into the hour, a brief moment of history, the story of a jurist known for bullying, reprisals and a disposition so choleric he was called "Old bacon-face". He also was a staunch revolutionary, a champion of George Washington, and a signer of the Declaration of the Independence. But he did vote against the Constitution, finding the document undemocratic. He even argued for a bill of rights to protect press freedom. (Ironic, given what followed.) His name was Samuel Chase.
BOB: Nowadays we'd call him a flip-flopper, first standing firmly with Jefferson in defense of states' rights, later switching allegiances, after Washington appointed him to the Supreme Court. After Jefferson's election in 1800, Chase warned that the Jeffersonian call to extend the vote to men without property would create a "mobocracy." He backed John Adam's Sedition Act, criminalizing criticism of the government. He denied one troublemaker, John Fries, the right to a defense. In the case of writer James Callender, who had slammed John Adams as deranged, a "hideous hermaphroditical character," Chase pretty much declared that he would act as prosecutor.
BROOKE: Now article three of the Constitution says that judges "shall hold their offices during good behaviour," and Jefferson felt Chase wasn't displaying any, so he suggested impeaching Chase to a friendly member of Congress. And here's why we're telling you this. The historic question raised by this proceeding was whether a judge could be removed for expressing unpopular opinions, in Chase's case, opposing universal suffrage. Or did he have to commit high crimes and misdemeanors? In other words, how much independence does the law allow a Supreme Court judge?
BOB: The Jeffersonians wanted Chase to go down, and he would have - in what could have been a Congressional Kangaroo Court - but for the extraordinary rectitude of the presiding official. Who happened to be the Vice President. And also arguably the most reviled, most hated man in the United States. Aaron Burr. You know why.
But Burr gave Chase and his lawyers the chance to offer a full defense. Enough Jeffersonians switched sides to keep him on the bench. He behaved a little better.
Thereafter, Justices tried to keep their politics under wraps. But more important, Congress learned a lesson. Hands off the High Court. Justices had to be free from political reprisals. Freedom has to start somewhere.
BROOKE: Did you know the justices always sit in a particular order? On the bench, Chief Justice John Roberts sits in the middle, and the rest fan outward according to seniority with the two newest Justices, Sonia Sotomayor and Elena Kagan, on the end. They also speak in order of seniority when they're in the secretive Conference Room. Stanford's Jeff Fisher, who argues before the court, explains it in a lecture:
FISHER: Nobody besides the nine justices can be in the room. So the Junior Justice is required to open and close the door for everybody else, get the coffee, take the notes. I'm not kidding.
BROOKE: In the cafeteria, they always sit in the seat of the justice they replaced.
KAGAN: :It's an institution that's very attached to its traditions.
BROOKE: Justice Kagan at a summit in 2013.
KAGAN: There has to be a very good reason to change the way of doing business at the court. And I think that's because people realize that we're doing pretty well and if it ain't broke, don't fix it.
BROOKE: And so, she says, the justices don't email. They either reason with one another in person, or, apparently, on scrolls.
KAGAN: It's very heavy ivory paper. Looks like it came out of the 1800s of something. But it seems to work very well.
BOB: But while the justices remain slow to embrace new technologies, they have grown less wary of the public eye. A study out in May tallied their interviews and other public appearances. In the 1970s, there were a total of 95. From 2005 to 2014: a collective 880. Justice Sotomayor, who has even appeared on Sesame Street, has given the most interviews. [music up and under] Justice Stephen Breyer is the second celebrity justice -- even appearing (unusually) on late night TV, last month. On a book tour, no less, speaking with Stephen Colbert.
Colbert: It makes me feel very important to have you here because usually when you're some place something big is being decided, right?
Breyer: Sometimes.
BOB: And yet, the court still prevents anyone from bringing a phone or any recording equipment into the chamber, though pens and paper are permitted. (Marshalls sometimes unscrew pens to check for cameras.) And once you're in to watch the justices read their opinions from the bench, you can't leave until they're done. Since the court is set in its ways, reporters have to make some big decisions.
LITHWICK: More and more it's as though there's this double life.
BOB: Dahlia Lithwick writes about the court for Slate, and hosts their Amicus podcast:
LITHWICK: You know there's the life court itself - the drama that's going on inside the courtroom and almost no one can afford the time to cover it anymore because we have to be outside tweeting. It's almost as though things that happen in that chamber where there's only seven or eight reporters who can spare the time to watch - those things almost didn't happen at all, it's really odd.
BOB: Justice Antonin Scalia, in a speech in 1990, said that law [quote] "is a specialized field, fully comprehensible only to the expert." [end quote] And so it follows that covering the court isn't quite like other beats.
LIPTAK: Because you barely get to use the tools in the journalistic tool box.
BOB: Adam Liptak covers the court for the New York Times.
LIPTAK: You're not really getting scoops. You're not cultivating sources. You're doing a kind of deadline legal analysis
LITHWICK: You know, I often say - it's a beat for real wonky people. I often joke that we leave this beat the same way that the justice's leave the court. You know, feet first.