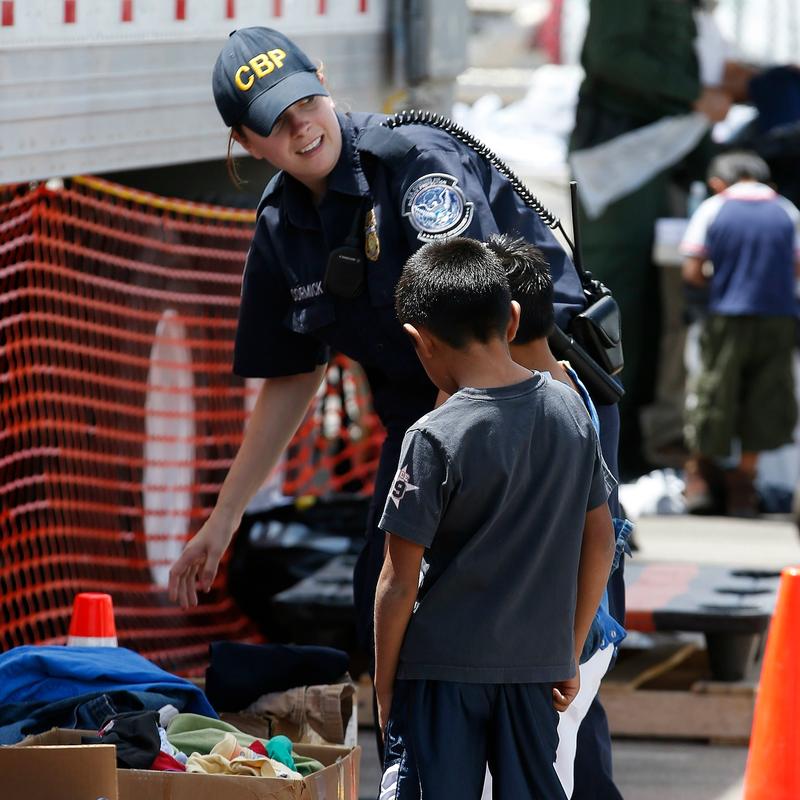 Summary
For the past few weeks the media have been reporting on a surge in unaccompanied minors who are crossing the border illegally, bringing attention to the latest immigration crisis. But the reality of the situation is far more complicated. Brooke talks with reporter Bob Ortega about what's really happening on the border.
Transcript
BROOKE GLADSTONE: This week, President Obama has been in Texas to promote his request for $3.7 billion from Congress for emergency funds to address the border crisis. His visit to Texas came after two weeks of overheated reporting about a surge in unaccompanied minors who were crossing the border illegally.
MALE CORRESPONDENT: A gigantic unprecedented surge of minors, most without parents or guardians, crossing our Southern border on their own by the thousands.
MALE CORRESPONDENT: The sheer number of unaccompanied children, barely older than toddlers.
FEMALE CORRESPONDENT: A massive surge of illegal immigrants is underway right now, and we do mean massive. This is unprecedented. Leaked pictures show hundred, hundreds upon hundreds of children packed like sardines into detention centers.
BROOKE GLADSTONE: This is serious and it is unprecedented, but it's not quite as described. Bob Ortega is a senior reporter for the Arizona Republic. Bob, welcome back to the show.
BOB ORTEGA: Thanks. Glad to be with you.
BROOKE GLADSTONE: So the way the media's been presenting this, you'd think that there's a tidal wave of five-year-olds washing up on our shores. Is that what's happening?
BOB ORTEGA: No, not really. A lot of the unaccompanied minors who are coming across are teenagers, 14, 15, 16 and 17. They are, in fact, many of them, traveling alone. But most of the younger children that we're seeing are coming across with family or, in some cases, being brought across by coyotes.
BROOKE GLADSTONE: Coyotes being those who ferry people illegally for lots of cash.
BOB ORTEGA: Yes, exactly. And those who are crossing the border unaccompanied generally are not traveling the entire distance from Central America to the border unaccompanied. In most cases, they are traveling with an adult.
BROOKE GLADSTONE: So the numbers issue, actual immigration statistics suggest that immigration is actually coming down, right?
BOB ORTEGA: Well, if you compare the numbers of migrants who have been apprehended by the Border Patrol in the last year or so to the numbers from, say, the mid-2000s when more than a million a year were being apprehended, they're down considerably. We're looking at probably a slightly larger number this year, but not significantly. And it's still going to be less than half of the numbers that we were seeing say, six, seven years ago.
BROOKE GLADSTONE: But the numbers of kids is going up.
BOB ORTEGA: What's happening is that the number of unaccompanied children from Central America is going up. We're not seeing any increase in children or in migrants, in general, from Mexico. We are seeing an increase in migrants from three countries in Central America: Honduras, Guatemala and El Salvador. That increase actually started about three or four years ago. What we're seeing now is that that wave has finally reached the point at which people have begun to notice.
BROOKE GLADSTONE: So why especially from those countries?
BOB ORTEGA: Now, you have to keep in mind that all three of these countries already have had very high murder rates. The murder rates in those countries have continued to rise, and the change there has been that to an increasing extent the criminal gangs that are responsible for a large proportion of those murders have been targeting children and families. And that is what is really driving I would say two-thirds of the migrants that we're seeing crossing the border now from those countries.
BROOKE GLADSTONE: Targeting children, why?
BOB ORTEGA: These gangs operate extortion rackets. Lately, they've begun to extort families, demanding money and threatening to hurt children if they don't get it. They also recruit children to act for them in a variety of ways. And if families refuse to cooperate, then they can pay a terribly heavy price. In San Pedro Sula, for example, which is the second-largest city in Honduras, just last month in one day four children in one neighborhood were murdered, the youngest of them five years old, murdered and their bodies cut into pieces and then dumped along the roads in that neighborhood, because their families had refused to let them work for the gangs.
BROOKE GLADSTONE: One narrative emerging from the Republican side of Capitol Hill is that this uptick in child migrants is directly related to President Obama's proposed immigration reforms. Here's House Speaker John Boehner on Thursday, for example.
[CLIP]:
SPEAKER JOHN BOEHNER: Along our southern border, we've got a true humanitarian crisis underway, with children caught in the middle. Unfortunately, it's a crisis of the President's own making. His actions gave false hope to children and their families that if they enter the country illegally they would be allowed to stay.
[END CLIP]
BROOKE GLADSTONE: So how much can we say that this surge is related to policy?
BOB ORTEGA: Well, it isn't, really, not at all.
BROOKE GLADSTONE: Not at all?
BOB ORTEGA: Not at all. There's no evidence whatsoever to indicate that any of this has to do with immigration policy, with the promise of immigration reform or with actions such as the DACA or Deferred Action for Childhood Arrivals program.
BROOKE GLADSTONE: The DREAM Act.
BOB ORTEGA: The DREAM Act, right. What's really clear is that the children are fleeing gang violence, for the most part. These children are not only fleeing to the US, many of them are also seeking asylum in neighboring countries, such as Costa Rica, Nicaragua, Panama, Mexico. Also, many of these children have been interviewed by a variety of people. I spoke with a woman who's been in El Salvador since January and has interviewed more than 400 migrant children, and these are all children who had been deported back to El Salvador. Of the 400 she spoke with, one, one brought up the possibility of immigration reform as having been something that had even occurred to them.
BROOKE GLADSTONE: But do we have any way of knowing how many of the kids who wind up in Texas are there because of economic opportunity or because they're fleeing for their lives?
BOB ORTEGA: Well, we do have some idea, yeah. The UN Human Rights Commission has done some studies themselves. This woman that I just mentioned, Elizabeth Kennedy, the Fulbright scholar, who's also talked to a lot of these kids, and we've talked with a number of them, and the information all seems to indicate that probably in about a third of the cases, and especially when we're talking about older teens, they are, in fact, coming for economic reasons. So that's still a factor. It's just that I would say in about two-thirds of the cases it's really fleeing from violence that is the determining motivation.
BROOKE GLADSTONE: Isn't the promise of immigration reform still a motivator? There've been reports, of rumors of free passes in Central America that are encouraging people to send their children to the US. Here's a clip from Secretary of Homeland Security Jeh Johnson in a hearing on Capitol Hill.
[CLIP]:
HOMELAND SECURITY SEC. JEH JOHNSON: The, the smuggling organizations are creating a misinformation campaign that there is a "promesos" or a free pass. I've even heard that you have to get here by May 2014 in order to get your free pass.
[END CLIP]
BROOKE GLADSTONE: So you were recently in Honduras and El Salvador, where a lot of these minors are coming from. What did you see you while you were there?
BOB ORTEGA: Well, it's not the case that there is any kind of misinformation campaign in the media in these countries. In fact, I would say the media outlets have actually been quite responsible in describing very accurately the fact that there is no "promesos" or free pass.
BROOKE GLADSTONE: In fact, in an article you wrote you quote a front-page headline of La Prensa Grafica, one of the largest papers in El Salvador, that said, "The US will not give asylum to migrant children." That's pretty straightforward.
BOB ORTEGA: Yeah, very straightforward, and that has been the tone of the reporting down there. Now, separately, one of our reporters from the Arizona Republic also spent a week in Reynosa, Mexico, talking to migrant children and families that were waiting to cross into the US. And it's clear that some of them have, in fact, heard these rumors from smugglers. So there is some truth to what Johnson was saying, but to be clear, that is not what is motivating people to flee. This is a story they're hearing once they're already on the way, once they're in Mexico approaching the border.
BROOKE GLADSTONE: What about the coverage that you've seen from your spot at the border bothers you the most? What's the narrative that just strikes you as, as just unconscionably wrong?
BOB ORTEGA: Well, one of the things that really surprises me, I would say, is the reluctance to look at the facts on the ground in those countries. We're seeing a very aggressive push to say that we need to send as many of these kids back as quickly as we can. And one of the people that I spoke with when I was down in El Salvador, I think, put it best, saying that if we act too quickly, we may be sending some of these children to their deaths.
And so, I think that it's really incumbent on the immigration authorities and on the politicians who are involving themselves in this issue to make sure that we tread carefully when it comes to considering how many of these children actually face the risk of death, if they are returned to their homes.
I was very intrigued the other day to see coverage of a protest in Murrieta, California, a group of people who had come out to protest against several busloads of children who were being brought into their community for processing. And one of the women was holding a sign that said, "Not our children, not our problem."
BROOKE GLADSTONE: Mm.
BOB ORTEGA: And to me, the notion that I think is important to keep in mind is these are children, and so, I think it is our problem.
BROOKE GLADSTONE: Bob, thank you very much.
BOB ORTEGA: Happy to chat with you.
BROOKE GLADSTONE: Bob Ortega is a senior reporter for the Arizona Republic.