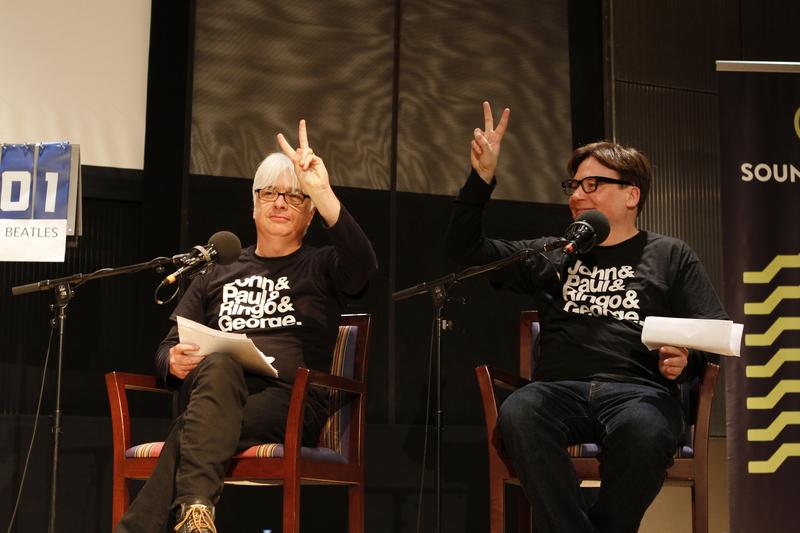 On Thursday, Feb. 27, Soundcheck hosted an all-star Beatles vs. Rolling Stones Smackdown at the New York Public Library for the Performing Arts. In front of a crowd of more than 200 people, two teams fiercely battled over which band is better -- pitting album versus album, guitarist versus guitarist, song versus song -- and, of course, debating the sex appeal of each band. 
Take a listen to this excerpt: 
Arguing for The Beatles were comedian, actor, and director Mike Myers (Wayne's World, Austin Powers, and Shrek); and writer and musician Paul Myers, author of the acclaimed biographies A Wizard A True Star: Todd Rundgren In The Studio, and It Ain't Easy: Long John Baldry and the Birth of the British Blues.
And taking on the Myers brothers on behalf of The Rolling Stones: Ophira Eisenberg, comedian, writer and host of NPR and WNYC's Ask Me Another; and Bill Janovitz, frontman of the alt-rock band Buffalo Tom, and author of Rocks Off: 50 Tracks That Tell The Story of The Rolling Stones, and the 33 1/3 series' book about Exile On Main Street.
We'll air the entire debate on Thursday, March 6 at 9 pm E.T. -- or you can listen at Soundcheck.org. 
The debaters, clockwise from top left: Bill Janovitz, Ophira Eisenberg, Mike Myers and Paul Myers.
Tell us which side you're on! Leave a comment below, or call us up at 866.939.1612.