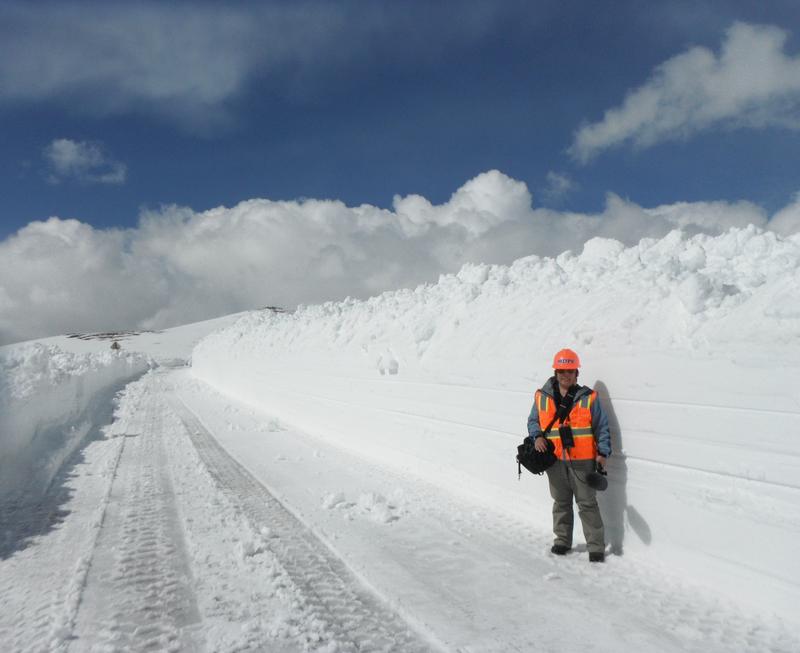 (Red Lodge, MT) – Crews from the National Park Service and the Montana Department of Transportation are on track to have snow removed from the scenic 68-mile Beartooth Pass Friday morning.
"It's a good snow year," says Shawn Mains of MDT's Red Lodge office. He has been clearing snow from the roads for 14 years."We've got more snow than I've seen I a while up here."
According to MDT, snow drifts on the Beartooth Highway can be as high as 26 feet. The elevation of Beartooth Pass is 10,947.
(Jackie Yamanaka)
Mains was in a snow cat, methodically shaving snow off of a 15-foot high snow drift and pushing it onto a cleared section of roadway for the snow blowers to remove. This drift was about a quarter mile from the Montana-Wyoming state line, which is the end point for MDT crews. National Park Service crews are clearing the Wyoming side of Beartooth Pass.
(Jackie Yamanaka)
The re-opening of the 68 miles from Red Lodge to Yellowstone National Park's northeast gate marks the beginning of the summer driving season.
Beartooth Highway snow levels in early May (Montana DOT)
Because this is a high-elevation pass, transportation officials warn motorists and bicyclists of the potential for snow and icy conditions as storms can hit any time of the year. Cell phone coverage is also very limited on the Beartooth Pass. Travelers are advised to check weather and road conditions prior to travel.
(Jackie Yamanaka)