Summer Is Construction Season in the Rockaways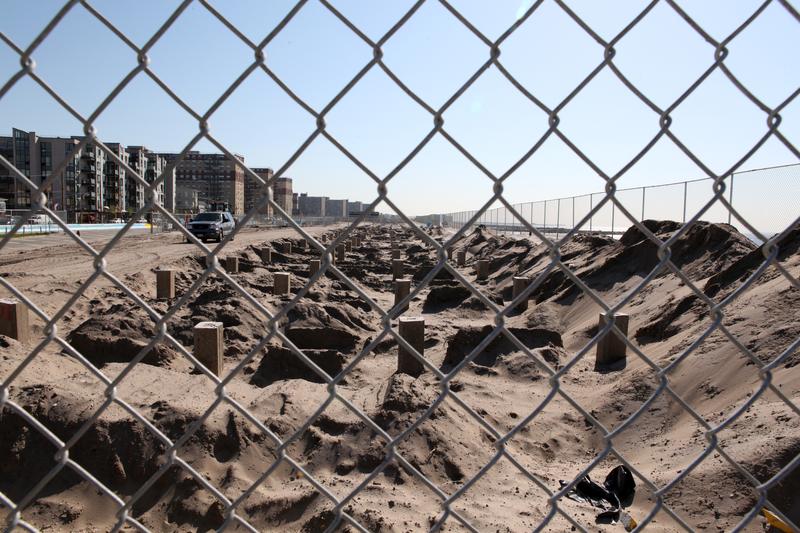 Backhoes and bathhouses. Sand pumping and suntan oil.
Welcome to the new beach season in the Rockaways.
As the second summer begins since Sandy hit the Northeast, residents along the peninsula in Queens are feeling that their community's artery — the 5.5 mile boardwalk that was upended during the storm — remains severed.
The U.S. Army Corp of Engineers is dredging 20,000 cubic yards of sand a day and pumping it onto the beach. At the same time, the New York City Parks Department is working on a new, more resilient boardwalk.
A berm at Beach 116th Street where sand replenishment is underway. (Stephen Nessen/WNYC)
Photographer Susannah Ray, who has lived in the area for 10 years, said the beach is the reason why she lives on the edge of the city. And it is just not the same without the boardwalk. "That's like our thoroughfare," she said. "We don't really have usable sidewalks in most locations, so the boardwalk was a good replacement for that."
The Parks Department has tried to salvage as much of the old boardwalk as possible, and attended multiple community board meetings, seeking to find common ground on design.
Above, a restored section of salvaged boardwalk at 84th Street in Rockaway Park. A 2.5-mile stretch of boardwalk from Beach 97th Street to Beach 60th Street is already complete. (Stephen Nessen/WNYC)  
Even though many nearby residents are still living in half-finished homes, some said restoring the boardwalk is nearly as high a priority for them. That was the case for Rockaway resident Joe Guariglia who drinks his morning coffee, shirtless, on the beach."All we're really interested in is the boardwalk," Guariglia said. "A lot of residents had a lot of damage, didn't get much help, denials by insurance companies. If you give Rockaway our boardwalk, it's a home-run. That's all we need." (Stephen Nessen/WNYC)
Last year, the Parks Department raced to renovate the concession islands and put up new comfort stations in time for Memorial Day. This year, the most exciting new thing visitors will see are the steep sand cliffs from the Army Corp of Engineers sand pumping project. These are the first steps to returning the sand to pre-1970s levels. They are expected to be completed by the fall.
Maybe seeing a historic beach restoration project will be the biggest draw this summer.
Pipes that the Army Corps of Engineers will use for dredging sand 2-miles off shore at beach 84th Street. In the end, 3 million cubic yards will be pumped onto the beach, restoring sand to pre-1970s levels. The beach will be 100-feet wide and 10 feet above sea level. (Stephen Nessen/WNYC)
Erosion by the ocean has left the beach "scarped." Officials at the U.S. Army Corps of Engineers said a beach replenishment project will smooth out sand levels.  (Stephen Nessen/WNYC)