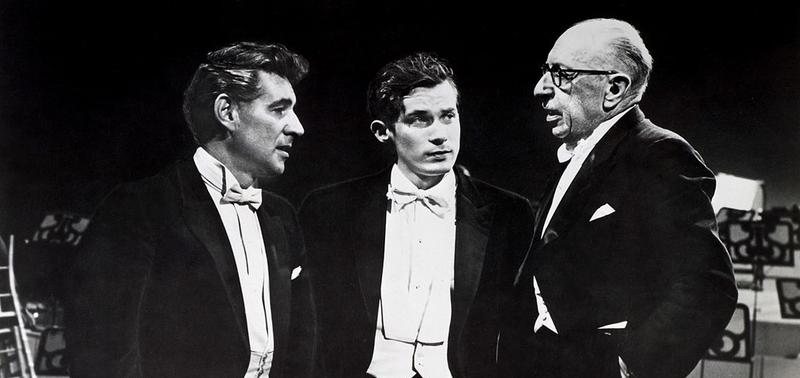 Just over 60 years ago, a now-famous classical concert turned into a musical battleground - with very instructive results. WNYC's Sara Fishko tells the story in this edition of Fishko Files. (Produced in 2006)
At a now-historic Carnegie Hall concert on April 6th, 1962,  Glenn Gould and Leonard Bernstein set out to collaborate on a performance of the Brahms D minor Concerto with the New York Philharmonic. Behind the scenes, the two musical stars could not agree on the interpretation: Gould told Bernstein that he wanted to play down the "virtuosic" elements of the piece, and play in a more meditative style. Maestro Bernstein argued in favor of playing the piece as he often had, in the traditional way. They were at such odds that Bernstein issued a "disclaimer" before he launched into the performance - which they played "Gould's way."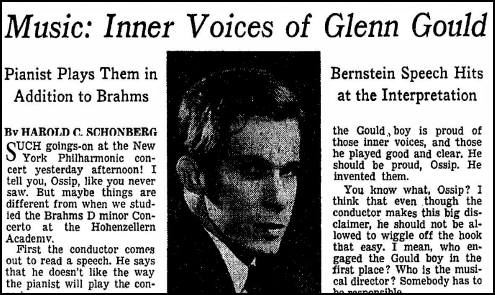 "Why am I conducting it? Because I am fascinated, glad to have the chance for a new look at this much-played work; because, what's more, there are moments in Mr. Gould's performance that emerge with astonishing freshness and conviction and, thirdly, because we can all learn something from this extraordinary audience who is a thinking performer."
For the first time in anyone's memory, a classical music conductor felt he had to warn the audience about the unorthodox performance to follow. The Times critic the next day was negative, and even a little snide. The entire review is written as an open letter to a fictional character, the writer Harold Schonberg's childhood friend, "Ossip."
To read the full review from The New York Times, click here.
"Such goings-ons at the New York Philharmonic concert yesterday afternoon! I tell you, Ossip, like you never saw….First the conductor comes out to read a speech. He says that he doesn't like the way the pianist will play the concerto…"

"The Gould boy played the Brahms D Minor Concerto slower than the way we used to practice it. (And between you, me and the corner lamppost, Ossip, maybe the reason he plays it so slow is maybe his technique is not so good.)"
This immediate critique, though, didn't hold in history. A more contemporary examination of the concert comes from critic Tim Page in 1998, from the liner notes of the disc made from the radio recording of the program.
"All in all, this is a revelatory disc, exploring aspects of Brahm's vast, symphonic conception that had been long neglected. Moreover, it is an important souvenir of two great musicians – musicians who could collaborate on an interpretation that was significant, original and moving, even when in substantial disagreement about just what the interpretation should be."
By the way, the reason we can hear this concert at all, 50 years later, is that it was broadcast on radio and preserved on disc. Columbia Records finally released it as a recording in 1998. In the liner notes, the late Schuyler Chapin (director of Columbia Masterworks in the '50s and '60s) admitted that Columbia's original decision not to formally record the concert was a mistake, and calls the performance "another marvelous example of Glenn Gould's splendid and curious mind at work…"
The recording of the concert, Brahms: Piano Concerto No. 1, is available here.
WNYC Production Credits
Executive Producer: Sara Fishko
Assistant Producer: Olivia Briley
Mix Engineer: Wayne Shulmister
Managing Editor, WNYC News: Karen Frillmann