The Battle for Congress, Fought in the Hudson Valley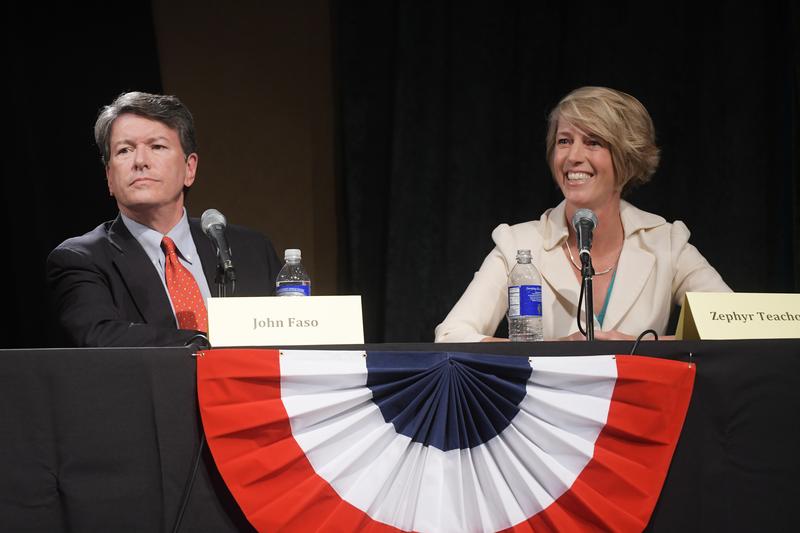 A Hudson Valley Congressional race could play a key role in determining which party controls the U.S. House of Representatives after the November 8 election.
New York's 19th Congressional district spans 11 counties and stretches from the Vermont border to the Pennsylvania border.
It's an open seat after Republican Chris Gibson decided not to run for reelection. It's also one of the nation's true swing districts — Republicans have a small advantage in registration, but the district went for President Obama in 2012.
And  this year, when Democrats have long odds to pick up the 30 seats they need to retake the House, winning or losing races like NY 19 will be decisive.
Fordham University law professor Zephyr Teachout – a  Bernie Sanders Democrat –  is taking on John Faso, a well-known former Republican State Assemblyman  who's supporting Donald Trump.
 Both sides admit the race is a dead heat, which has drawn the interest — and millions in political spending — from national political parties and outside groups.
Lindsey Lusher Shute runs Hearty Roots Community Farm with her husband, Ben, in Clermont, about 50 miles south of Albany.
She looks around the seventy acres that she and Ben bought three years ago, and points out that behind every phase of their operation there's a government program, loan or regulation.  
"We wouldn't have been able to buy our land at all without the help of NRCS and conservation programs," Lusher Shute said. "This barn was financed by a facility loan from USDA."
That's the Natural Resources Conservation Service and the U.S. Department of Agriculture. When Hearty Roots processes and stores food in the barn, they have to comply with the Food Safety Modernization Act.
"So we got conservation funding, equip funding, FSA loan," Lusher Shute continued, "and then we're certified organic and we have cost-share for our certification."
New farmers face different challenges than established farmers, so Lusher Shute founded the Young Farmers Coalition to highlight those difference. One example: Adjusting a federal program to allow smaller loans for young farmers to buy smaller pieces of land.
To make those changes, Lusher Shute says the Young Farmers Coalition has to grab the attention of members of Congress. Usually, they have to work to get it.
"Unless they grew up farming, they really don't know about what's needed," she said.
But not this year. In stump speeches, both Teachout and Faso say small farmers are critical to the region. That makes Lusher Shute a popular voter, to the candidates and to the outside organizations pouring millions of dollars into the district.
She's not saying how she'll vote, but she says she's had enough.
"I'd like to, you know, look at my Facebook," she said, and "see my friends rather than the people who want to represent me."
According the most recent tracking from the Center for Responsive Politics, more than $7.2 million dollars has been spent on NY 19. That's seventh-most of any House race in the country.
Two thirds of that money has gone to television, mail and other ads critical of Teachout.
The ads have called her a "zany professor" and accused her of lying about her position on property taxes.
Democrats have run ads saying Faso lobbied for big oil because he once had energy companies for clients.
The race inverts the presidential race in some ways, pitting Republican insider against a Democratic outsider.
Faso served 15 years in the New York State Assembly, and he's running on his experience.
"I've got a record of working across party lines in the state legislature," he said.
He's also lost a 2002 race for state comptroller and the 2006 governor's race against Eliot Spitzer.
Faso says voters are worried the upstate region is stagnating; that their children and grandchildren might have to leave to make a life.
"I think in this district overwhelmingly it's jobs and taxes," Faso said. "Every county in the 19th district, like many in Upstate New York, has lost population in the last five years."
His connections to the district were evident at a recent stop at Renaissance Rehabilitation and Nursing Care Center in Staatsburg. Owner Jack Koschitzki is a friend, and this was Faso's third time talking to residents and clients.
Tom Murar asked about Faso's pledge to bolster the military.
"Everybody talks about building up the military and they all talk about cutting taxes," Murar asked. "How do you pay for it?"
"If the economy grows, more people are working," Faso responded. "Therefore more people are paying taxes. That allows us to pay our bills."
Earlier in the day Faso met with a Schoharie County farmer. The night before, he talked to voters at an out-of-the-way roadside inn. He's put seventy-six thousand miles on his car trying to make a point: He's from here. Teachout isn't.
Teachout says she moved from Brooklyn to the Hudson Valley in December seeking a quieter life. Incumbent Chris Gibson announced he wouldn't seek reelection in January, though Gibson had been rumored to be considering running for governor in 2018.
Teachout performed well in the area when she challenged Governor Andrew Cuomo in the 2014 Democratic primary.
She says government and corporations overlook the needs of rural America.
At a campaign rally in Oneonta, Teachout drills down on local issues to explain how she'll work with Republicans. The room cheers when she says they have to work on high-speed Internet access.
"Republicans representing rural areas in Congress know that we are in a crisis because of the lack of broadband and cell service," she said. "And if they're representing their districts and I'm representing this district, we're going to fight together to get access to rural broadband."
Faso has characterized Teachout as a carpetbagger. But her supporters say Teachout has stood side-by-side with them as they fought a natural gas pipeline shadowing Interstate 88.
Kingston resident Linda Hackett says Teachout has knit together environmental, education and other activists, as well as former Sanders supporters.
Hackett is knocking on doors and handing out campaign fliers. Nobody answers most of the time.
Finally, at one house, a woman comes walking across the street.
"I was looking for Marianne?" Hackett asked
"That's me!" responded the woman, Marianne Debonis.
Hackett introduces herself and said she's working for the Zephyr Teachout for Congress campaign.
"And I was wondering how you were feeling about her?" Hackett asked.
"I'm not a good person, because I don't really know her," Debonis said. "Is she a Democrat?"
Debonis says she's been paying close attention to the presidential race, though. She is not a fan of Republican Donald Trump.
"I'm 63-years-old and I'm outraged and I'm terrified," she said. "So I'm going to vote."
Hackett gives a quick bio of Teachout, emphasising small businesses, which wins Debonis' approval.
Hackett asks if she'll consider voting for Teachout.
"I will. Absolutely!" Debonis responded.
Amid all the noise, neither campaign is ignoring the power of personal connections. They both hope it will make the difference, in a race as close as any in the country.
This story has been updated to correct the date Teachout moved to the district. She moved in December, not January.