In Basketball Country, Soccer is Gaining Traction with Homeless and Low-Income Kids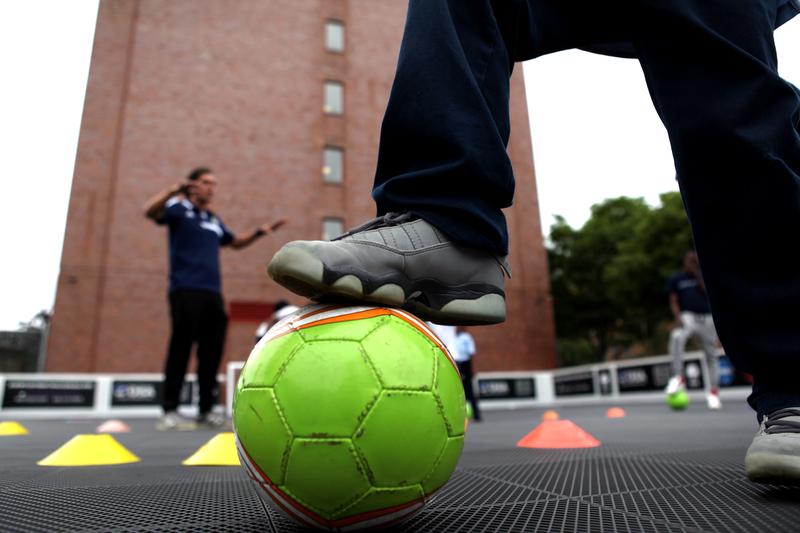 In East New York, Brooklyn basketball is king. There are few open fields, and gang turf wars make some streets unsafe to cross. But one non-profit known for its homeless soccer programs is hoping to teach children from low-income and homeless families another meaning for the word "dribble."
On a dead-end block, wedged between a warehouse and a massive housing complex, is the neighborhood's only soccer field. Built by Street Soccer USA, it opened in early June on a parking lot that was cleared of about a dozen dumpsters.
Street Soccer USA is a national non-profit that has been working with homeless adults in 16 cities for almost a decade. Its guiding principle is that the skills that help players excel on the field can translate into valuable life lessons. In East New York, they're hoping that what has worked for adults will work even better for kids.
The former lot that was converted by Street Soccer USA into a soccer pitch. (Stephen Nessen/WNYC)
The program has partnered with Genesis Academy, which is an after school program for the nearly 500 families who live in the homeless and low income housing units at the Genesis Home in East New York, as well as other children in the nearby, underserved neighborhoods.
On a recent afternoon, a dozen 7- and 8-year-olds from the Genesis Academy raced to finish their homework so they could participate in a 45-minute soccer practice.
Caleb Olson, the head of the New York branch of Street Soccer USA and one of the coaches, is playful but firm with the kids. As he unfastened a massive padlock on the chain-link fence around the field, he instructed the kids to stay off the ground. "We don't slide when were out here, and let's not pull on the goals, it might fall down."
Both rules were promptly ignored.
No knees were shredded, though; the asphalt is covered with porous plastic waffle flooring. The goals are weighted with sandbags.
Olson, 29, is an Arkansas native with shoulder-length hair tied in a ponytail. He mixes soccer skills with life lessons.
"Why is it important to have a triangle?" he asked, once he had the children seated in front of the goal. "Teamwork, it's the support on the field, so you have some passing options right? Off the field you need to have support, too right? You have friends, who else?"
The kids shouted: teacher, soccer coach, mom, doctor, police man and dentist.
Kaitlynne Surgener, 7, said she likes learning new skills and practicing. She was once a basketball fan, but said she prefers soccer now. (Stephen Nessen/WNYC)
One of the most fervent converts to the sport is Elijah Santiago. Wearing a U.S. Soccer team T-shirt, the 9-year-old said his favorite part of soccer practice is the teamwork.
"We work as a team, it's not being a ball hog like in basketball," he said. "My friends they just be real ball hogs," he said, shaking his head disapprovingly.
Santiago said he likes Street Soccer coaches because they don't yell like his basketball coaches. "They're nice, they talk in a normal inside voice… they makes me feel like I'm not doing anything wrong."
Donna Dickerson, the education coordinator at the Genesis Academy, said that in the last year she's seen improvement in the kids' behavior.
"I know that it's changed a lot of their lives, it's the consistency, having [the coaches] out here constantly means the world to these kids," Dickerson said.
And she said that the recently opened field has made the housing complex nicer. "It beautified the neighborhood in some ways," she said. "It's no longer an eyesore, it's an 'I want to be in there.' "
While the program is popular, the field is only open a couple hours a day and the nearby fields are often inaccessible because many kids are afraid of crossing gang lines to get there.
The coaches participate in a short scrimmage at the end of the 45-minute practice. (Stephen Nessen/WNYC)
The founder and president of Street Soccer USA, Lawrence Cann, said that soccer isn't a panacea for all the neighborhood's problems. But he's playing the long game.
"We don't come in and roll a soccer ball on day one. We come out, eat lunch with people, spend two months just getting to know people, becoming part of the community, before we ever roll a soccer ball out there," he said. "We can literally grow up with these folks and be a constant presence in their lives from age 6 to the time they graduate and go to college or into the work force."
Street Soccer USA began as an effort to combat adult homelessness, but in the last few years Cann said he's been seeing more homeless families and youth across the country. He's plans to roll out youth programs in Charlotte, Chicago and San Francisco.
As soccer fans around the globe fixate on the World Cup in Brazil, Cann has been following alumni of his own program competing in The Street Child World Cup there. He hopes some of the East New York kids will be ready to play by 2018.