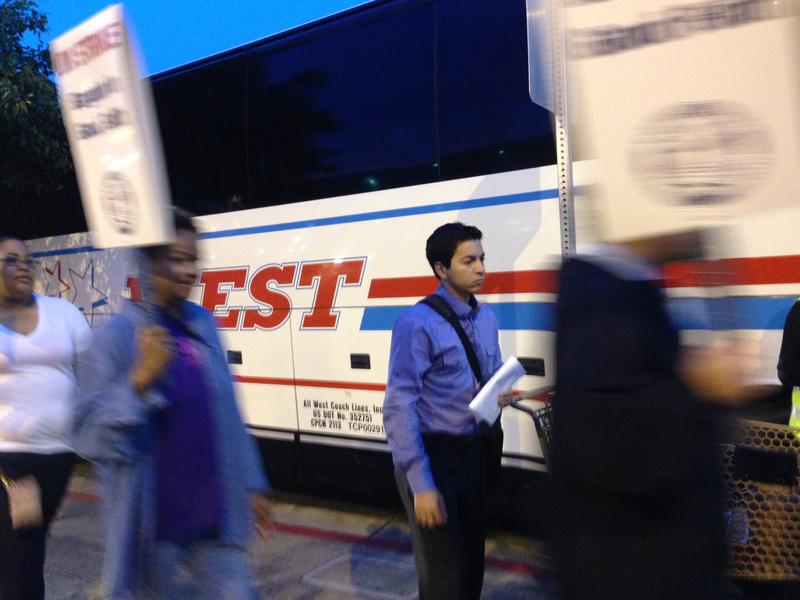 With the BART contract deadline just two weeks away, it seems increasingly possible a second transit strike will cripple the Bay Area. One big clue: BART has confirmed it is training some managers who used to be operators to potentially run limited train service in the event of a strike, which could come as early as October 11. 
That deadline marks the end of the 60-day cooling off period called by California Governor Jerry Brown to prevent a second strike in August. That period was supposed to give the two sides enough time to reach a deal. But while there have been negotiations, the two sides remain far apart.
The unions are vehemently opposed to the idea of re-training operators, calling it unsafe. In an op-ed that appeared in the Contra Costa County Times, Patricia Schuchardt, president of AFSCME Local 3993 (a smaller BART union), wrote she was "deeply concerned" for public safety if plans to train former operators go forward.
AFSCME Local 3993 represents about 200 employees, including the people who run BART's control center. Schuchardt stressed that it's challenging enough to keep the trains running even with the most experienced operators.
"Recertification is an academic exercise using books, quizzes and tours, whereas console time is actual time on the job," she said. "It's nearly equivalent to asking a doctor who's been retired for 15 years to immediately begin performing heart surgery after a few hours of studying."
Union officials have asked the California Public Utilities Commission to clarify its policy about newly re-trained operators. Under contracts, only union employees can run trains on the electrified third rail. BART is so far bypassing that by training managers off-site in stationary cars.
BART's two biggest unions handed over their counter-offer to management last week, where they lowered their pay increase to 13.5% over three year, down from 21.5%. They also made some concessions in pensions and healthcare costs.
But BART says the unions are still asking for too much.
"This is not a game-changing proposal. We do not see that it represents significant movement," BART spokesperson Rick Rice said in a statement.
Management's current wage proposal is a 10% raise over four years. And they say the unions' plan is actually a 17% increase over three years, because the unions are asking for their pension costs to be "swapped," or offset by money from the district.
"The (BART Board of Directors) has given us our authority and our current offer with a 10% pay increase over four years is at the end of the runway," Rice said.
If there's another strike, chances are it will be a lot worse than the last one. The previous strike happened around the Fourth of July -- when school was out of session and many are on holiday. In October, students are back in school and commuters can't count on thinned summer traffic.
In addition to possibly running the controversial limited service, BART plans to run charter buses from selected East Bay stations into San Francisco, just like it did during the last strike. In July, BART chartered up to 78 buses a day. In a meeting for the Metropolitan Transportation Commission (MTC) on Wednesday, BART said it plans to lease up to 200 buses this time.