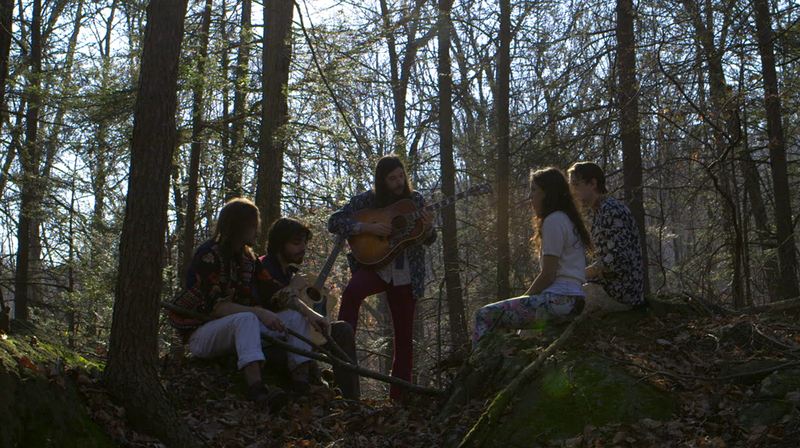 Today, Soundcheck is premiering Barnburners, a new documentary and music performance Web series showcasing young, emerging artists performing at an old 18th century barn in Upstate New York. Ryan Dieringer, one of the producers, shares this missive about the origins of the video series and his experiences on their inaugural shoot with Brooklyn band Vensaire.
Barnburners was born out of a love of new music. We're crazy about discovering new artists, and we're crazy about seeing bands play live. The series was thought up as a way to bring these two concepts center-stage.
The basic idea began at an 18th century barn in Upstate New York, where myself, our director Noah Hutton, and our audio producer Andrew Lappin were all assembled for a music video shoot. After the shoot had wrapped, we got to talking and all agreed that there was something about the emptied barn that felt like a canvas waiting to be filled. We clapped a bit and listened: The sound was rich and warm. Bit by bit, we devised a way to pool our talents and make it happen.
We knew we wanted to record bands playing in the barn, and that we wanted it to sound and look great. And, that's basically where it starts: For each Barnburners episode, we invite a band or artist to a barn for a two-day shoot. Over those two days, we get to know the artist, hang out in the country, and eventually put on a three-song live show in the barn -- on camera, with tape rolling.
But the final idea was the kicker: The notion to transform the barn for each episode, rather than ever really presenting the barn "as is." We wanted a way to collaborate deeply with bands; a way for them to make the experience their own. So, we deck out the space with a new visual concept each time, to let each artist leave their mark.
Each installment documents a 12-hour period from when we all wake up to when the last notes are played that night. In between, we spend the day settling into the space and hearing stories from the band. Then, once the sun sets behind the nearby hills, cameras start rolling in the barn, we slide the band's name into our custom Barnburners marquee, and the music starts inside.
So far, we've been blown away by the amazing moments we've witnessed: Artists scrawling last-minute lyrics moments before sunset; girlfriends' dogs wandering into shots during the last chord of a song. All's fair, and in fact, we've come to encourage it.
When we first approached the Brooklyn band Vensaire for our first episode, the concept took some explaining.
"We don't like sit-down interviews," they said.
"We don't either," we told them. "We'll just walk around and chat, keep it casual."
"And we want to have a say in the way it looks, too," they said.
"Great, you design the set," we replied.
Eventually, the band was so excited about the opportunity, they wrote and rehearsed three entirely new songs, just for us. We think it's some of Vensaire's best stuff yet.
That first night at the barn, we could tell we had our work cut out for us. Vensaire had designed an elaborate set for the interior of the barn, one that would transform it beyond what we had imagined: Flowers, clouds, projections, the works. And we went with it.
We stayed up until the early hours of the morning, jointly constructing a set and testing microphones. The next day, the band went for a walk in the woods with Noah for an interview, and emerged just in time for sunset. When cameras started rolling in the barn, we couldn't believe how tight and inspired the band sounded, based on how new the songs were.
In some ways, we knew right away that our experiment had worked.
Be sure to return to Soundcheck to follow our future adventures at Barnburner studios and tell us what you think. What bands would you like to see us bring to the barn?