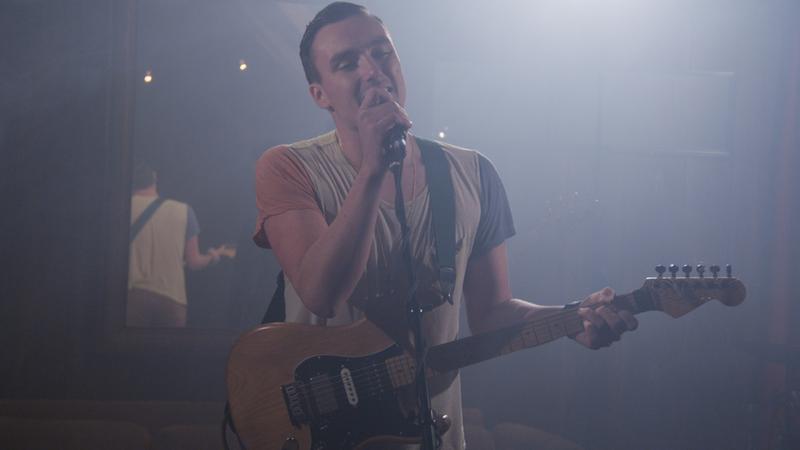 Today, Soundcheck has another new installment of Barnburners, the documentary and music performance video series showcasing young, emerging artists performing at an old 18th century barn in Upstate New York. In this latest episode, the hard-driving 1960's and '70s rock-infused Brooklyn band Fort Lean visits the grounds and plays a set of never-before-heard songs from its a forthcoming album in the barn.
Ryan Dieringer, one of the Barnburners producers, shares this missive about shooting with Fort Lean.
If the rock star was the tragic lone wolf, the rock 'n' roll band was his refuge; the only place where he might triumph. "What else can a poor boy do, but to sing for a rock 'n' roll band," Mick Jagger sang in "Street Fighting Man," 1968. In San Francisco, Bob Weir of Grateful Dead howled in their 14-minute "Playing In The Band," "I don't trust to nothing, but I know it come out right... when a man is just a man, playing in the band."
Look no further than Brooklyn's Fort Lean -- who joined us at Barnburners on a much needed break from months of work in the recording studio -- for proof that the dream is still alive. Each member of this five-piece rock 'n' roll band is in the band. You can hear it in the music -- big rock 'n' roll with every piece thoughtfully assembled.
Hang out with them for two days and you figure out quickly how it all works: First off, there's no real bandleader. ("Which specific job are you referring to?") Same with who writes the songs: "For better or for worse," bassist Jake Aron explains, "this is just what happens when we all make music together." 
And while the band members are romantics, they're not exactly kids who ran away from home to join the rock 'n' roll circus -- although, based on the self-described "creepy" aspect of their music, I wouldn't doubt they've all gotten their hands on Rolling Stones' Rock & Roll Circus. They're five dapper, well-educated young men living in Brooklyn. 

As you'll be able to tell, they pretty much kept us laughing for the duration of their shoot. And when it was all done, the songs were on our crew's tongues for days. And not just theirs: In fact, we had our first Barnburners live audience for the show. Literally the entire Patterson fire department arrived on set when our smoke machines triggered the alarms -- and they loved the music!
"Who is this?" "Can we get a CD?" We had a line of firefighters leaning on the railing of the steps leading down into the barn, watching them perform. They didn't interrupt, so we kept rolling.

All three are songs of trials and reconciliation. The lyrics are described by singer Keenan Mitchell as about "being a kid, and joining a band." But in between there lie demons to face. "You can hide in your parents' house, [but] it won't take long before they find you out," he sings. As in all of Fort Lean's music, there's an uncanny sense of boyish wonder at the underlying terrors of being alone.  
We hope you enjoy this latest episode. We dare you to listen to these songs just once.