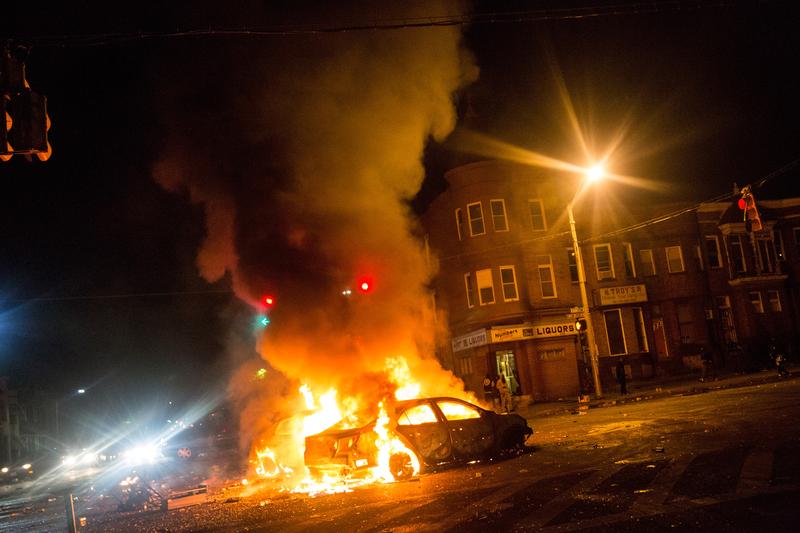 Chaos broke out in Baltimore on Monday as protesters took to the streets following a funeral service held for Freddie Gray, a 25-year-old African-American man who died after suffering a spinal cord injury when he was taken into police custody earlier this month.
Rioting and looting engulfed the city's west side as hundreds of demonstrators erupted in fury over Gray's death. Protesters threw bottles, rocks, and bricks, injuring at least 15 police officers—six seriously. It is not known how many protesters were injured.
As violence and destruction shook the city, Maryland Governor Larry Hogan signed an executive order declaring a state of emergency in Baltimore and activated the National Guard to address the growing unrest.
"Too many people have spent generations building up this city for it to be destroyed by thugs," Baltimore Mayor Stephanie Rawlings-Blake said during a press conference. "I'm at a loss for words. It is idiotic to think that by destroying your city that you're going to make life better for anybody."
Mayor Rawlings-Blake also announced that a 10 PM. to 5 AM curfew would be imposed for a week beginning on Tuesday. The Maryland State Police said they would ask for 5,000 law enforcement officials from the mid-Atlantic region to help quell the violence, and city officials said schools would be closed on Tuesday for the safety of children.
Bishop Douglas Miles, a pastor at Koinonia Baptist Church and co-chairman of Baltimoreans United in Leadership, looks forward to the road head for Baltimore.
"Baltimore has been a divided city for a long time," says Miles. "It's a tale of two cities—a downtown that has been completely redeveloped and uptown communities that have been neglected for years. That's what you're seeing right now—a spillover of really 40 years of benign neglect; of young people who feel they no longer have a stake in the city's future, and are acting out, not that I agree with the violence."
According to the U.S. Census Bureau, about 21 percent of Baltimore's population is under 18-years-old, and African-Americans make up about 63 percent of the overall population. Nearly a quarter of city residents lives below the poverty line.
"There's a disconnect between older people in our community with the younger people," says Miles. "It's my understanding that the genesis of [the violence] came from social media and young people wanting to act out and others getting caught up in the frenzy. The frenzy both expressed anger and frustration."
Though the city faces large challenges ahead, Miles says that there is no one answer to the serious problems facing Baltimoreans.
"All of us have to take some responsibility for where we are," he says. "It's a corporate community that has not been engaged enough throughout the city, a political leadership that has often lacked vision and an unwillingness to listen, and even a faith community that sometimes loses connections with the people."
He continues: "These are our children. These are not outside agitators—these are our children and our grandchildren. All of us bear some responsibility for this."
While Miles does praise the many members of the Baltimore police and fire departments, he does say that the entire community of Baltimore—including the police department—must step up to heal these wounds.
"I feel that the city is making some effort now to come together beyond the boundaries of neighborhoods," he says. "But [divisions lie] not so much in neighborhoods as it is the division by class. There's policing being done one way in the white community and another way particularly in the African-American community. I think that's where the disparity comes in—there's different styles of policing depending on where the police operate."