Bad Idea: The Most Powerful Man in America Walks Home Through the Blizzard of 1888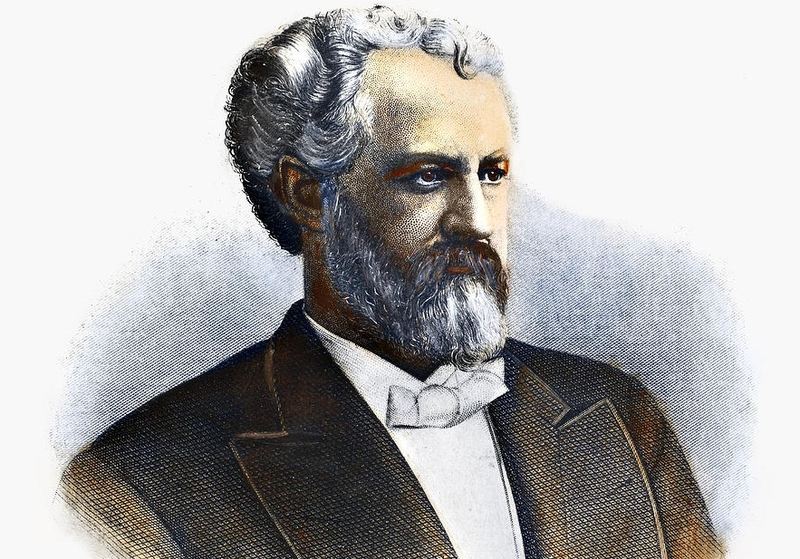 Roscoe Conkling is looking out the window of his Wall Street law office on a Tuesday afternoon in March 1888. He sees mountains of snow on deserted streets and wind gusts yanking down telegraph wires. Conkling is arguably the most powerful man in the country: he controls a major faction of the Republican Party, which is ascendant, and has the ability to make or break presidential candidates. He's a man of action who decides that he will plunge into the storm and catch a hansom cab to his lavish apartments on 25th Street near Madison Square.
Conkling and a young male colleague head out into the weather, flag down a horse-drawn cab, and tell the driver they need to be taken three miles uptown. The cabbie looks them over. He then attempts a primitive version of Uber surge pricing, telling the men the ride will cost $50 — or about $1,280 in today's currency.
Conkling is outraged. Though he can afford it, he refuses to pay and tells the driver he'd rather walk.
You Sure You Want To Do That?
Conkling and the young man then set out in the tempest. The young man makes it three blocks before he gives up and ducks into a fancy hotel on Vesey Street. But Conkling keeps going. He may be 58 years old, but he is a fitness buff who neither drinks nor smokes. And he can still beat a man senseless in the boxing ring.
John Marszalek, professor emeritus at Mississippi State University, said Conkling was a giant of the Gilded Age — those free-wheeling, loosely regulated, post-Civil War decades. "He dominated any situation he was in," Marszalek said. "And he dressed very loudly."
In an era in which serious men wore charcoal suits, Conkling sported bright bow ties and multi-colored blazers. One of his rivals called him a "strutting dandy" and a "turkey gobbler."
His enemies accused him of womanizing, which he denied. Although it is true that at one point, the Senator from Rhode Island chased him with a shotgun for sleeping with his wife. That was during one of Conkling's three terms as a U.S. Senator from New York.
Marszalek said that as frivolous as Conkling was in his personal life, he was serious about power. "He knew how to play the political game," Marszarek said. "So he was not somebody to be tampered with."
Conkling was President Ulysses S. Grant's right-hand man in the Senate and the man behind the rise of future president Chester A. Arthur. But the real source of Conkling's power was patronage and money. In the late 1800s, it was assumed that elected officials would pack the ranks of government with their cronies. Marszarek said Conkling controlled hundreds of federal jobs.
Conkling also placed his loyalists in charge of collecting customs for the Port of New York. They made sure that some of those millions of dollars made their way to Conkling. The man had such a sweet operation that when President Grant offered him the job of Chief Justice of the United States Supreme Court, Conkling turned him down.
The Danger of an Actual Historic Blizzard
But now it's March 12, 1888, and a blizzard is howling across Manhattan. Conkling is struggling up Broadway. He makes it as far as Union Square before he falls. A doorman rushes out and drags him in from the snow. It seems at first that Conkling will recover. But the walk has given him pneumonia. In two weeks, he'll be dead.
Marszalek thinks that was a suitable end for America's kingmaker, who was arguably the most powerful man of his day. "It was almost a classic example of pride going before the fall," Marszalek said.
Maybe it's just as well that Roscoe Conkling died when he did. In a couple of years, the Progressive Era in American politics would begin: the civil service would be reformed and many of those patronage jobs would vanish. Even the New York Customs House would become less corrupt. By 1900, if Conkling could've risen from the dead, he wouldn't recognize what New York had become.
But he left his mark on the city. It's in Madison Square Park near the corner of 23rd Street and Madison Avenue. There you'll find his life-sized statue. And if you go in the next few days, he'll be dusted with snow.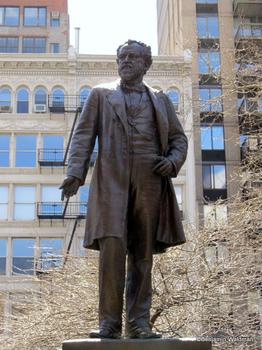 of