Chris Christie Holds First Town Hall Since Bridgegate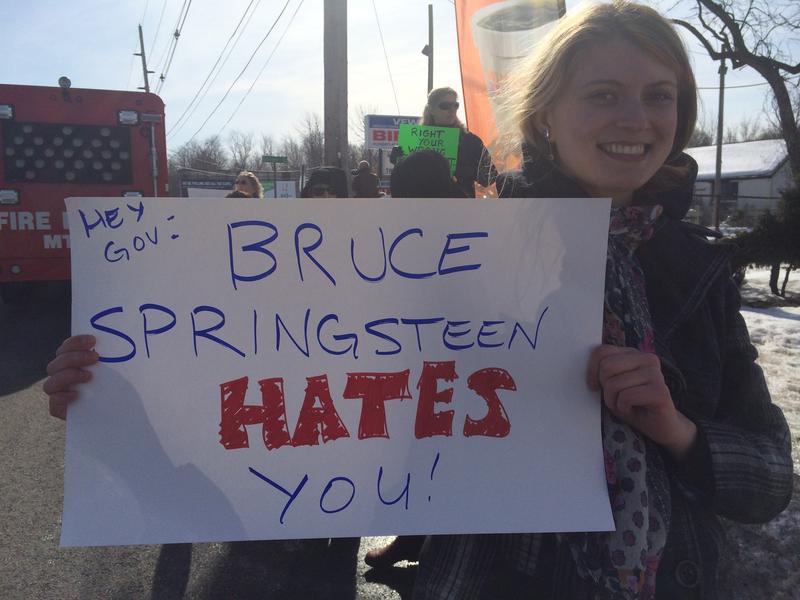 Governor Christie will hold his first town hall meeting with constituents - the first since members of his administration were directly linked to the order to close down traffic lanes at the George Washington Bridge in an apparent act of political payback.
Gov. Christie is holding his first town hall since June today in Port Monmouth, which was hit hard by Superstorm Sandy.
Christie's 109 town halls to this point have been a source of his strength and popularity. Hundreds of New Jerseyans show up for a 90-minute show featuring Christie's populist humor, tear-jerking stories and lively question-and-answer sessions. 
This event, though, is expected to be a more mellow affair. Christie is dogged by a scandal involving lane closures at the George Washington Bridge and increasing wariness over his handling of Sandy relief funds.
Sandy will be the primary topic of today's town hall, with top officials stationed around the room here at the VFW hall to answer residents' questions.
SO...not ONE #bridgegate question at @GovChristie town hall. Does that mean scandal doesn't have legs we think it does? #CHristieTracker

— Matt Katz (@mattkatz00) February 20, 2014
.@GovChristie in a groove now: "If you stand up and ask a stupid question, I am telling you the crowd will turn on you." LOLs all over.

— Matt Katz (@mattkatz00) February 20, 2014
Why was HGI fired? @GovChristie hasn't said. "ANSWER THE QUESTION!" calls out heckler.

— Matt Katz (@mattkatz00) February 20, 2014
"New York is significantly by a measure of two or threefold, behind us in distribution of money to victims." - @GovChristie #ChristieTracker

— Matt Katz (@mattkatz00) February 20, 2014
"I'm Debbie from Brick and I just wanna go home." // "And I'm Chris the governor and I want you to go home." #ChristieTracker @WNYC

— Matt Katz (@mattkatz00) February 20, 2014
New argument from @GovChristie Administration: Not enough federal $ and onerous federal rules is why Sandy recovery slow #ChristieTracker

— Matt Katz (@mattkatz00) February 20, 2014
"This damn weather's been ridiculous, huh?" - @GovChristie's opener at town hall meeting. #ChristieTracker @WNYC

— Matt Katz (@mattkatz00) February 20, 2014
Ouch! This greets @GovChristie at his 1st town hall in 8 months. pic.twitter.com/oJaP1mfql9

— Matt Katz (@mattkatz00) February 20, 2014