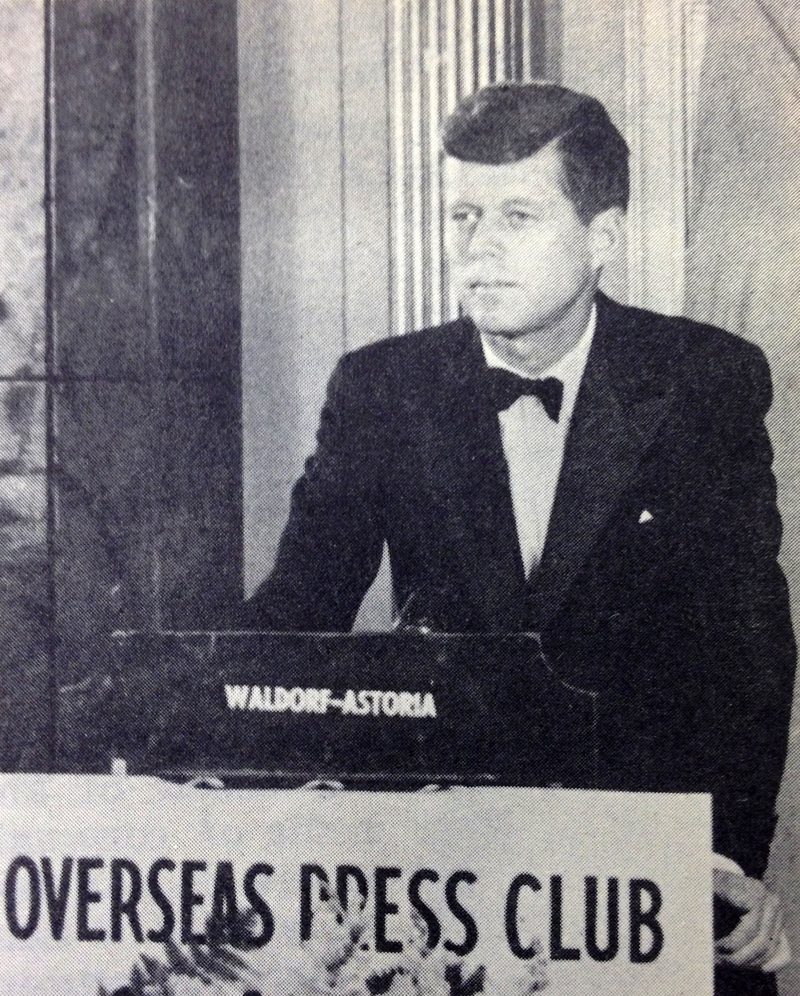 Summary
This episode is from the WNYC archives. It may contain language which is no longer politically or socially appropriate.
Unnamed speaker (Ogden Reid?) introduces Wayne Richardson, President of the Overseas Press Club. Richardson introduces John Howard Peck, who accepts the award of lifetime honorary membership to Winston Churchill.

Observance of those nominated for awards, medallions given to honorees.

Bob Considine takes over MC duties and introduces Jerome Hines, who sings briefly. Chairman of the Awards committee, Larry Newman, presents the citation awards for reporting. Odgen Reid accepts Barrett McGurn's award on his behalf and speaks briefly about McGurn's trip to Egypt and his expulsion from the country. Then, by short-wave radio, McGurn accepts his award.

Newman introduces Irving Levine, who talks about his reporting in Moscow.

Newman introduces Jerry Schwartzkopf, who receives an award for photojournalism. He thanks his colleagues still in Hungary covering the Revolution. Awards to, Cecil Brown, who receives an award for his reporting in the Suez, Flora Lewis, who receives an award for foreign affairs newspaper reporting, the staff of Sports Illustrated, who won an award for reporting the Olympic Games.

Presentation of the Presidents Award by Wayne Richardson: Andre Martin, an Hungarian national, wins for --. During his acceptance speech, he acknowledges the deaths of Hungarians in the Revolution.

The George Pope Memorial Award is given to Russ Jones for reporting in Budapest.

Bob Considine speaks briefly about correspondents honored in the OPC memorial room. A clip from "Night-Beat," featuring Mike Wallace, is played.

Wayne Richardson introduces John Kennedy, who delivers the main speech of the evening. Kennedy talks about 19th century foreign correspondents Karl Marx and Friedrich Engels, their bitterness toward the New York Tribune because of its poor pay, and Marx's claims of being exploited by his publisher and managing editor. JFK jokes about the results of this disaffection being with us today in the form of communism. But what would Marx say about the exploitation of the people by the Soviet empire? JFK tells strange story about the 19th century duel between Senators Henry Clay and John Randolph as an analogy between the current Democrats and the Secretary of State. Goes on to describe the difficult situation in Poland. Polish people want an anti-Stalinist regime. We have trained objective observers in Poland. Journalists. Unthinkable that we can't get such reports from inside Communist China. I do not believe we can have a curtain of silence between us and one quarter of the world. Refusal to recognize diplomatically is one thing. Pretending they're not there is something else. Back to Poland. Trade. It is a source of regret to me that the State Department is not more affirmative toward a new government in Poland in terms of trade. The Gomoca government. It's a risk, but we need to meet them half way. We don't want to encourage the Polish Stalinists. Other satellites are watching. If we provide a demonstration of our good will we could - in so many words - have a domino effect in Eastern Europe. What he calls "infectious independence". I suggest to you there are more shades of gray than are evident. We are on the defensive in the middle-east. Communists exploit the problems in the middle-east. Quotes from Alastair Cook's book "One Man's America." Talks of journalists lighting the way for all to see.

Reid (?) concludes the program by introducing Cecil Brown
Audio courtesy of the NYC Municipal Archives WNYC Collection
WNYC archives id: 8437
Municipal archives id: LT6291
Transcript
Transcript retrieved 11-22-2011 from http://www.jfklibrary.org/Research/Ready-Reference/JFK-Speeches/Remarks-of-Senator-John-F-Kennedy-at-the-Annual-Awards-Dinner-of-the-Overseas-Press-Club-New-York-Ci.aspx


Remarks of Senator John F. Kennedy at the Annual Awards Dinner of the Overseas Press Club, New York City, May 6, 1957

This is a transcript of this speech made for the convenience of readers and researchers. Four drafts of the speech exist in the Senate Speech files of the John F. Kennedy Pre-Presidential Papers here at the John F. Kennedy Library. In addition, the file contains a tearsheet from the Congressional Record, into which Senator John F. Kennedy's speech was read shortly after he delivered it. The text below is based on that text. Page images of the first, second, third, and fourth drafts are available.

It is a great pleasure to be with you tonight to join in the tributes justly paid to these outstanding award winners. I gained a new appreciation for the lot of the foreign correspondent when the April issue of American Heritage revealed that, in 1851, the New York Tribune under Horace Greeley employed as its London correspondent an obscure journalist by the name of Karl Marx. (Some of the copy he filed, it seems, was ghost-written by his friend and patron, Friedrich Engels "" but that practice no doubt is as thoroughly discredited today among overseas correspondents as it is among practicing politicians.) In any event, we are told that foreign correspondent Marx, stone-broke and with a family ill and under-nourished, constantly appealed to Greeley and managing editor Charles Dana for an increase in his munificent salary of $5 per installment "" a salary which he and Engels ungratefully labeled as "the lousiest petty-bourgeois cheating." But when all his financial appeals were refused, Marx looked around for other means of livelihood and fame, eventually terminating his relationship with the Tribune and devoting his talents full-time to the cause that would bequeath to the world the seeds of Leninism, Stalinism, revolution and cold war. If only this capitalist New York newspaper had treated him more kindly, if only Marx had remained a foreign correspondent, history might have all been different, our taxes today might be lower - and I hope all publishers will bear this lesson in mind the next time they received a poverty-stricken appeal from abroad for a small increase in the expense account.

Perhaps it was the Tribune that made Marx an expert on capitalist exploitation "" for he used to scream to Engels, in language exceedingly inappropriate to the gentlemanly traditions of foreign correspondents, that this "lousy rag", as he called the Tribune, run by two "lousy bums" Greeley and Dana, was exploiting Engels and himself like "paupers in a workhouse." Only a communist would say that was privilege. But what would Karl Marx say tonight about Communist Russia's systematic exploitation of the satellite economies and workers like "paupers in a workhouse"?

I want to refer particularly tonight to a classic example of Communist mismanagement, inefficiency and exploitation "" Poland. For there absentee Soviet centralization and nationalization resulted only in decreased productivity, extensive raw materials shortages, both labor shortages and unemployment, and increasing waste and obsolescence of machinery. The attempt to force a heavy industrialization and rearmament program too rapidly upon an economy milked dry by Soviet demands resulted in drastic shortages of consumer goods and housing, spiraling inflation and a raging black market. Without decent living standards, adequate housing or fuel, and ravaged by tuberculosis and other diseases, the Polish people turned rumbling discontent into a violent roar at Poznan, and finally last October insisted upon the new anti-Stalinist regime of Premier Gomulka.

It is, of course, still a Communist regime, still within the Soviet orbit, still patrolled by Red armies. The average uninformed observer at a distance would conclude there had been little change "" unless the shroud of secrecy was lifted from official intelligence reports or the veneer of propaganda could be torn from the Communist propaganda reports. But fortunately, in Poland and the other satellite countries, we do not need to rely on uninformed observers at a distance, on unavailable government intelligence, or upon Communist propaganda. We have in those countries trained, objective observers, working not for our government but for our newspapers, filing not what the Communists tell them but what they see and hear on their own. Their reports are invaluable to the informed public opinion our democracy needs "" and it is unthinkable that we should not be able to get such reports from inside Communist China.

But the dispatches filed from the Polish nation show significant changes beneath the Communist label. Terrorism and thought control have diminished; public opinion, basically anti-Communist and always anti-Soviet, is awakening; and a working agreement has been reached with the Polish Church under Cardinal Wyszynski. Industry and agriculture have been increasingly decentralized and denationalized. Little over one week ago the Polish Parliament approved a new budget and economic plan to reduce industrial expansion and raise living standards. And perhaps most significant of all, the Polish Government has for the first time turned toward the West for increased trade, for friendship, and for American credit and economic assistance "" specifically for $200 million worth of our surplus wheat, cotton, corn, fats and oils, to be repaid in Polish currency; and $100 million worth of credit at the Export-Import Bank, to be repaid in dollars, to buy coal, farm machinery and fertilizer.

And what kind of response did they meet from our State Department, whose Secretary boasted here not so long ago of his desire to "advance the aims and aspirations of freedom-loving peoples" by a policy of "liberation" ? They met doubt; they met delay; they met timidity and indecision. The welcome-mat was haltingly extended only after 5 months had passed from the time the President pledged our aid to the new government "" and longer than 2 more months passed before we neared agreement last week on less than one-third of their original request.

In part, of course, this hesitancy has been the result of divisions within the President's party. Senate Minority Leader Knowland has denounced all proposals for a Polish loan. He quotes the irritating anti-Western and pro-Communist statements made by Mr. Gomulka whose prestige we would be raising. He warns that our aid will simply strengthen the Communist bloc, relieve pressure on the Soviets, and divert to armaments those resources now devoted to staving off Polish discontent. Others warn that extensive American aid to Red-occupied Poland may serve only as a pretext for violent Soviet intervention, permanently crushing the Gomulka government and completely wasting any American investment. Still others take a less valid and less sincere position "" they favor Polish aid, they say to voters who support it, but only if her government becomes truly independent, or joins an anti-Russian alliance, or abandons national socialism; or they favor aid only if it is limited to surplus foods alone, accompanied by teams of American observers to guarantee its delivery to needy Poles alone.

I do not say that there are no real risks in aiding the Gomulka government; but, speaking for myself, I do say that risk for risk, dollar for dollar, we cannot fail to meet the Poles more than half-way. Apparently our latest offer, though far below their needs and hopes, is acceptable to the Polish delegation. But should a Congressional veto or further Administration haggling reduce this still further and turn them away nearly empty-handed, after they have braved the Soviets' wrath to come, then we will either be forcing a suffering nation into a fruitless revolt "" or forcing the Polish Government to again become hopelessly dependent on Moscow completely on Moscow's terms; encouraging the Polish Stalinists in their anti-Western propaganda; and very possibly causing the collapse of the present, more independent government. Other satellites, we may be sure, are watching "" and if we fail to help the Poles, who else will dare stand up to the Russians and look westward?

If, on the other hand, we provide a dramatic, concrete demonstration of our sympathy and sincerity, we can obtain an invaluable reservoir of goodwill among the Polish people, and strengthen their will to resist, and drive still a further wedge between the Polish government and the Kremlin.

I know of no more critical issue facing our foreign policy-makers today. For success in Poland could have early consequences in Czechoslovakia and East Germany, and then the whole Communist orbit "" and the Soviets know it. The so-called satellite nations constitute the Achilles heel of the Soviet empire, the tender spot within its coat of iron armor, the potential source of an inflammation that could spread infectious independence throughout its system, accomplishing from within what the West could never accomplish from without.

I call tonight therefore, and I shall devote my efforts on the Senate Foreign Relations Committee, for the formulation of a new American policy toward the satellites. The basic laws governing our foreign economic policies, such as the Battle Act and the Agricultural Surplus Disposal Act, recognize only two categories of nations in the world: nations "under the domination or control" of the USSR or the world Communist movement "" and "friendly nations". I suggest to you that there are more shades of gray than these black and white definitions would indicate "" that there are and will be nations such as Poland that may not yet be our allies or even friendly, but which are at least beginning to move out from Soviet domination and control. I suggest that these Acts be rewritten accordingly "" that the policies based upon them be reformulated accordingly "" and that we match our brave words about "Liberation" with some bold and imaginative moves of our own.

We have had enough of anguish and despair and empty promises. It is time now to re-examine, to illuminate, and then to act. In his book "One Man's America," Alistair Cooke tells the story which best illustrates my point. On the 19th of May, 1780, as he describes it, in Hartford, Connecticut, the skies at noon turned from blue to gray and by mid-afternoon had blackened over so densely that, in that religious age, men fell on their knees and begged a final blessing before the end came. The Connecticut House of Representatives was in session. And as some men fell down in the darkened chamber and others clamored for an immediate adjournment, the Speaker of the House, one Colonel Davenport, came to his feet. And he silenced the din with these words: "The Day of Judgment is either approaching or it is not. If it is not, there is no cause for adjournment. If it is, I choose to be found doing my duty. I wish, therefore, that candles may be brought."

Members of the Overseas Press Club, let those of us who are here tonight concerned with the dark and despairing problems of the satellites ask once again that, to illuminate our way, candles may be brought.