SchoolBook
Award-Winning Principal Opens School as an 'Act of Desperation'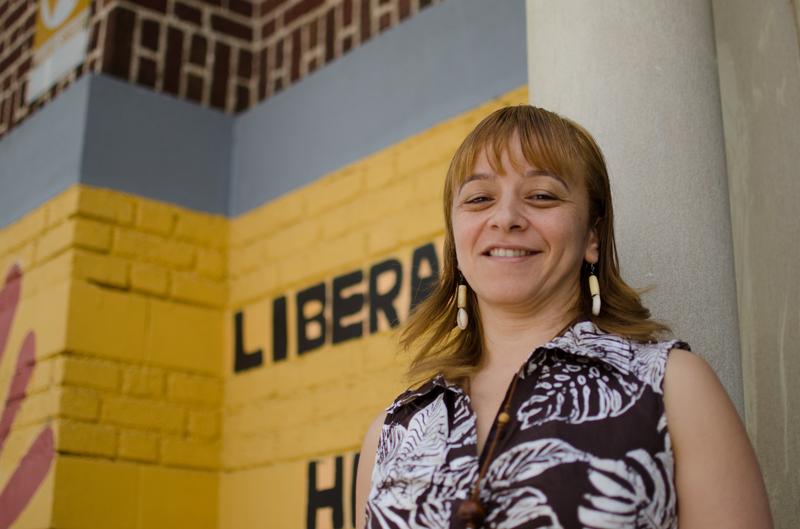 In Principal's Office, a regular feature of SchoolBook, a New York City public school principal is interviewed for insights into school management and the life of a school leader. 
Below, we talk with April Leong, principal of Liberation Diploma Plus, a transfer school that she founded seven years ago. Her nearly 200 students are over-aged and under-credited yet Liberation boasts impressive graduation and college enrollment rates. Leong's efforts won her a 2014 Sloan Public Service Award which recognizes the achievements of New York City employees. Leong's answers have been condensed and edited.
Q: What made you think it was necessary to open a school like this?
A: An act of desperation. I was an assistant principal in what they call SOS centers, one year suspension centers. What we found is that the schools were either not taking time to see that they transformed or didn't care that they transformed. So we saw kids coming back. Then I was charged with having middle school one-year suspensions and at that point my frustration just reached a different level. I was meeting 17-year-olds with two or three SOS suspensions who were not out of 8th grade. Then I said, 'Ok i need to have more control.' I need to work with the same sort of population but I also need to have the ability to see them through. That's how this started.
Q: What is the importance of a transitional center like Liberation?
A: The need is great. There are many, many students who are not doing well in the high schools. And in the larger high schools they pretty much just disappear. By the time they're tracked down it's two or three years down the line. We [have to work] together as agencies so we can create more proactive programs, instead of letting a problem or trauma just fester in a kid until it explodes into something else.
Q: What are some of the issues that your students face?
A: Homelessness, domestic abuse, sexual abuse, gang violence, just experienced violence in general. The list goes on and on.
Q: What is the underlying philosophy that Liberation has about students and teaching?
A: Unless you're addressing the whole child, learning isn't going to happen. People are like 'Oh, you have a smartboard in every classroom. Oh, you have laptop carts in every classroom.' Yes we do, and if we're not addressing the issues of anger, hunger, homelessness, displacement; the smart boards and the laptop carts really become irrelevant.
If I don't have a coat and it's winter time, we're out buying a coat. If I'm hungry today, we're coming out of pocket and making sure that that kid is not going to leave here hungry. Whatever it is we are just trying to be on the pulse of everything. A lot of it is about healing. A lot of it is about understanding their situations. And then the other piece of it is you have to bust your tail to really get the work in.
Q: What message do you have for principals in similar learning environments?
A: Understanding the many challenges that our students come to us with, teaching them to still have high expectations of themselves and high expectations of the people who are teaching them. [It's] a constant message that has to be shared throughout the buildings. The principal really should be leading that conversation and reminding teachers because its a tiring job.
Q: Why have you chosen this work? Is there something in your past that helps you connect to your students?
A: My entire past. I was brought up in very difficult circumstances. My parents were very young. I was almost one of the kids who would not have succeeded based on circumstances, based on support mechanisms. There were so many things wrong, but not many people ever intervened or picked up on them in school. 
All of the trials and tribulations, all of the adversity I've faced since the time that I was born, prepared me for this work.