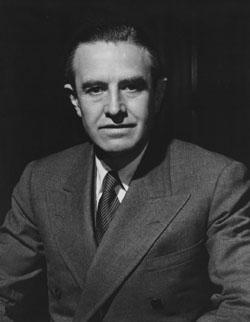 Summary
This episode is from the WNYC archives. It may contain language which is no longer politically or socially appropriate.
Jay Nelson Tuck moderates.

Former Governor of New York Averell W. Harriman is the guest, Discusses domestic politics and the US relationship with Russia.

Panelists include Lillian Affan, Jack Parker, Stan Siegel, and Raymond M. Tierney Jr.

Questions covered Nixon's visit to Russia and President Khrushchev's reaction to the "Captured Nations Week." He also discusses President Eisenhower's upcoming visit to Russia, and his objective of peace. He is also questioned about the following year's presidential election - he predicts the Republican party will recommend Richard Nixon, but does not specify one particular Democrat. He does not commit to a position yet.
Audio courtesy of the NYC Municipal Archives WNYC Collection
WNYC archives id: 72069
Municipal archives id: LT8656
Transcript
This is a machine-generated transcript. Text is unformatted and may contain errors.
Does Khrushchev want peace is the world doomed to a perpetual cold war did Vice President Nixon and the United States government succeed in purpose in his trip to Russia and Poland should crucially have they extended the red carpet treatment for the answers to these and other questions listen all to catch this press conference every Sunday at this time editors of college newspapers question the news where the personalities are moderator on campus press conferences the noted newspaper men and editor Jane Olson talk now to introduce the panel and today's guest here is Mr Tuck Good afternoon we are fortunate to have today as our guest on campus press conference My man who is an expert on two of the liveliest questions of the day I do most of politics and our relations with Russia is the honorable able Harriman I was former governor of New York who has been a serious contender for the Democratic presidential nomination Governor Harmon certainly qualifies as an expert on politics both state and national and as a former wartime ambassador to Russia as well as a recently returned visitor to that country he's one of our best and for men on our difficult relations with the Soviet Union here this afternoon to question Governor Harriman Our Lilian afan of the Hunter College arrow stance a goal of the N.Y.U. squared Journal I'm Jack Parker and Raymond I'm Tierney JR Well to the Fordham student bar association well enough the first question to launch right into the headlines of the week we're all very interested in your opinion about stuff ice practising sixteenth recent trip and the impending talks between Christians and as nice an hour when I and I Perhaps you remember when I came back from Russia. Toward the end of June I said that kosher for his very own phoned on America and I thought they were all for him to come over here and see for himself the strength and vitality of our life and the determination of our people to stick to our way of life so I thought the thing I think Mr Nixon trip has been useful I wish he'd been a little bit more of a vigorous in his encounter with the traffic but I'm sure did good for the first time that anyone of stood up to this man who goes around the world who struck boastful bragging about the Soviet Union and I think it probably was a good thing that people got some idea that the American people wanted peace and I thought he had on themselves very well and I was doing the questions Jack Governor do you think that Nixon's tactics in approaching the crush you have over there were the type the only type that the Russians actually understand and appreciate Well I'm not quite sure what exactly what you mean I don't believe in Ruthless I don't think it gets anyone anywhere but I believe in firmness direct talk. Groups are certainly engages in it and I hope that the selection was small frank and blunt in his private talks and he seemed to be in public discussion which are which he does just Nixon dodged some of the issues such as the slavery of. Of the Eastern European countries and Hungary and other issues of up top. Gov Herman you start your so that you don't believe in. Russia has taken the captive nations week as an act of rudeness on the part of the United States do you think this has merit on their part and I certainly don't I think we in captive nations week we express the opinions of all of the people that come from Eastern Europe and live here those who are descended from them and I think the majority of the American people know the fact that the Russia Soviet Union has imposed their will on the Eastern European peoples our lives they have their own way they would had have independent governments without any domination from Moscow or any communist rule or speak of the captive nations governor Mr Nixon had a good deal of praise for. Poland Do you agree with Well I think we've got to admit that is was one of the men that was liquidated by Stalin and his spirit was allowed to come back after the Polish people showed that they were unwilling to be complete completely dominated. Is. Actually is to develop Poland for all the boulder of them to be a. Satellite of complete satellite a Soviet Union Here's our complete believe in common is I'm. A firm believer in communism wants to destroy everything that we believe in in terms of individual freedom they've all rights of of religious faith therefore. I hope he is just a temporary individual who has done something to give the Polish people somewhat more independence but I certainly hope some greater folks will be able to select a government of their own incidentally about Nixon I think it's well his trip there I think was very useful he did one thing to give the poles a chance to vote for the first time. Time. In what respect Well you remember Stalin promised to give to Churchill until Red Rose both give the polls right till selected government of their own power on the free and unfettered elections which were to be so devised by our three countries that were plagiarism broken as we all know now this was the first time that the Poles a right to express their opinion I call it voting in the in that sense. They received advice president it's Nixon with great want. It was quite distinctly different than their very reserved acceptance of the visit of Mr Khrushchev and it showed to me and I think everybody very clearly why they liked America and why their resulted. Of the Soviet imposed rule. Right and it shows very clearly the kind of government they did a Dalek to fab a the free choice which had been promised them. The pending complimentary trip to Governor of Mr Eisenhower Mr Cruise ships have caused somewhat mixed emotions throughout the West with the United States England and Russia rather happy about the situation what's on the other hand France and West Germany not so happy about it I just wonder and I would like your views on whether you think such a trip will actually do any good expect except perhaps to bring out favorable propaganda in the press in both the United States and Russia where I think you've got a job the two trips together to stress trip here and present Eisenhower's to to Russia I think a great deal depends upon the frankness and bluntness with which are present I will no talks to cross traffic on myself. Come away from I talked with him believing that he does want to reduce Armisen he does want to come to some agreement to limit the vast expenditures violence which we're making and also which the Soviet Union are making which are making it very difficult for him to fulfill his promise the Soviet people for to improve the living hour if they will discuss that that's an area which presents as knowledge very competent to discuss I think it might might well make some progress and not very important feel how the I think that he'll leave here with a different impression he's quite convinced that we're on the way out of the Communist society is the one that's a higher form of human development will rule the world one day you know you consciously says our grandchildren will be. Will be live on the come this rule goes we are only repudiate that I think you'll be impressed with the video and the terminations American people reviving it goes to the homes of the working people and cities are not government people not just top of them and also you have a better idea of the standard of living which the Soviet people haven't even contemplated getting so far. Just what was accomplished from it is not the to clear but I'm sure the present as knowledge visit the Soviet Union will be very important for the Russian people like Americans and yet they fear it's other it's hard to believe but it is fact that the Russian people how to defend them to them that we are a threat to peace they want peace and that if we would only agree to what Khrushchev proposes by we could be assured peace now President Eisenhower go there and he will do Nixon did only with far more authority back of him will tell the Russian people that we really want that we do want peace and will explain some of the things which are necessary to be done in order to achieve their objectives objectives American people there seems to be an undercurrent governor in the press that France believes that these complimentary trips well induce some bilateral agreements between Russia and the United States and will affect our position as a power in the West. Do you have any views on this or this very definite views are not over since the end of the world was Stalin and now Khrushchev as wanted to get the United States to make bilateral agreements on all sorts of subjects that have that effect the world's problems and we've got to be very careful on that and that way of course they hope to drive a wedge between us and our allies we've got to be very careful not to give the impression that there is any decisions on the part of President was not over the heads of Hind the backs of our allies and therefore I was very glad to hear that President Eisenhower is about to go to France and talk to General gone about to go to England talk to Prime minister Macmillan I'm sure those talks will dispel any fear on the part and also. I'm not in Bonn to dispel the fear of those men that there will be any agreement made. A behind their back but such discussions about how often. Just America. Trip. Brings forth memories of the trip. And the treatment that he was accorded. Particular. Treatment. To. Test. Where. I was. And. Talk. Facts about the country. The country. Republicans alike both in terms of standing. Behind. And also. Talking. Now we also know that is meeting with some of the laid of labor leaders were who struck at a pretty tough time you remember that report in the process of the questions were asked of interesting the Kozlov doesn't there meet with the of the labor leaders and I'm for my part I'm I think the art of it would go to be seen to. Khrushchev meet with the labor leaders he calls them lackeys of capitalism those are the data used today and I think he's got to see that these were knocked out and offended men who have a very firm view about the rights of individuals and resent become this concept that the leaders know it all. Job governor Mr Cruz you have a small man also so he ought to be first also to go to the homes of our working people so they can see our lives as Lot didn't do that McCoy and then talk to the. Top of the people themselves how they live what they think he thinks a working class is are downtrodden in this country of no interest no rights and of political suppression let him talk the while and see how they live and I think out of the very healthy. Governor Mr Crow Sharon's visit also presents a very dangerous problem is what would what in your opinion would be the result of that attempt on Mr Khrushchev's life whether successful or not if this took place during his visit over here well you've got to be very careful taking it must be very carefully guarded in every way and it seems to me that that wouldn't be too difficult to do because they were careful about guarding the person the United States knows the risk of have to be taken with same sort of risk would exist when and any stage one goes around the world that would naturally would be most unfortunate if there was an attempt of that come on the line when you spoke of the Russian population as a whole you mention the prevailing feeling that it is the U.S. that threaten peace and freedom and wanting when other people freedom but peace is a threat that we have the wrong threaten them with war aggression I'm wondering what you feel there the the average person's reaction for instance to the hardly peaceful doings of the president after Russia Stalin or something like the Hungary revolution what what is the average person's reaction when I don't think they know about that stuff the trouble they don't get full I could information and such information is they have is so distorted they don't understand it is service don't you think this My create a feeling of distrust for their own government or that are they so blindly nationalistic Oh no I think Mr Nixon's I think my own trip did some good I think also because I kept telling the fact that the American people wanted things from that. There had to be an agreement between our two governments it wasn't all one sided is next now I think did a good job in that respect and that his speech to the Russian people was a very fine speech and certainly will get people to stop think and I'm sure the present eyes knowledge that it will be even more effective because they they think a lot of present as now he was generalized now and I was in Moscow he came there as a Konkona conquering heroes and he looked upon as one of the great military leaders who brought victory again stepped up and has so he will be received both as present a united states and also as a man of their respect as a military leader and he will with his smile in person out and one person out I'm sure he will do a lot of good in getting out of people's minds that we are wall like get a balance and we must use every way we possibly can to break down this fear the Russian people have of us they think as a small ruling clique and the United States of of capitalists as they call up the dominates the same want to make profits out of war I see Marx in philosophy as Marx in teachings of they parrot all the time including with Khrushchev he's a disciple of Karl Marx and Lenin as you well know right. Gov on the same line of channeling of information it was handed in the New York press during this to cause loss recent trip here that perhaps Mr Cruise ship was not being fully informed by both Mr McCoy on and and Mr Kozlov being as close to the the Russian government as perhaps any American or knowledgeable I should say do you think that he is informed No I don't think he's well informed thought I don't think of them a cold in bastard as to report the facts my also had a direct experience in which was to be going said one thing to me he told me when they saw me that he'd learned that the American businessman didn't want to have all orders and recognize that that was untrue an immoderate they wanted to make money out of war. Or that subject came up and I don't know which Khrushchev with which Mr McLaren was present ice. Cream truck brought up this question of the businessman wanting to keep the cold war going and want to make profits out of war and I said Well Mr Bryant told her it wasn't true the mom was going to no I didn't say that I only said I'd learned of some business men had changed their point of view well of course but this is not true at all to deserve in and to me that Mr Magara was to cause loss Mr Kmiec of none of them their report to the associate exactly what they see and for that reason I think it's improper discussion of come over himself now we're not going to