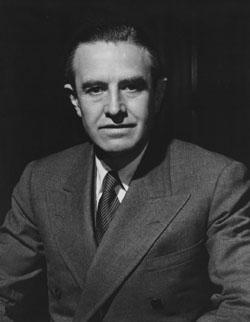 This episode is from the WNYC archives. It may contain language which is no longer politically or socially appropriate.
Averell Harriman addresses members of the press at an Overseas Press Club dinner. He opens his talk with a few jokes. He makes his allegiance to the Democratic Party very clear. He says that since becoming a Democrat his life has become "a heck of a lot more fun." He also mentions that the President had made it clear that since joining the State Department he must make no political speeches, the audience responds with much laughter.

He recalls his first visit to Russia in 1936, when he had much misinformation. Upon arriving in Moscow he got a great briefing from the press.

He speaks about the Nuclear-Test-Ban Treaty and his mistrust of Khrushchev. Despite this, he notes that the United States and the Soviet Union have common interests - both wish to avoid nuclear war. Particularly, the people of the Soviet Union, who have experienced great losses in past wars, do not want to be involved in another war.

Harriman describes what the Nuclear-Test-Ban guidelines, which would limit nuclear testing to underground.

He notes that the people of the world crave peace and are also concerned about the pollution caused by any testing.

Harriman describes China's challenge to the Soviet Union. The policies of Peking, he insists, will lead the world to nuclear war.

He makes a side remark that President Kennedy was a voracious reader of newspapers, and is very well informed. Throughout the talk Harriman makes fond references to Kennedy.

Questions and answers follow. Many regard the President's views on international relations related to the cold war.
Audio courtesy of the NYC Municipal Archives WNYC Collection
WNYC archives id: 71991
Municipal archives id: RT282