Avella Announces Mayoral Bid in Front of Symbolic Queens Site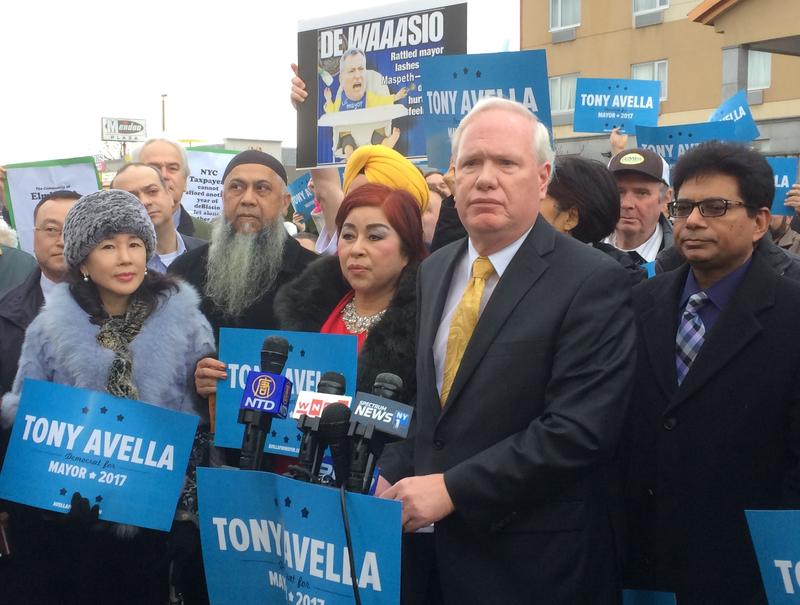 New York State Senator Tony Avella made his bid for mayor next year official with a formal campaign launch on Sunday. He said it was time, "to put neighborhoods first in this city and politics last."
Avella stood surrounded by dozens of supporters in front of a Holiday Inn in Maspeth, Queens. That hotel has been a focal point in a highly charged debate over the city's homeless crisis. Plans to convert it into a shelter were dropped after residents staged protests that City Hall denounced.
Avella said the city's handling of the proposed shelter site in Maspeth was indicative of a top-down approach that did not include enough community involvement.
"People in this neighborhood have a right to say what goes on in their community. That's the same thing with every neighborhood. For the mayor to come out and criticize community leaders and residents because they care about their own community, I think is absolutely disgraceful," said Avella.
While Avella attacked the administration's handling of homelessness, his proposals echoed many of the de Blasio administration's current policies, including rental assistance and legal services for tenants facing eviction.
Avella registered his mayoral campaign committee with the City's Campaign Finance Board last week. He is currently a member of the Independent Democratic Caucus, a group of seven rogue Democrats who have allied with Republicans in a power-sharing arrangement to control the state senate.
He served as a City Councilman from 2002 to 2009 before being elected to the State Senate in 2010.
In 2009, he ran for mayor, but lost the Democratic primary to then-Comptroller Bill Thompson 71 percent to 21 percent.
Mayor de Blasio also held a campaign event on Sunday speaking at the New Tabernacle Baptist Church in the Bronx. His campaign announced endorsements from seven City Councilmembers,  including Margaret Chin, Brad Lander, Stephen Levin, Donovan Richards, Ydanis Rodriguez, Helen Rosenthal and Ritchie Torres. 
A senior advisor to the de Blasio campaign would not comment directly on Avella's bid but said simply.
"Anyone who wants to hop into the race for mayor certainly can," said Phil Walzak. "The water's warm."