At Autistic Boy's Funeral, "It Felt Like It Was New York's Son"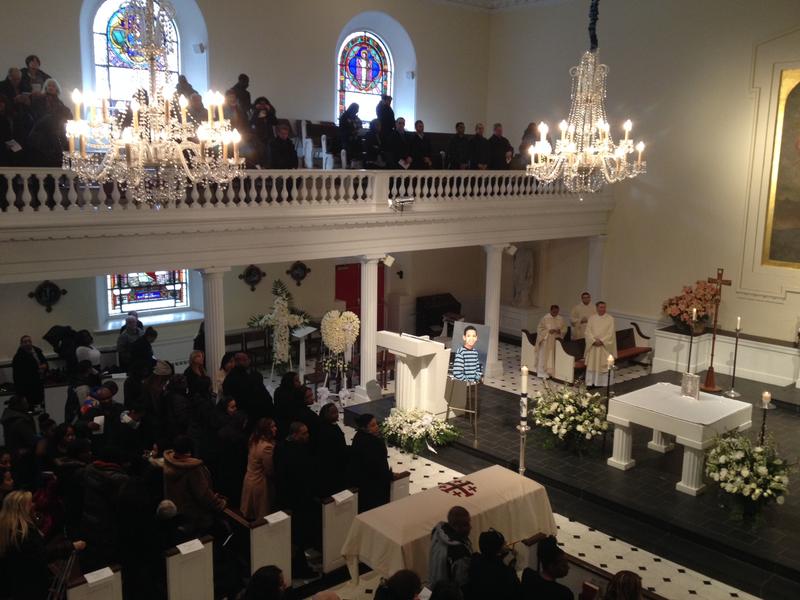 Hundreds of New Yorkers came to pay their final respects to Avonte Oquendo, the missing autistic boy, whose funeral was held on Saturday just over a week after his remains were discovered in the East River.
The service at the Church of Saint Joseph, in Greenwich Village, was led by the former Roman Catholic archbishop of New York, Cardinal Edward Egan. He said Avonte handled the challenges of autism "with grace and nobility." 

"He was a child of God for whom the son of God gave his life," he said, adding that he would now spend eternity in the embrace of the eternal father. Egan also praised the police officers and other city workers and volunteers "who scoured every neighborhood where Avonte might have strayed," used bloodhounds and divers to search the East River, and inspected 486 subway stations.

"Throughout these tragic months, I congratulated myself on being a New Yorker," said Egan, of the community outreach.

The attorney for Avonte's family, David Perecman, also referred to these "unimaginable displays of grace and kindness" in the three months since "the silent boy" disappeared. He called these displays a reflection of the "beautiful soul that resided inside Avonte."

But he also stated that the city should learn from its mistakes. "We must find out how to fix our schools, we must find out how to fix the system of safety that failed this boy," he said to a loud applause.

Avonte walked out of his Long Island City public school for children with special needs in October, when he broke away from his classmates after lunch. The family is planning to file a wrongful death lawsuit against the city seeking up to $25 million in damages.

The pews at Saint Joseph's were filled with some of the volunteers who searched for Avonte and autism advocates. One woman rocked a teenage boy back and forth in his seat. Avonte's mother, Vanessa Fontaine, sat in the front row to the right of the casket, joined by the boy's father and brothers.

Many of those who attended did not know the child, but said they were touched by his disappearance and the massive manhunt. Violet Stevens said she lives in the Bronx and took off from work to go to the funeral service. She teared up as she described her three-year-old nonverbal son with autism, and how she could relate to Avonte's family.
"When they can't speak they're so vulnerable," she said of children with special needs.

Derrick Wilson, who came from Harlem, said, "it felt like it was New York's son."

The family's attorney said a Greenwich Village funeral home offered to hold the Saturday morning service for free, and helped arrange for the mass at Saint Joseph's. He also said that Avonte's remains would be cremated.

It's not known whether Avonte fell in the East River after leaving his school, or if anyone hurt him. The Medical Examiner's Office has not yet determined a cause of death.