Note to Self
ATM of the Future: Where Your Money is Coming From Next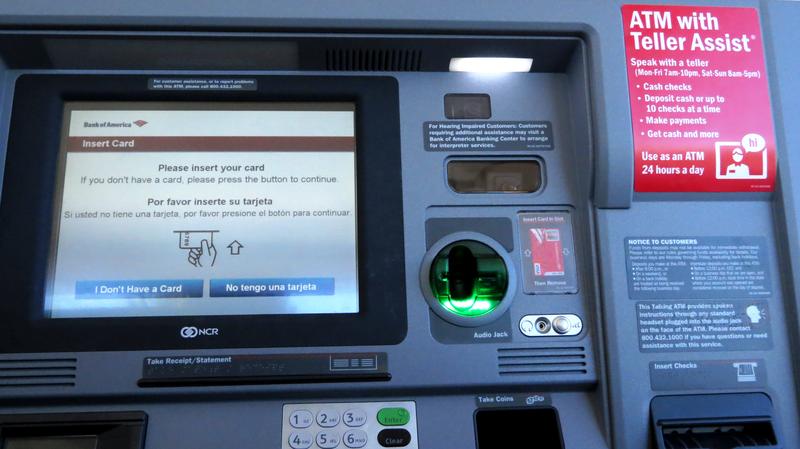 Since ATMs first appeared on street corners more than four decades ago, their basic function has barely changed.  But recently, to save on costs and attract a younger, more plugged-in generation of customers, banks are updating not only their ATMs, but the meaning of the word "bank" itself.
Over the past two years, PNC Bank and Chase have introduced machines that dispense $1 and $5 bills. Citigroup is expanding a line of ATMs that let customers open accounts and pay bills. Earlier this year, Bank of America began installing "virtual tellers" in their ATMs that enable video chats with tellers: Put in your PIN, push "Speak with teller" and a face pops up on the screen.
Bank analyst Nancy Bush says banks are catching up with features already available on smart phones: Video, touch screens, apps and customized menus.
"More and more banks are dealing with a younger generation who don't wish to go into a branch, who are very technology savvy and who prefer to access banking products through technology," said Bush.
At the same time, banks like Wells Fargo and Chase are exploring more automated branches where tellers are replaced with new ATMs and employees focus on providing financial advice and loans, products that are also more profitable for banks.
"Now, as more and more people are turning to technology to do their banking, there just isn't the need for as many bank branches, and perhaps there were too many to begin with," says Elizabeth Rouse, a product manager at SNL Financial, which tracks bank branches.  SNL reports that in the past four years, 3 percent of U.S. bank branches have closed.