Studio 360
At The Rijksmuseum, Old Paintings Get New Names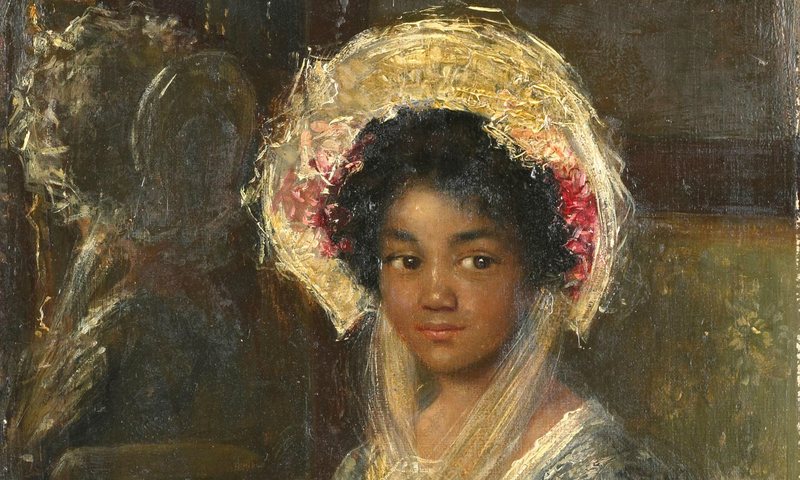 The Rijksmuseum in Amsterdam recently made headlines when it removed offensive words, like "negro" and "dwarf," from the titles and descriptions of artworks in its collection. For example, a portrait painted circa 1900 titled "Young Negro Girl" will be changed to "Young Girl Holding a Fan." John McWhorter thinks that's a bad idea. The Columbia professor of linguistics joins Kurt Andersen to discuss how museums should balance cultural sensitivity against the preservation of historical context.
Kurt Andersen: So, the Rijksmuseum is trying to be more sensitive and inclusive. That's OK, right?

John McWhorter: No, they're taking it too far. To take those words away from works of art from a very long time ago is going too far, and in a way implying that people of color are more delicate than I think any of us are. I can honestly say that I'm not hurt [by the title "Young Negro Girl"]. I'm not in the brains of every other black American I know, but I'm pretty sure that none of them are hurt either — as long as you don't call a painting that now.

The somewhat dangerous slippery slope is, 50 years from now, if we've changed all these things, it will look like "Wow, we were always good! We were never racist!"

That's right. Last time I checked, you go to a museum, in large part, to see how the past led to the present. The idea is to gain a sense of the passage of time. And we certainly don't want to pretend that things that went on in the past were uniformly good — we want to see the bad parts, too. It's part of understanding our development as a species.

How connected is this issue of changing the names of paintings in a museum collection to, for instance, those who would like "Huckleberry Finn" to be assigned to students with the dozens of instances of its famous unsayable word removed?

All of this is evidence of a good thing, which is that, in educated mainstream culture, it is now considered pretty much the moral equivalent of pedophilia to be racist. That's good, that's a wonderful thing. However, when it gets to the point that you're doing these things that have nothing to do with making life better for people of color, it seems to me that it's a waste of energy, not to mention a distortion of history.

I look at the museum world in the United States, and it is a very white place, they are all concerned about it being too white, and their collections being too white, and…I wonder if this is a gesture to make things seem better without having to find a black curator, say.

Yeah, frankly it's a lot easier to change these labels. 
Music Playlist
Mobiles (There Is No End)

Artist: Kyle Bobby Dunn

Album: Fervency

Label: Moodgadget Records