At the Public Theater, Pulling Up a Chair at the Kitchen Table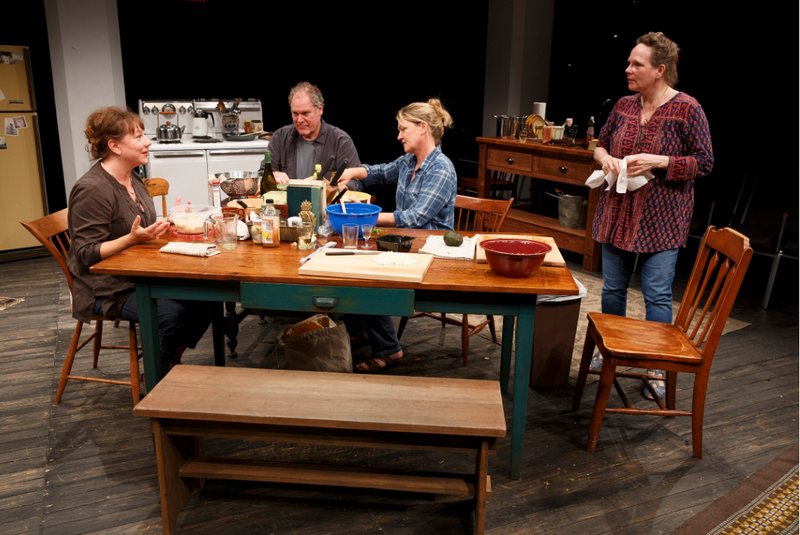 It can take years before a finished play is produced Off Broadway. Which means it's not usually that current.
But playwright Richard Nelson has three plays premiering this year at the Public Theater, and each of them touch on this year's presidential election and how it affects one family in Rhinebeck, New York.
The first one, called "Hungry," premiered in March during the primary season and briefly looked at both Bernie Sanders and Hillary Clinton. The middle-aged Mary Gabriel (Maryann Plunkett) has just lost her husband and during the play, as she prepares a meal with her family, the mourners wrestle with how to feel safe in an America that feels less secure.
The second play — "What Did You Expect?" — opens today, Friday. And, remarkably, the play itself takes place today, September 16, 2016. Nelson is writing each play up until 3 p.m. of opening day so that he can incorporate the day's news. It's similar to how he worked in his Apple Family play cycle.
Nelson says that mutual points of reference — like headlines — help connect him and his play to his audience.
"When the audience actually walks into the theater and has some stake in what's going on, you have a common ground," he said.
This second play, like the first, revolves around the preparation of a single meal. Together, the actors on stage are doing something very concrete — cooking a meal, something we've all done — to create a narrative around very complex ideas of gentrification, equality and fairness that we all struggle with.
To hear more about making "What Did You Expect?" and how Nelson's play reflects the current state of middle class America, click "Listen" above.
"What Did You Expect" by Richard Nelson opens tonight, Friday, and runs through Oct. 9 at the Public Theater. The third play in the series, "Women of a Certain Age," opens on Election Day, November 8. All three plays will run in repertory All three plays will run in repertory on Saturday, Dec. 10, Sunday, Dec. 11, Wednesday, Dec. 14, Saturday, Dec. 17  and Sunday, Dec. 18.