On The Media Blog
The Associated Press and the New York Daily News Were Fooled By A Parody Twitter Account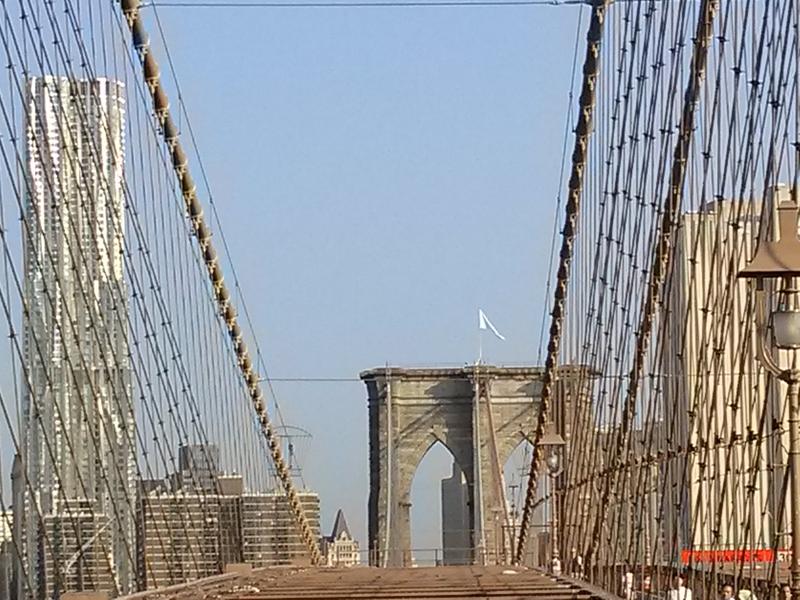 This morning, New Yorkers woke up to find that the two American flags atop of the Brooklyn Bridge had been mysteriously replaced with a white flags. 
So far, no one knows who did it, or why. Which is actually nice. I like that, for a few hours at least, New York City has an actual mystery. It makes today feel like a Donald Barthelme story, instead of just a Tuesday in July. Which isn't to say the flags haven't unnerved some people, ("If a person could change a flag on top of the bridge, well they could.. they could...") 
In the meantime, on Twitter, a parody account called @BicycleLobby made a joke about having put the flags up. 
Earlier today we hoisted two white flags to signal our complete surrender of the Brooklyn Bridge bicycle path to pedestrians.

— Bike Lobby (@BicycleLobby) July 22, 2014
 @BicycleLobby is a joke, and not even a particularly subtle one. It's devoted to the (fake) idea that there is a Freemason-style group of politically connected cycling advocates. @BicycleLobby's Twitter bio identifies it as a parody account, but even if it didn't, the larger context of its existing tweets certainly scream parody. And yet, the Daily News and the AP reported straightfacedly that cycling advocates are taking credit for the flag change. The Daily News story is bylined with three different reporters' names, none of which, apparently, are digital natives. 
Ugh. As someone who sits on the internet all day quickly writing blog posts, you never want to make fun of anyone too badly for falling for a hoax, because you know that your day will come too. But this one -- this one is very silly.