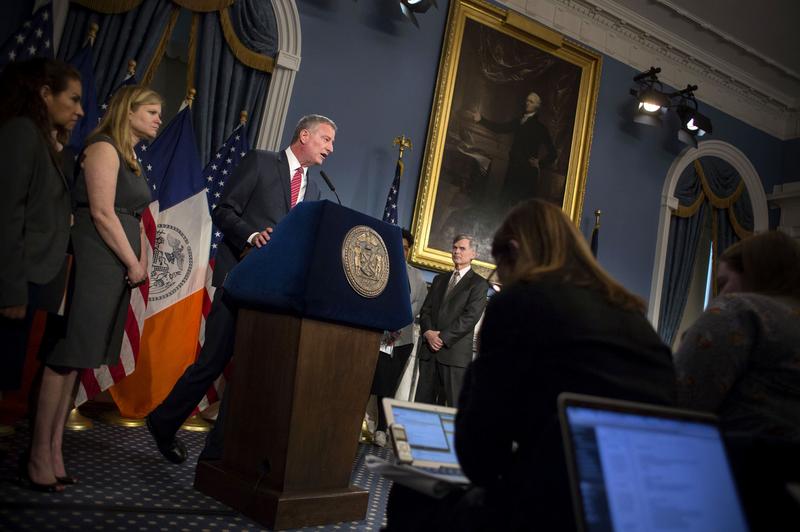 New York City Mayor Bill de Blasio takes calls from listeners, specifically about improving police-community relations in all neighborhoods.
Mayor de Blasio also praised new NYPD Commissioner Jimmy O'Neill, calling him the "architect" of neighborhood policing.
"I wanted the person who could best achieve neighborhood policing...but also repair the relationship between police and community."
"I'm a believer, Brian, in folks who understand every part of the job," BdB tells @BrianLehrer of Jimmy O'Neill, compares to Carmen Fariña

— Ben Max (@TweetBenMax) August 4, 2016
Harlem resident to @BilldeBlasio, on @BrianLehrer: police in our neighborhood very friendly. "We call it 'stop and chat.'"

— Kate Hinds (@katehinds) August 4, 2016
@BrianLehrer @BilldeBlasio @NYPD115Pct thanks for taking my call to discuss crime rise on 95th street in Jackson Heights & the need 4 police

— Khursh Mian Acevedo (@hershykershy) August 4, 2016
Caller to @BrianLehrer describes NYPD as an instrument of white supremacy. Mayor @BilldeBlasio respectfully disagrees.

— Mara Gay (@MaraGay) August 4, 2016
@BrianLehrer amazing point from this caller. I have lived in NYC for 35 years and haven't known a cop by name EVER!

— Chef Sasha (@ChefSashaHS) August 4, 2016