Artists Warn of Elvis and Other Evils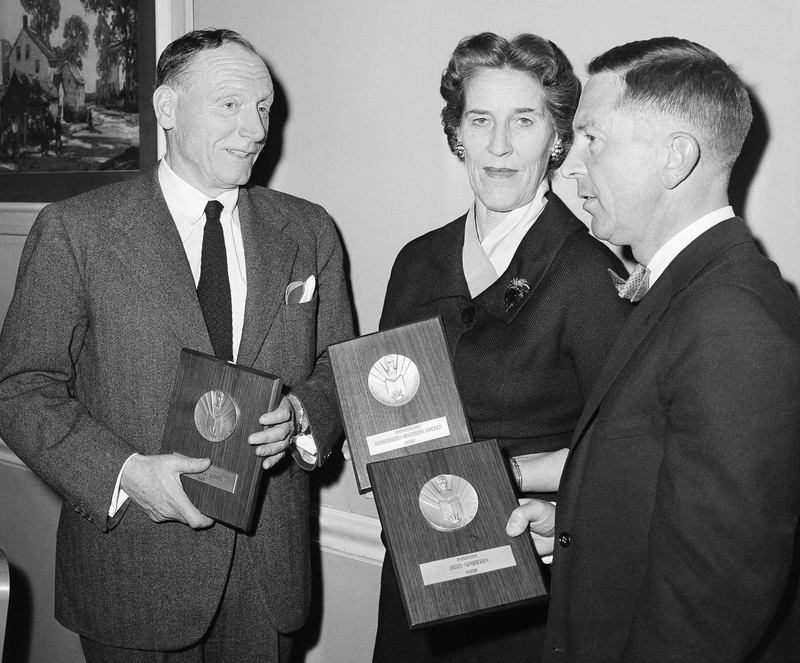 A nation that neglects or scorns ideas "is playing a losing game," Clifton Fadiman warns as he hosts the 1958 National Book Awards. He hastens to add that the country he refers to is "ancient Egypt." But the ever-widening gap between mass culture and that of the intelligentsia is clearly on the minds of many speakers. Robert Penn Warren, receiving the poetry award for his volume Promises, speaks of a Hollywood executive wondering why Warren would bother to write poetry, except "for kicks." He then launches into an erudite discussion of the "poem as structure," wondering how structure and meaning are related and what is the meaning of structure itself. He concludes by defining the poem as "a little myth of man's capacity for making life meaningful"
Catherine Drinker Bowen, the non-fiction winner for her biography of Sir Edward Coke, The Lion and the Throne, points out how daunting it was to write about a man no one had ever heard of. She attributes her urge to write to being the youngest of six children. "Nobody would listen to anything I said." She then gives advice to biographers, chiefly on what to avoid: moralizing, antiquarianism, and pedantry.
A very young and nervous-sounding John Cheever (he was forty-five), winning the fiction prize for The Wapshot Chronicle, speaks of the "amiable coolness" that has grown between himself and the book, now that it is finished. With his trademark optimism he lauds how the novel "depends on the good opinion of strangers," calling it "a glorious form…a marketplace where we investigate man's complexity."
The final forty minutes of the ceremony is devoted to Randall Jarrell's lecture on the future of culture in America. Jarrell leans heavily on the work of sociologist Ernest van den Haag, arguing that modern technology has created a monstrously homogenizing mass or pop culture in no way comparable to the folk art of previous societies. This dumbed-down "product" is essentially crowding out the formerly respected fields of creative endeavor. Television is held up as the prime culprit, but movies, magazines, and Elvis Presley come in for their share of abuse. Artists are now becoming more "market-oriented." Jarrell makes a passionate plea for high art, disinterested and uncompromising. He calls out those who wish to straddle the divide, lumping together Peyton Place, South Pacific, Liberace, and What's My Line, insisting, "It's better to read Proust. Better in every way." As a reminder of just how prescient Jarrell was as a critic, he singles out Philip Larkin (this being very early in Larkin's career) and quotes from his poem Church Going. The talk has a rather desolating effect, as much today as it no doubt did then. One can almost hear the psychic sigh of relief when Fadiman announces that the bar is now open.
---
Robert Penn Warren (1905-1989) was that rare writer successful in both poetry and prose, writing a series of highly praised novels, most notably All the King's Men. He explained, as quoted in the Poetry Foundation website:
…a poem for me and a novel are not so different. They start much the same way, on the same emotional journey, and can go either way.... At a certain level an idea takes hold. Now it doesn't necessarily come with a form; it comes as an idea or an impulse.... I've started many things in one form and shifted to another.... The interesting topics, the basic ideas in the poems and the basic ideas in the novels are the same.
---
Catherine Drinker Bowen (1897-1973) wrote a series of highly successful biographies. The biographical dictionary Notable American Women reports how:
…a strong supporter of the rights of women to exercise their talents independent of home and family, in a speech near the end of her life Bowen observed that, "No woman of spirit can focus her entire life on the raising of two children," she must also use her vital energies "in national causes, world causes."
---
John Cheever (1912-1982) was one the preeminent writers of the mid-twentieth century. He is most remembered for his evocation of the American suburb. Martin Chilton, writing in The Telegraph, reports how Cheever: 
…understood the ambition and inferiority complexes of post-war American life. He could be funny about the "crushing boredom" of life in the suburbs with the "stupid, depressed and uncreative" people who populated their tidy houses but he was more than just an angry critic of torpid rural life. As his contemporary John Updike put it: "John Cheever was often labeled as a writer about suburbia; but many people have written about suburbia. Only Cheever was able to make an archetypal place out of it."
---
Randall Jarrell (1914-1965) was a poet but also a brilliant literary critic and author of one of the great novels about academia, Pictures from an Institution. His early death was mourned by his friend, Robert Lowell, who, quoted on the website poets.org, wrote:
What Jarrell's inner life was in all its wonder, variety, and subtlety is best told in his poetry...His gifts, both by nature and by a lifetime of hard dedication and growth, were wit, pathos, and brilliance of intelligence. These qualities, dazzling in themselves, were often so well employed that he became, I think, the most heartbreaking English poet of his generation...Always behind the sharpened edge of his lines, there is the merciful vision, his vision, partial like all others, but an illumination of life, too sad and radiant for us to stay with long—or forget.
Audio courtesy of the NYC Municipal Archives WNYC Collection.
WNYC archives id: 150532
Municipal archives id: LT7951