'Vandals' Take Over NYPD Precinct — with Graffiti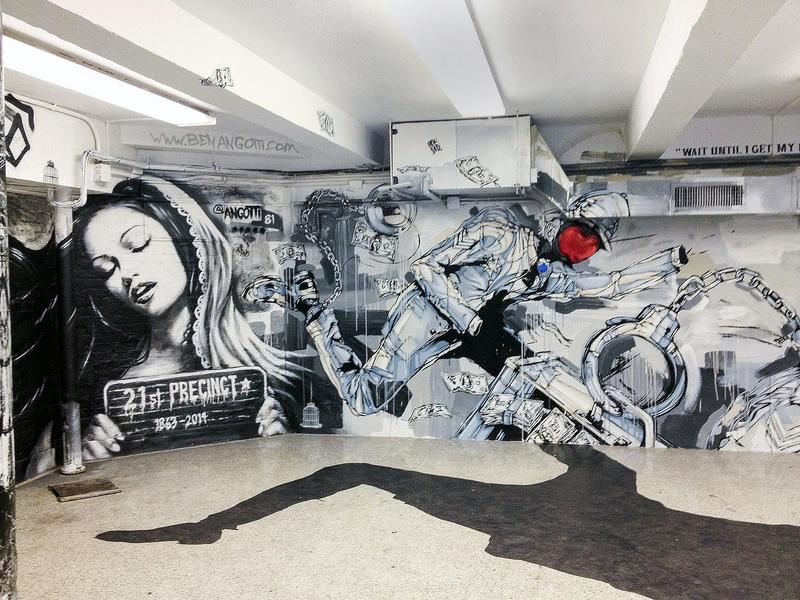 From the outside, 327 East 22nd St. looks just like every other building on the block. Walk through the front entrance and you will only see a few, worn-down doors. But make a quick right into the staircase, and you'll find yourself completely surrounded by street art.
The walls, the floors, the ceilings and bathrooms — nothing was off-limits to the more than 50 street artists that turned the old NYPD 21st Precinct Building into a (temporary) street and graffiti art museum.
Artists Savior Elmundo and Pesu and the collective Outlaw Arts brought in fellow street artists who worked evenings and weekends painting the four floors of the building for "21st Precinct." The project took four weeks, and opened to the public last weekend.
Carlos Jay, one of the artists and curators of the show, explained that the former precinct building had a colorful past. In the 1800s, when the neighborhood was called the Gas House District, it was under the jurisdiction of violent and corrupt cops.
"Once we realized it was a police precinct, we pretty much went to town. We felt like, what better subject is there than vandals taking over a police precinct?" said Jay. "We just felt like we had to take advantage of this storyline."
A number of artists painted entire rooms and walking between them feels like moving through different worlds. Other artists claimed their own walls or collaborated with each other. "It's a little bit of a hodgepodge of things, but it still works. It's amazing. It's very stimulating to see all these different styles and different ideas and concepts all under one roof," said Jay.
The works are loosely based around the 21st precinct's story, but Elmundo, who is a curator in addition to one of the artists, said the show is really about bringing street art indoors and into a precinct.
"When they're walking in the street they see the artwork, whatever, they don't care," said Elmundo. "But when it's in a building — the street is in here, they enjoy it. They're like 'Wow.' They focus and they [really] see the artwork, the graffiti, the murals and the wheat pasting."
"21st Precinct" is open Sat., Aug.23 and Sun., Aug. 24 from 1 p.m.-6 p.m. The building will be demolished within a couple weeks and replaced with luxury condos.
 "Picasso vs. Dali" by Savior Elmundo at "21st Precinct." (Araz Hachadourian)