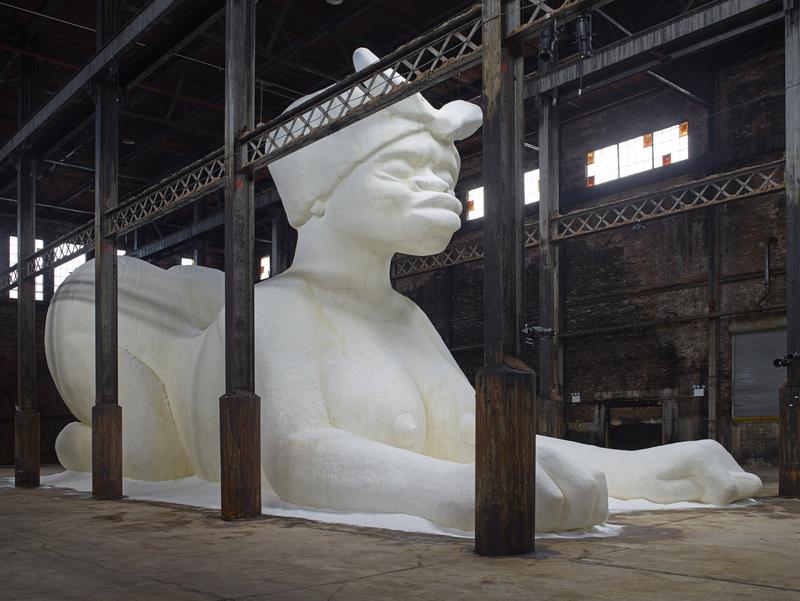 Artists Kara Walker talks about her new public work in the old Domino Sugar factory on the river in Williamsburg, Brooklyn, "A Subtlety, or the Marvelous Sugar Baby, an Homage to the unpaid and overworked Artisans who have refined our Sweet tastes from the cane fields to the Kitchens of the New World on the occasion of the demolition of the Domino Sugar Refining Plant." She's joined by curator Nato Thompson. Walker's artwork explores issues of race, discrimination and exclusion, sexual exploitation, and power. Here, she explores the history of sugar and its many implications both historic and contemporary and the work occupies the 90,000-square-foot industrial relic of the old Domino Sugar refinery.
The work draws on the history or sugar and race and the artists used a lot of sugar to create the work. "Domino donated eight tons to us. We used about half," Walker said. In addition to the huge, sphinx-like, sugar-covered sculpture, there are a number of smaller sculptures of boys scattered throughout the space. They're made of solid cast candy, and Walker and Thompson mentioned that there was some trial and error working with sugar as a sculptural material. "Some melted, some fell over." They're covered with molasses and they look like they're melting. Thompson said, "They look like they've almost just walked right out of the walls. It's almost like a dream, like they just emerged there. And they're very temporal, something about their dripping makes you feel like they're alive, almost."
"She's sort of polymorphous," Walker said of the big sculpture. "From the kerchief on her head, African features, which are very strong, and maybe somewhat exaggerated but not grotesquely so," she said. "She's got her fists out forward, one fists is configured into a kind of fertility gesture that could also be an epithet of many sorts, she's got a large bottom, which from the back side is all you see."  Walker said her pose is "both submissive and domineering." And of course she's covered with refined sugar, a brown substance that is considered more valuable as it is refined and turned into a white crystal.
Although it's made of a sweet substance and has gotten a very positive reception, Walker added, "It's a pretty dark piece. It's a very dark piece, actually, but I wanted to bring into to world a crowd pleasing effect that would also Trojan-horse-like reveal all these internal conflicts. "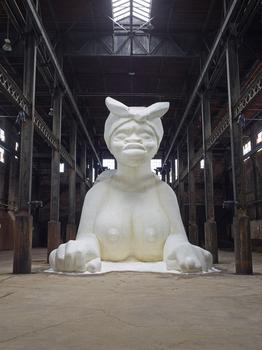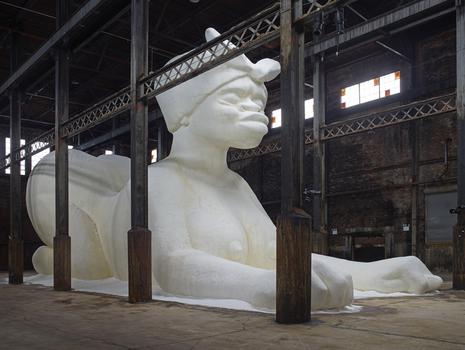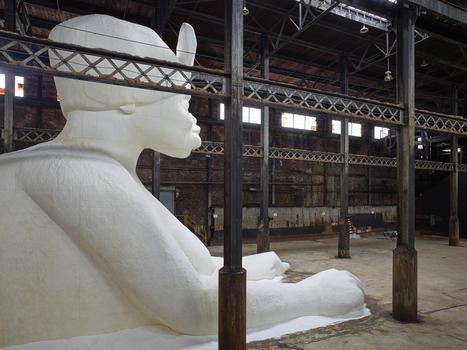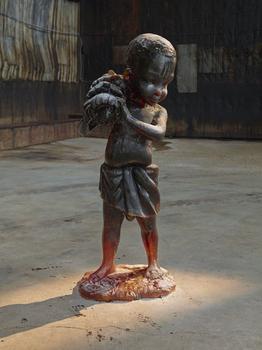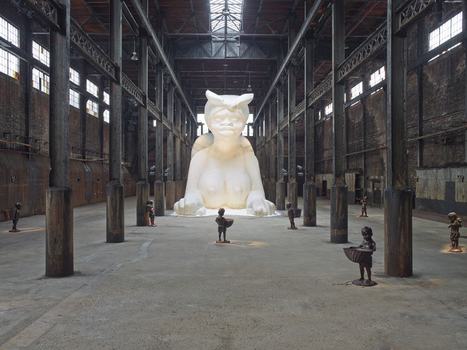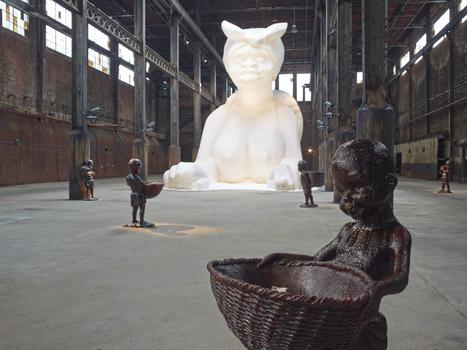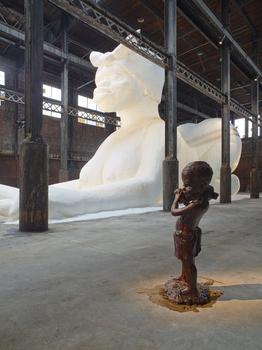 of