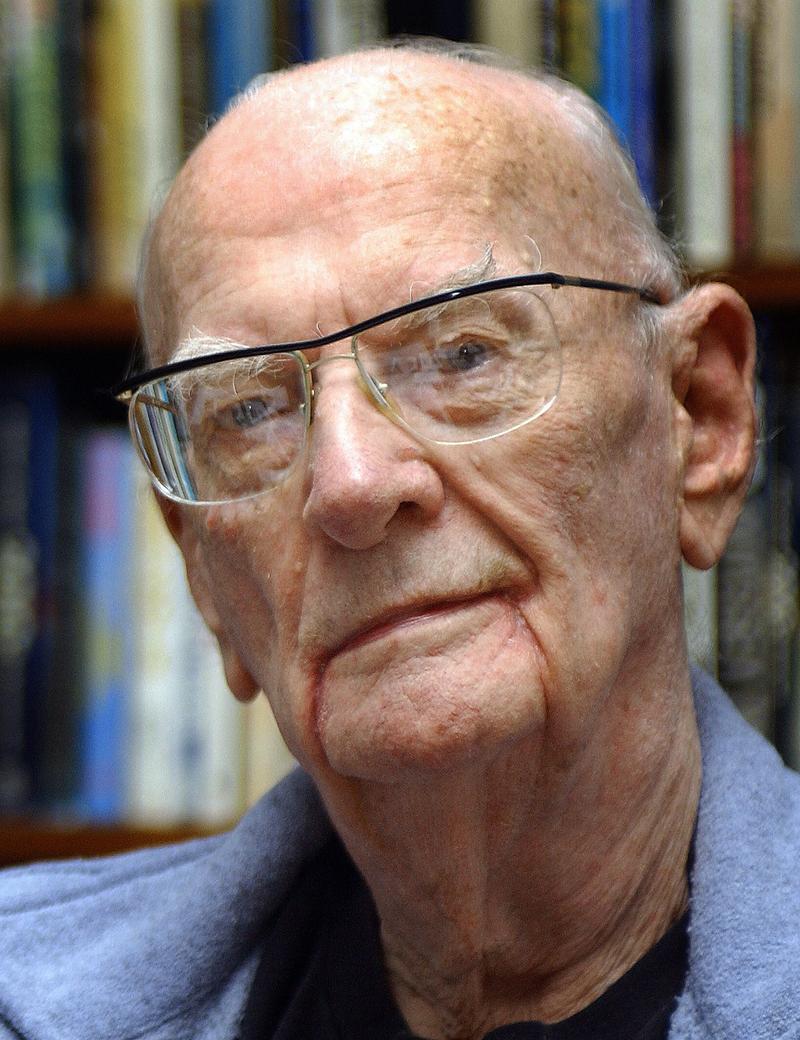 Summary
This episode is from the WNYC archives. It may contain language which is no longer politically or socially appropriate.
Program opens with Irita Van Doren introducing the Luncheon guests and overseeing the drawing of books. There is quite a bit of excitement among audience winners.
Maurice Dolbier then introduces the first speaker of the day, science fiction author Arthur Clarke, his most recent novel "Prelude to Mars." Clarke recounts a recent trip to Long Island when he saw for himself a lunar landing module. He discusses the near reality of a moon landing. He likens man's exploration of space to primordial shift from sea to land. He mentions some of the concepts that fascinate him - mainly our place in the vastness of the universe and makes and "advertisement" for his upcoming collaboration with Stanley Kubrick, "Journey Beyond the Stars."
Next, Dolbier introduces John D. Rockefeller III, who presents on the publication of a recent panel work, "The Performing Arts: Problems and Prospects." His goal is to broaden the arts to be for the many, rather than the privileged few. He offers recommendations:
1) Parents must play a role, giving children the opportunity to know and enjoy the arts. 2) Individuals must work with the schools to include the arts in the school curriculum.
Finally, traffic commissioner Henry A. Barnes is introduced, a traffic engineer and the author of "The Man with Red and Green Eyes." He discusses the many problems of traffic, particularly those in New York City. He makes many traffic jokes and speaks of the many unusual situations he has faced.
Audio courtesy of the NYC Municipal Archives WNYC Collection
WNYC archives id: 71300
Municipal archives id: T995
Transcript
This is a machine-generated transcript. Text is unformatted and may contain errors.
On the day before you speak. And. A director of the American. And then comes the general manager of the trade department. Is the vice president and editor in chief and company who publish Mr Barnes the man with the red in green eyes Scott Bartlett. And next to him is Mrs Vaughn. And on her left is the president of Harcourt Brace publish Mr Clarke's forthcoming. Prelude. And that is Mr your bondage. Now. If you will sort of Schiphol on here with me to my right I would like to introduce to you. The editor in chief and publisher of The New York Herald Tribune young here. On his right is Edward Moore who is the president of McGraw Hill the book. And then Mrs John D. Rockefeller this is right. On her right is the general manager and editor in chief of McGraw Hill publishers of the performing arts problems and prospects at the. Next day here is an editor of E P death and company where the publishers and Mr Barnes the man with the red and green eyes Mrs Peggy Brooks. And next to her is a director of the American Booksellers Association and the manager of the Doubleday book stores Mr Axelrod. And finally on the right executive director and a mentor and manager of the American Booksellers Association Joseph Duffy. Now I'd like to before we have the usual drawing of cards I would like to explain to you that as a rule the national the. Dubey N.Y.C. Minister Paul broadcasting company plays back this luncheon about nine o'clock in the evening and which is held tonight the president will be speaking at that time so we will not have a playback of this but next Monday at the same time if you can't hear it you may turn it on it Debbie N.Y.C. at nine o'clock next Monday. Now let's have the drawing for the autograph books of our speakers today and I'm going to ask you and you see I'm going to ask Mrs Roosevelt to go. With. This Mrs Rockefeller to the cross but that's quite a difference. When you were brought. In. By. Mrs Albert Aldridge. For your search. Of the book. Yes. Yes but you know you can't get to. The first one since we're giving these in alphabetical order according to authors is Mr Henry a bond's book and the man with the red green eyes and if you think that there is nothing amusing about the traffic situation in New York you'll be mistaken not that it isn't serious but you'll be very amused by his account of it Mr Bond. When you have one or. Thank you. Mr Eric Black Mr this time. And Mr Lasher gets the next plug. Gets. Out the clocks book and I must explain something about this to you Mr Clarke's new book is going to be published a few little bit later and this is not the new one but it's a fascinating one and when the new one comes out we will keep your address and send that to You Tube. To one. Mystical now that can. And thank you so much. This is good true to our Brecht from Switzerland. That started. Mr Mrs R. Brecht we have here for you the performing arts problems and prospects. Will be pick and. Mix I. Am down to see you properly appreciated these are real books to get and read and you will enjoy them and you may come up to the day after the luncheon and claim your book and now I would like to turn this program over to Maurice Dolby of who will tell you introduce to you our speakers today just. To the question What one book would you like to have if you were shipwrecked on a desert island I would find it hard to give an answer. But if under unimaginable circumstances I should be sent to zooming off in a space capsule and could take only one author with me that be no difficulty of choice at all I do want author Charles clock in the first place he knows the territory. And is displayed that knowledge not only in a fairly extensive series of some of the best science fiction stories about time but in such excellent nonfiction books as interplanetary flight and the exploration of space in the second place and just about as importantly he's awfully good company as those of you all will know who have been here in the several previous occasions on which he's been one of our luncheon guests his books have sold more than two million copies and I've been translated into fifteen languages and I understand that a recent visitor in a flying saucer was here inquiring about the Martian rights in the last ten years Mr Clarke has been living on the I would have said long and has been doing some undersea exploring in the course of which he has had the thought and experience of coming on sunken treasure he wears some of it on his necktie now he was telling he continues to add to the treasure chest of readers enjoyment with his novels and stories the next collection of which probably tomorrow as will be published by Harper brace and will the spring countdown five four three two one off the clock. Well today I'm going to talk about transportation and art though neither from the usual point of view first transportation or last week I had a very unusual experience. I was sure of that I'm used to unusual experiences I was out on Long Island at the Grumman plant and was inside the final mockup of the vehicle that will be landing two Americans on the moon within the next six or seven years it's only twenty miles from here and this was a very strange experience to sit inside this little cabin the controls around me and to realize this is the real thing that I've been writing about for almost a quarter of a century even stranger was to see a couple of ordinary looking men working with the other syndrome and stuff and to realize that those were two of the astronauts who've been selected for this flight and that one of them might be walking on the moon in the very early seventy's back in nineteen forty seven I wrote my first novel love into country flight which is in this forthcoming volume in that I very daringly suggested that the first lunar landing would be in the year one thousand nine hundred seventy eight I thought that I was really going out on a limb and being observed certainly optimistic today if I said that the first lunar landing would be and nine hundred seventy eight I should be very unpopular in Washington although in that novel I did score one hit when I quite by luck of course predicted the first rocket would hit the morning nine hundred fifty nine when in fact it did but it certainly. Gave me an unreal sense to sit inside the little lunar landing module usually called the bug and to look at to these tiny triangular windows and say to realize this was a real thing happening after I'd been writing about it for a quarter of a century so I can appreciate. But if I consider myself an expert on the subject of how difficult it must be for the general public to absorb this change when I ready have difficulty in doing myself. It's hard to put across not only that this is happening and will be happening very shortly but also more important what it's going to lead to now this tremendous effort which United States is now involved is not just a political race to the mourners many people seem to think it's something infinitely more important than that the opening up of a new chapter of history you often hear the analogy put forward with Columbus's voyages to the new world but even that is not a strong enough example I think you have to go back not a few hundred years but more than a billion years to find a comparable parable to the time when in fact life on this planet after evolving in the sea emerged into the new and hostile and dangerous yet infinitely promising environment of the land and of course from that great shift from sea to land we ultimately evolved and now a new element is opening up the element of space with infinite possibilities it's true that the nearby worlds like the moon now are barren and unattractive and even so the exploration of them will result in amazing and exciting revolutionary scientific discoveries our next door neighbor the moon is probably almost certainly lifeless yet it may be a museum holding intact the history of billions of years of the early evolution of our solar system unchanged since the formation of the planets and then beyond that of course is Mars. Very probably the home of some form of life we may know exactly four months from now when the Mariner probe makes its flyby But these explorations of our own back yard are made of the beginning of an adventure which will stretch ahead into time as long as mankind exists look up at the stars on a clear night how many of them you think there are out there let's consider only our own local universe and what we call the Milky Way system and forget the billions of other universes that lie beyond it you can see the Milky Way on a clear summer's night though not I'm afraid for New York City as a faint arch of light across the sky is actually an immense pancaked can't pancake shaped destroy a cloud of stars and our sun is just or not rather an important one far out in the suburbs of this celestial city. Let me stress this again because it's amazing how few people seem to grasp this basic fact of astronomy our sun is a fairly feeble star it looks so bright maybe because it's close at hand and all the stars are suns faint because their a long way off we're now fairly certain that most of them if not all have planets circling around them just as our sun does I just know I asked how many stars do you think that are I want to answer that directly because a figure is meaningless but I'll tell you this there are about as many stars in our universe as there are individuals in the human race Oh I don't mean the present population of the world which is a mere trivial three billion I mean the sum total of all the men and women who've ever lived since the beginning of time. That is roughly the number of stars the number of suns in our local universe we can't be sure but we can guess that on millions of those planets circling the Suns there may be civilizations in measure a in advance of ours for the next year centuries we may only be able to contact them if a tall by radio but eventually perhaps thousands of years hence we shall meet them face to face all the great myths and sagas of the past the stories of these serious Jason sin that were inspired by reports filtering back from lands and cultures almost as remote as the stars appear today now the cycle is beginning again with the slowly dawning realisation that the cosmos maybe teeming with life at the moment if I may be allowed another commercial. Stanley Kubrick and I are trying to fit these ideas onto the Cinerama screen for the M.G.M. production of a novel we jointly written called Journey Beyond the Stars it's a work of science fiction of course but it's time with the world realized that science fiction far from editing the charge of escapism that's often thrown at it is the realistic the truly significant literature and I hope the art form of tomorrow and on this he might like to end by quoting some remarks on science fiction written by an honest distinguished living Americans and Nobel Prize winner in biology professor Herman Miller who wrote recently. The real world is increasingly seen to be not the tidy little garden of our racist childhood but the extraordinary extravagant universe descried by the eyes of science if our art does not explore the relations and contingencies implicit in the greater world into which we are forcing our way and does not reflect the hopes and fears based on these appraisals and that art is a dead pretense a disappearing vestige that man will not live without art in a scientific age he will therefore have science fiction Thank you. For eighteen months a parable of some thirty distinguished citizens men and women of influence and insight in the fields of both business and the arts has been engaged in a study of the present condition and the future possibilities of the performing arts theatre dance and music in the United States the panel's work was undertaken as one of the special studies projects of the Rockefeller Brothers Fund and its report was made public just a few days ago you will have seen excerpts from it in the press and the entire report is available as a two hundred seventy two page book published in both hardcover had paperback additions by McGraw Hill today we are privileged to bring you a personal report on the report by the chairman of the panel is to John D. Rockefeller third Jemmett of the Rockefeller Foundation and trustee of the Rockefeller Brothers front Mr Rockefeller services in the cause of seeking and fostering excellence in the cultural life of America have been and are many and varied he has been chairman of the general education board since ninety fifty two established to aid education without distinction of race sex or creed. We established in that same year of fifty two the Rockefeller Public Service Award to give special recognition to civilian employees of the federal government for outstanding work he played a major role in the formation of Lincoln Center was its first president and as now its German has been particularly active in the encouragement of cultural exchanges between the peoples of Asia and the United States is founder and president of the Asia Society and two years ago established a fund to support those exchanges in the fields of the visual and performing arts that is government Mr John D. Rockefeller third thank you. Mrs Van Doren Mr Dolby or his gentleman it is particularly gratifying for me to be here with you today because it is to people like you people interested in the world of ideas people interested in the quality of their communities that our report is addressed probably never before have you had what might be called a collective author as a speaker at one of your lunch. As this book the performing arts problems and prospects is the work of a panel of thirty men and women you are in effect getting thirty authors here in the person of one these thirty distinguished men and women took an active part not only in the meetings and discussions on which the report is based but in the preparation of the report itself. Their hopes and mine is that it can make an important contribution to wider and deeper understanding of the problems and promise in the field of the performing arts this understanding is a prerequisite if the arts are to attain a higher level of excellence and ever widening widening audiences are to have greater opportunities but just for participation and enjoyment throughout the study the paddle in its words has been motivated by the conviction that the arts are not for a privileged few but for the many that they're placed is not on the periphery of society but at its center that they are not just a form of recreation. But are of central importance to our well being and happiness only in our time have we begun to recognize the arts as a community concern to be placed alongside our accepted responsibilities for libraries museums hospitals and s